Claims for unfair dismissal taken to an employment tribunal have declined since the introduction of fees earlier this year but they still occur and can be costly. Rachel Spink explains the process to make sure trusts know what to expect and can justify their decisions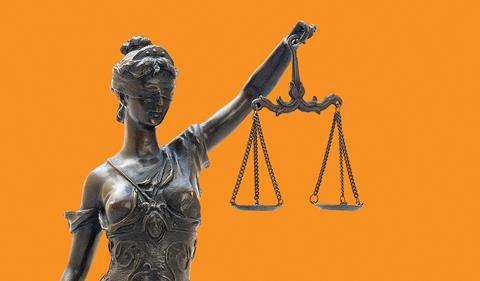 Justice
With the introduction of employment tribunal fees in July, many commentators predicted a reduction in the number of claims. This has been the case, albeit following a large spike prior to the change.
'Taking into account legal fees and management time, employment tribunal claims can be a huge expense for NHS employers'
However, with employers under constant pressure to reduce costs and address poor performance and conduct, many dismissed employees will continue to seek redress. Complaints of unlawful discrimination can be pursued without any termination. Employment tribunal claims will remain, even if there are less of them.
The average unfair dismissal award in 2012 was £9,133; the current maximum compensatory award is £74,200. However, compensation in discrimination claims is uncapped and awards exceeding £100,000 or even £1 million do occur − notably, Mid Yorkshire Hospital Trust was ordered to pay an award of £4.5 million for race and gender discrimination. Taking into account legal fees and management time, employment tribunal claims can be a huge expense for NHS employers.
Case study: Barbara's tribunal
Barbara is a 45 year old band 5 nurse working for an NHS trust. Barbara was dismissed for behaving in an abusive manner towards a patient. An investigation was conducted into allegations that she swore at a patient during an altercation in which the patient refused to take her medicine. Barbara has since brought a claim of unfair dismissal against the trust. She says swearing at the trust was commonplace and the real reason she was dismissed was because she had complained about a faulty lift within the hospital. She said the complaint is a "protected disclosure" and as such she has been treated less favourably and is entitled to compensation under whistleblowing legislation. Barbara has claimed for £1 million for career long loss of salary and pension; she maintains she will be unable to obtain another job with such a stain on her record.
Factors to consider
There are a number of factors you should consider immediately upon receipt of a claim, in order to assess whether it should be defended or settled at an early stage:
How likely is the trust to be able to successfully defend this claim. Seek expert advice if necessary. Settling cases will involve external approval.
Assess approximately how much compensation the trust will be required to pay if it loses the claim. Has the employee found another job?
How much is this claim likely to cost to defend, in terms of legal costs? Remember, you are unlikely to be able to recover these costs even if you win.
How much management time will the trust be required to commit to defending this claim, both in assisting with the case preparation and giving witness evidence?
Is there a reputational risk to the trust in defending this claim?
In the case study above, the trust is advised it has strong prospects of success. It proceeds to defend the claim by filing a response.
Filing the response
You will need to submit the trust's "defence", known as a response, to the tribunal using the ET3 form, which can be accessed on the Courts and Tribunal Service's website.
'Cases are often won or lost depending on the quality of an employer's documents'
The tribunal must have received the ET3 within 28 days of the date it sent the ET1 to the trust. Even if you intend to attempt to settle the case, you should still submit an ET3 form in order to avoid being out of time and, therefore, prevented from defending the claim in case negotiations break down.
In your response you should make sure you say you reject the claim and give full reasons why.
Case management and preparation
The tribunal will be likely to issue directions to enable the parties to prepare the case for hearing. This will probably include a date for sending to the claimant any relevant documents on which you may wish to rely, and for exchanging witness statements.
To prepare yourself for the case, take note of the following:
Ensure you include all key documents. In Barbara's case these would be any incident reports filed, witness statements taken as part of the investigation, notes of meetings, the management statement of case, any previous disciplinary warnings and a copy of the trust's conduct policy.
Your witnesses in this case are likely to be the investigating officer, the dismissing officer and the chair of the appeals panel. The witnesses should deal with all the allegations made by Barbara, including whether her alleged protected disclosure had anything to do with her dismissal. Ensure all witnesses have the hearing date in their diary well in advance.
Be prepared to explain to the tribunal why you think compensation should be less than the figure claimed, in the event the trust loses the case. The burden is on the employer to show a claimant has not taken steps to reduce their losses as far as possible. This may involve coming equipped with local job adverts for positions the claimant could have applied for.
Settlement?
The Advisory, Conciliation and Arbitration Service will be sent a copy of the proceedings and will assist with settlement negotiations where required. The consideration of settlement should always be part of initial evaluation and, if cases should be settled, it is best to do so quickly.
However, in the case scenario, given the reasons for dismissal, the allegations of whistleblowing and the likelihood that there has been a referral to the Nursing and Midwifery Council, it will seem unlikely that any NHS trust would want to initiate discussion here unless a serious problem with the claim was perceived. Treasury approval would be required.
Preparing for the hearing
You can improve your prospects of successfully defending a claim by taking the following steps when preparing for the hearing:
Ensure your witnesses are satisfied their statement is accurate. They will need to give this evidence under oath/affirmation and will be cross examined on its contents.
If you are a witness, go through the bundle before the hearing to familiarise yourself with its contents as they affect you.
Give your witnesses an overview of the hearing. Explain where they will sit, how to address the panel and what cross-examination involves.
If you or your witnesses are nervous and have time, consider attending another tribunal hearing. These are open to the public and tribunal staff will be able to direct you towards a suitable hearing to attend.
Surviving the hearing as a witness
Take your time to consider and respond to a question. Answer the question asked.
Do not be afraid to say if you cannot remember something. If you know the answer is in the documents, it is fine for you to check before answering.
Do not be afraid to seek clarification if you are unsure what you have been asked.
Do not take any aspect of cross-examination personally; it is the representative's job to discredit your evidence.
In the case study, the trust presses on with its defence and is rewarded by a successful outcome at tribunal.
While tribunal claims can be traps for the unwary, with adequate preparation they can serve as a reminder that not all dismissals are unfair and an employer can be justified in holding its ground.
Avoiding tribunal claims
Ensure your policies are up to date and have been communicated to staff.
Be prepared to deal with staff grievances and conduct issues informally at an early stage if possible.
Take notes at meetings with employees and keep these on file. Retain copies of documents you may need to refer to later (such as notes of meetings with employees, training records, sickness absence documents and emails regarding performance or conduct). Cases are often won or lost depending on the quality of an employer's documents.
Train your managers on the rules governing the employment relationship, your policies and procedures and, crucially, conducting a thorough investigation.
Rachel Spink is an associate at Hill Dickinson LLP