The Emerging Leaders annual essay competition celebrates inspiring individuals whose brilliant ideas are making real change across the NHS. Daloni Carlisle looks at last year's top entries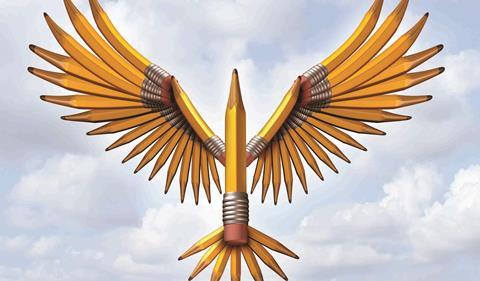 The Emerging Leaders Competition, run by GE Healthcare Finnamore, is rapidly becoming a fixture on the list of annual awards in the healthcare sector.
Now in its fourth year, Emerging Leaders uncovers how visionary leaders not only come up with brilliant ideas but also have the vision to persuade others to follow, the resilience to stay the course, and the tenacity to deliver change.
Here we look back at last year's winner and runner up entries.
The winner
Dementia care fit for our time
Barbara Hodkinson spent 13 years caring for her mother who had dementia.
During that time she dealt with the NHS many times. She witnessed a pattern in the way the people who work for the NHS responded to her mother. They rarely took into account her dementia and, as a result, Ms Hodkinson was able to predict the point at which things would go wrong.
It was not that they were not doing their best or working hard, she says. In her view it was a system that did not support staff or the patient. It was during an episode when she felt things had gone spectacularly wrong. What should have been a 5-7 day length of stay following a successful knee replacement operation turned into a 22 day spell. This prompted Ms Hodkinson to analyse the root causes.
While the manifestations were many and varied, the causes Ms Hodkinson identified were few: five, to be precise.
One example was history taking. "Anything to do with the past is difficult," she says. So asking "how long have you had this pain" or "have you drunk enough" will not elicit the answers needed for good quality care.
Being a teacher herself, she felt that the skills to address these root causes could be taught. "Teachers will always try to teach their way out of a problem," Ms Hodkinson says.
She started by asking the hospital to put her in touch with whoever was in charge of dementia care. "I wanted to speak to the person in charge because I was going to change dementia care in hospital," she says. "I had no idea how naive that was. But there was nobody in charge. I was as baffled to find this out as they were to be asked the question."
Ms Hodkinson went on to persuade the hospital to appoint a nursing colleague to liaise with her as she developed a solution. She "sense checked" her five root causes with carers, people with early stage dementia and others - the Butterfly Scheme emerged.
'Leadership is key if you are going to have a whole hospital care response'
Now in place in nearly 150 hospitals in the UK, the Butterfly Scheme is a not for profit social enterprise providing a system of hospital care for people living with dementia and to anyone needing memory support. This carer led scheme provides staff with a simple, practical strategy for meeting patient needs.
It is cited in the Royal College of Psychiatrists' National Dementia Audit Report, the prime minister's dementia challenge fund and by the Royal College of Nursing. The Department of Health has now funded an evaluation system that is being rolled out across participating hospitals.
It is all about partnership working, explains Ms Hodkinson.
Patients can opt in to the scheme and consent to a discreet butterfly symbol that alerts staff to their memory impairment.
Carers fill out an easy to use carer form which offers hints and tips to make life easier for the patient and also for the staff caring for them.
All staff who work with people with dementia receive training to offer a specific five point targeted care response. And the hospital appoints a lead for the scheme. The initiative is categorically not a labelling system, emphasises Ms Hodkinson. It is a whole system response. "And leadership is key if you are going to have a whole hospital care response," she says.
What the judges said about the best entries
Sir Bruce Keogh, national medical director of NHS England
"I really enjoyed being involved in the competition. I was delighted to have the opportunity to explore ideas with fresh minds and from new perspectives."
Bruce Finnamore, special adviser to GE Healthcare Finnamore
"Every year the competition inspires confidence in the rich vein of talent that's out there. This year, that sense was combined with the entrepreneurial spirit of schemes like Butterfly and Salford Dadz - people out there, making change happen, driving transformation from the grass roots, driven by passion, compassion, dedication and vision, delivering real and effective leadership."
Clare Pelham, chief executive of Leonard Cheshire Disability
"I was delighted to be involved in working with the shortlisted candidates to develop their thinking. True leadership comes from having the courage and conviction to do what you believe to be the right thing and great leadership comes when what you do is for the greater good - something demonstrated by all candidates."
Alastair McLellan, editor of HSJ
"It has been great seeing this competition develop over the last four years. As ever, the entrants were inspiring and showed how leadership really matters."
The teaching and evaluation are not about pointing out where things have gone wrong but about helping people find the motivation to do better and giving them the tools to do so.
"It's about thinking about things differently," she says. "Thinking about how do I work with a person living with dementia and undertake any kind of therapy or activity with them and instead of alarming them, reassure them?"
Ms Hodkinson won the award together with Kirti Tandel from healthcare IT consultants Mednet. He developed the software to support an IT evaluation tool that helps hospitals using the Butterfly Scheme to understand where they are now, where they are doing well and what they need to work on to improve. "It builds in continuous improvement," says Ms Hodkinson.
Winning the competition was exciting and has allowed her to talk about the importance of leadership in delivering lasting change and continuous improvement. "I was told to be prepared to be challenged and challenging," she says. "I felt daunted going into it and was expecting to be overwhelmed. But while it was challenging, I found the judges were genuinely interested."
The judges were extremely impressed by not only by the history behind the programme and the individual level impact of the scheme, but also the extensive uptake achieved nationally.
The proof of spread was a key factor in the judges' decision making, along with the emphasis on changing hearts and minds through education and true leadership.
The runners up
NHS buildings as a hidden revenue stream
A full four-tenths of NHS estate is given over to non-clinical use - offices, catering, portering and so on. Some of this sits idle for much of the time.
In contrast, Microsoft does not have enough offices for its workers. That is because it uses office space in a different way, with employees enabled by wifi and technology to work more flexibly. The company sweats the estate asset to the full.
This paper, by NHS graduate management trainees David Mphanza and Allysia Wood, looks at the multiple benefits the NHS could accrue from adopting an innovative management approach to non-clinical estates.
Delivering change in prison healthcare
An ageing demographic is not just a feature of the population at large but also of the prison population specifically. The number of prisoners now over the age of 60 is at an all time high.
This stark fact inspired NHS graduate management trainee Hannah Robertson to write a paper in which she argues that the move to shift cancer treatment, and in particular chemotherapy, to patients' homes could also be a model for Offender Health, the directorate managing healthcare in prisons. In many ways, the prison is the offender's home.
Lessons from a classroom
Does the NHS focus on eliminating failure and avoiding poor performance at the expense of celebrating and aiming for success?
Yes, says Gabrielle Darby, head of strategic planning for Hammersmith and Fulham Clinical Commissioning Group. She argues that the NHS can learn much from modern teaching which has moved from a carrot and stick approach of negative consequences for poor achievement to a more motivational approach that focuses on the positive.
In particular, she looks at the Teach First graduate programme which places high flying graduates into challenging schools and classrooms across the UK with remarkable results for schools.
Salford Dadz
In the disadvantaged neighbourhood of Little Hulton in Salford, public health data show that too many men are marginalised. Separated from their children and socially isolated, there is a pattern of mental illness, poverty and substance abuse that gets passed down the generations.
But how can a female nurse understand or help? In this paper, Heather Henry from Unlimited Potential describes how she stepped back and let a dad take the central leadership role with astonishing results.
As dads came together for mutual support, they started to see their children more, go back to work, and improve their health. This solution to breaking the vicious cycle, says Ms Henry, is scalable and value for money through prevention.