The importance maintaining frail older people's dignity while there are in hospital was a big theme in HSJ readers' conversation. Here is what you said
Rota medics to be on hand at named visiting times
"Speaking as former non-exec of an acute trust and someone with a frail elderly mother with dementia in hospital right now (and a two hour drive from where I live) – the frustration caused by visiting during prescribed visiting hours in weekdays and weekends when no one qualified is there to answer questions or to discuss options for other care is extreme.
"I am presuming my mother is bed blocking, as if a communit -based solution for care was agreed she could have nursing care in a nursing home. I have no idea whether she is terminally ill, has a short illness or has been forgotten.
"Yesterday I saw wet dressings on my mother's legs, incontinence pads not changed, hydration not monitored and no weighing of her for a week. Only when I spoke to the staff nurse and nursing assistants did someone come and do something did basic nursing care happen. My mother can no longer ask for things to be done to make her comfortable."
"When I said that I had bought in photos of her husband and her as a younger person to stimulate her and give her some sense of connection to something familiar, the staff were then quick to produce a 'this is me' folder. This seems to be another good idea to keep staff reminded that frail, demented elderly were once productive, vital and interesting members of society. Staff can get used to responding to call buttons and to those who literally shout loudest in a ward to the detriment of others less able to do so. They can start to see patients who cannot respond with a smile or make conversation with them as 'less than human'.
"It shouldn't have to happen. Patients should be monitored regularly for basic needs; particularly those unable to speak for themselves.
Keep people hydrated
"It seems simple, but too often older people with multiple conditions and medication are allowed to get dehydrated. Perhaps this is because these patients are often also doubly incontinent and it makes them easier to keep clean.
"The result, however, is that the patient becomes confused, can hallucinate and become aggressive, which has all sorts of other implications for their care and increases the possibility of the patient injuring themselves and others."
"Hydration is key to avoiding acute kidney infection, UTIs, etc; similarly, without food patients will not recover as fast."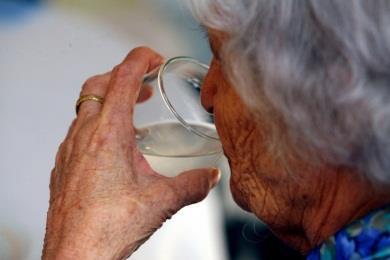 Feeding is everyone's responsibility
"Ths is not an idea from my own trust, I hasten to add, but one that was mentioned by one of the shortlisted candidates for an HSJ Award last year. His suggestion was that his trust had decided that the feeding of patients was not just the responsibility of the untrained staff.
"They implemented this by making it part of their induction programme and encouraging doctors on rounds to help patients drink or feed if they saw them having difficulty. This was allied to a 'red jug' system where those needing help with drinking had a different colour jug to indicate to all passing staff that they might need help."
Treat older people as individuals
"I am a 90-year-old retired and widowed aviator; I am reasonably fit and intelligent. Why do you treat all old people as if they are all the same, and sometimes as if they come from another planet? Whatever a person's age, we are all different. A Hhspital is a place for operations, and having had one, patients should be discharged as quickly as possible, back to their families and into local authority care.
"When assessing a patient on arrival, the mental and physical makeup of each individual should be accurately diagnosed, and whatever the age, they should placed into an appropriate ward. A hospital is neither a care home nor a place for rehabilitation or recuperation."
'Family members, although capable, are being discouraged from staying by the bedside and providing support'
"This year, HSJ shortlisted a social enterprise running a nurse-led rehabilitation unit in the North West for its new compassionate care award. The social enterprise, Spiral Health, has a high percentage of frail older patients and its approach is to treat every single one of them as a unique individual, not just a medical condition to be fixed. To achieve this it developed a patient centred journey through a hospital stay and several of the elements of this journey have been mentioned as good ideas by other contributors to this thread (discharge planning from day one; multidisciplinary team meetings with families).
"The patient journey also includes the use of patient profiles (known as 'one page profiles' in social care) to find out what is important to patients and how they'd like to be supported during their stay and a concerted effort to get patient feedback by asking all patients what is working and not working. This back to basics approach recognises that part of the recovery is about instilling the person with confidence and empowering them to recapture their independence. In the case of this rehabilitation unit it seems to be working as 94 per cent of patients do indeed return to their own homes."
Get dressed
"Encourage (suitable) patients to get dressed daily rather than spend day after day in pyjamas. This encourages normality and makes patients feel more human."
Dementia training for all ward staff
"Dementia is a frequent additional issue for the frail elderly in an acute hospital. I would like to see basic training for all staff (to include tea ladies, cleaners and volunteers) so they can understand that if a patient has dementia at whatever stage, they can have techniques to communicate and have patience with the person.
"This is linked to improved signage above a bed – and if that is seen the member of staff can be aware and adapt their communication accordingly. Simple techniques can improve confidence and improve the quality of the service."
Visitors and volunteers
"Patients who cannot manage themselves in the basic needs of hydration, nutrition and going to toilet are being neglected. Family members, although capable, are being discouraged from staying by the bedside and provide that support on those wards that fail to cope due to staff shortages or staff inefficiency."
How to improve care for older people: HSJ readers' ideas
1

2

3

4

5

Currently reading

Your top ideas: dignity