A common theme from HSJ readers' conversation on how to improve care for frail older people was the importance of the right training and skills for staff
A workforce with the right skills
"Staff are now increasingly asked to care for patients of increased acuity in community or general practice/non-hospital settings. By upskilling these staff it may reduce unplanned admissions for conditions that could successfully be managed in the community."
Right staff, right skills, single records
"Anecdotal evidence suggests that patients are increasingly having to repeat information to a multiplicity of different health and care staff, suggesting and reinforcing a lack of continuity. By having a single care record (proposed at the Silver Book summit), visiting staff can consult this for continuity. This could be further reinforced by providing health and care staff with a common set of core competences to minimise the number of duplicate or repeated visits, such as blood pressure checks, risk assessments, dressing changes and pressure area care."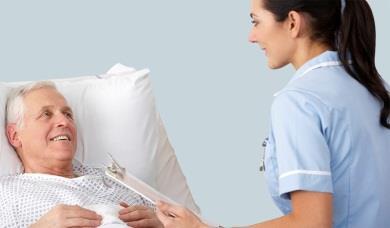 Start rehab early
"Put therapists on the front door, not on the ward, to start rehab as soon as possible."
Nurse led discharge
"As long as clinicians are clear on what is required pre-discharge (eg: the patient has been to the toliet) then for many patients a nurse can discharge rather than waiting for the consultant who invariably prioritises the urgent cases."
Dementia champion
"There is an initiative to have dementia champions within trusts – these are people across the board from cleaning staff to chief executives who are trained in the needs of dementia patients. They wear a badge to identify themselves and can be approached by staff, patients and relatives for advice and assistance.
"This is something that should be rolled out within all trusts and also the community. In this way supporting older people with early or later stage dementia who are cared for in the community or their own homes. See the Alzheimer's Society information."
Train staff to spot falls risk
"Falls in hospital are common, and the risk of serious injury for frail patients is high, not to mention the anxiety it causes.
"Nottingham University Hospitals Trust put together a task group to work out how to increase nursing staff awareness of falls risk. Patients identified as at high risk of falling are accommodated in a particular area and one to one nursing is an option for them.
"The importance of staff awareness of each patient's risk of falling is crucial though."
Integrated whole system care with a named senior responsible clinician
"Continuity of care by a named clinician helps build trust and therefore aids trust-based long term decision making. Hospital admissions where a frail older patient is looked after by a raft of consultants and an even greater litany of junior doctors does not provide this and is not a good pathway of care for the frail. Perhaps a named clinician (elderly care physician) for outpatients, community care and admissions may help build family trust and offer increased accountability."
Seven-day working
"Increase the seniority level out of hours, especially at weekends. The lack of seven-day working is linked to excess mortality and delayed discharge."
How to improve care for older people: HSJ readers' ideas
1

2

Currently reading

Your top ideas: staffing and management

3

4

5