'Talent conversations' should help to redress the NHS's historic shortcomings in staff development, as the NHS Leadership Academy's Karen Lynas tells Jennifer Trueland
Despite pockets of good practice, the NHS has traditionally been poor at talent management.
'Around 25 per cent of the top company CEOs' job is talent management'
That's a shame, says Karen Lynas, deputy managing director of the NHS Leadership Academy, who believes that the approach will benefit individuals, organisations and the health service as a whole.
The evidence base is there, she says, citing work by Professor Michael West at Lancaster University Management School and others.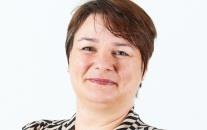 "If individuals have clarity about their role, and get genuine, well delivered feedback, their performance improves, and their engagement improves," she says, adding that an engaged workforce has a positive effect on patient outcomes.
Tools for trusts
As detailed elsewhere in these pages, the NHS Leadership Academy is launching tools to support trusts in implementing a talent management approach, including a guide to running a programme of "talent conversations". According to Ms Lynas, there's a real need.
'The health service's most expensive resource is its people. If you were to invest in an MRI scanner, you wouldn't just leave it sitting there'
Good talent management has the potential to revolutionise recruitment and workforce planning, she says: "It helps you to spot the people who are not well noticed. The health service isn't great at having a diverse workforce, especially at the top.
"If recruitment and promotion is based on a really transparent talent management process then it is much more likely to be objective and reflect real performance and potential, rather than anecdote."
This is something NHS leaders should be taking seriously, she says: "If you look at the top companies worldwide, around 25 per cent of the CEO's job is talent management - they make sure they are talking about spotting great talent, developing it and thoughtful succession planning; that should be a big part of a leader's role.
"Basing it on a clear process rather than who you know gives you a bigger, better and more diverse talent pool."
Identifying gaps
Indeed, getting talent management right could save the health service a huge amount of money, she says.
"In the recent reconfiguration, the health service was criticised for paying to let people go, then paying more money to re-employ some of them. With good talent management the NHS would be able to manage the right people in the right place - rather than losing them because they're perceived to be not right for the job that's immediately available."
'We talk a lot about "care in, care out" and it's important that employees feel cared for'
The business intelligence that comes from effective talent management also allows employers to see where they might have gaps.
"A good talent management programme should also mean that employers give access to development to everyone who is ready to take it, not just to those who are vocal and visible."
But it's not only about people and their careers. "Yes, there's a personal advantage, but there is a hugely compelling business case here," she says. "The health service's biggest and most expensive resource is its people. If you were to invest in a massive and expensive piece of equipment, such as an MRI scanner, you wouldn't just buy it and leave it sitting there. You'd maintain it and make sure it was running as effectively as possible.
"That might sound a bit mechanical, but the more human side of that is that we're talking about organisations that provide care. We talk a lot about 'care in, care out' and it's important that employees feel cared for. That means a regular investment in people, to make sure they are as engaged, effective, skilled and stimulated as possible."
Providing support
Although the NHS Leadership Academy doesn't have the mandate to order trusts to implement talent management, it will be doing everything possible to encourage them to take it on. That includes making it as easy as possible for them to do so, by making the tools readily available, and asking them how the academy can support them to make it happen.
But it also includes a rather more robust approach, using evidence from the NHS staff survey to show, for example, whether employers are conducting appraisals effectively.
This, in turn, plays into the academy's partnership with the Care Quality Commission around the importance of being "well led" organisations.
'What we're doing now is offering a provocation'
So how should trusts implement the Talent Conversation Guide? The academy isn't prescriptive about it. Ms Lynas agrees with Gary Wright (see interview on pages 20-22) that the tool is a good fit for appraisal, facilitating as it does that genuine and open discussion and valuable feedback.
She does, however, believe it will be most useful to the health service as a whole if it is implemented consistently.
This will help with freedom of movement across different employers, she adds. For example, between trusts and clinical commissioning groups. In a way, the tool creates a common currency, so that potential employers have a real sense of where an employee, or potential employee is in terms of skills, attributes and development.
She hopes that the introduction of the tool will be a game changer and help make improvements in an area where the NHS has been poor.
"Some parts of the NHS have introduced talent management at a local level, and some are doing it brilliantly. What we're doing now is offering a provocation: the evidence for talent management is very strong, and we've produced the tools to put it in place. There's every reason to make it happen."
Our foundation trust's got talent
1

2

Currently reading

Let's unlock our people's potential