The risks and delays caused by an outdated clinical correspondence system can be tackled through technology − and a shift in attitudes, says Daloni Carlisle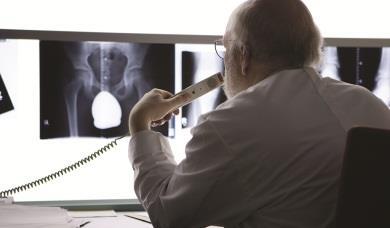 When GPs talk about the importance of timely, accurate clinical correspondence for patient safety, it is worth spending a moment considering what this means.
"Let's take a classic example," says Anna Bayes, a hospital doctor and management consultant and director of AB Consulting. "A GP has referred their patient to the cardiology clinic at the hospital for some checks for high blood pressure.
"The hospital consultant changes the patient's drug, perhaps changing it to a less potent one − and gives them a prescription.
"But the letter for the GP is delayed so the information never goes to the general practice. The patient takes the new drug − and the one prescribed by the GP because they have not fully understood the instructions given to them at the clinic.
"The next thing you know, the patient has continued on the original drug plus the new drug and the patient's blood pressure is very low. They have fainted - maybe falling and fracturing a hip - and they arrive at hospital in an ambulance along with a Tupperware box of all the drugs the paramedics could find in the house."
'I think timeliness has improved a little in recent years but quality? Not greatly'
Now that has to be the very definition of an unnecessary hospital admission and all because a clinic letter never arrived.
In 2010, Dr Peter Crouch at Taw Hill Medical Practice in Swindon detailed the safety risks from a primary care perspective in a report chronicling delays in receiving clinical correspondence from his local provider trusts. Broadly, he wanted to know who had seen his patient, where and when; the results of tests and investigations; management plans, diagnosis and changes in medication.
The consequences of not communicating this, he wrote, were: "Primary care working largely in the dark unaware of what has been done to and for the patients who are registered with them for care and for whom they maintain their lifelong primary medical record."
He detailed the risks. There was an increased risk of drug errors, including the GP prescribing duplicate or incompatible medication; of failure to recognise the impact of changes to medication/side effects; of repeated and unnecessary "over" investigation and a consequent risk of readmission. Nor was he in a position to understand the diagnosis or follow the medical plan.
So have things changed? Dr Michael Dixon, president of NHS Clinical Commissioners and chair of the NHS Alliance, thinks not: "I think timeliness has improved a little in recent years but quality? Not greatly."
Clinical engagement
Why is it, he asks, that a GP out of hours service can see a patient on a Saturday night, write a letter and deliver it by email to his surgery for Monday morning yet hospitals typically take two weeks to send on a clinic letter? "The answer is that hospitals are using a format that is 50 years out of date," says Dr Dixon.
Dr Bayes could not agree more. Discharge summaries are usually written by the most junior members of the medical team and it is not a job they relish.
"In the past when I have started a new job it was not uncommon to find a pile of discharge summaries waiting to be dictated," she says. "This meant going back through the paper notes, trying to work out what happened to patients I never even saw."
Clearly, this is far from ideal from a patient safety point of view and now the CQUINs attached to discharge summaries have improved this significantly in many places. It is still possible though, that the quality is not improved by the requirement to produce the documentation faster, particularly with the new shift patterns for junior doctors meaning discharge summaries may end up being written by doctors unfamiliar with the patient.
No amount of technology will assist in this scenario - this is all about clinical engagement and doctors understanding clinical risks and putting correspondence higher up their priority list.
However, technology can help in other areas. Digital dictation and speech recognition can make a vast difference not just to speed but also to the quality of clinic letters, says Dr Bayes.
Tracking patients
Beyond implementing digital dictation and speech recognition is integrating clinical correspondence systems with the hospital Patient Administration System so that patient demographics can be automatically added to letters and discharge summaries.
Automation reduces the risk of data being transcribed in error and can help make sure the letter is sent to the correct GP−- a common source of delay, adds Dr Bayes.
"It also means you can dictate your clinic letters from a clinic list," she adds. "This means that if you miss a patient off it is immediately apparent. You can also track the patients who did not attend because it is all there on the system."
Systems can be configured to import data from lab systems, from prescribing systems - from just about any hospital system you care to mention, adds Chris Rodwell, head of healthcare at Winscribe.
They can even be configured to make letters available to patients via a portal, he says. "Ideally what you want is for the patient to get home from the clinic and to be able to see their own letter. This is all part of making patients safe and empowering them."
Lip service
For a few trusts, all this is in place and patient care is safer as a result. But for many, it is a long way off partly because clinical correspondence is still not seen as a priority by many managers and doctors.
"Yes, the Department of Health was persuaded to put targets into the model national acute contract and yes we have CQUINS," says Dr Dixon. "But we still see a lot of lip service paid to this."
And if CQUINS and contracts have so far failed to shift the paradigm, what will it take to make clinical correspondence a must-do item for trusts?
Dr Dixon is hopeful that clinical commissioning will be an important lever. "I think when GPs from clinical commissioning groups start to get round the table with secondary care providers then we will start to see some change.
"That's when we will start to see the safety aspect of all this come into much sharper focus because GPs will start to demand some change."
Return to Patient Safety supplement homepage
Chris Rodwell on why fast is not always a bad thing
The focus on improving clinical correspondence − discharge letters and clinic letters − has for some years been on speed. We now have CQUINs for trusts, rewarding them with quality payments if they get a high percentage of letters to GPs within set time limits.
But is there a danger here in losing sight of the wood for focusing on the trees? The main goal of speeding up letter production and distribution is to ensure patient safety.
Let's remind ourselves of the safety issues involved. Between 2005 to 2008 the NHS Alliance carried out two surveys of 500 GP members.
Its 2008 survey − conducted after three years of campaigning for better quality discharge summaries − showed that 70 per cent of GP practices experienced late discharge summaries "very often" or "fairly often". Of these, 90 per cent said this compromised clinical care and 68 per cent said it compromised patient safety.
Things have moved on since then, driven first by contracts with financial penalties and now by CQUINS. The Royal College of Physicians has developed standards for compiling discharge summaries and many trusts have put in place electronic systems for collating and producing these summaries.
Clinic letters have received less attention but they are no less important. Unlike the handwritten part of the medical notes, they are legible, dated and it is usually known who has written them.
Consequently, they are regarded as an accurate record of what happened during the patient visit − and one that can be easy to read at one view. GPs see them as the vital link to what happened to their patient while in someone else's care and what the management plan is.
Communication improves safety
But GPs still report delays in receiving clinic letters and discharge summaries. More importantly, they still report quality issues. There is some way to go yet.
At Winscribe, we see how electronic systems can not only speed up clinical correspondence but also improve its quality. Integrating digital dictation and speech recognition with the PAS and other hospital systems means that elements of creating correspondence can be automated, reducing the chances of transcription errors or of simply missing out a letter on a clinic list.
From a management point of view, such integration also allows the automation of reporting - of demonstrating to commissioners where targets have been met.
Yes, speed matters − but only because fast, accurate communication improves safety.
Chris Rodwell is head of healthcare at Winscribe
Patient Safety − an HSJ supplement
1

2

Currently reading

A belated cure for clinical correspondence's ills

3

4

5

6

7