Pat McLaren looks at the experiences of a locum doctor who underwent compliance checks − and at the vetting procedure from a trust's point of view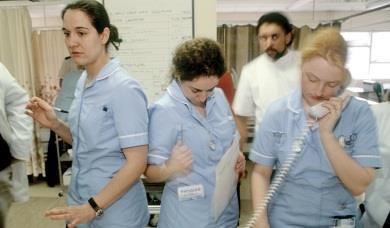 A locum doctor's perspective
Dr Lucy Haurisa finished her training in Germany in 2010 and has since worked as a locum doctor in several NHS hospitals. From that experience, she believes that current UK structures support patient safety.
In particular, she says the checks for compliance − including language testing − are a real plus. Add in the chance for locums to have dedicated learning time and national guidelines help locum doctors work effectively and she says she felt safe to work across multiple sites.
Dr Haurisa came to the UK to follow up an interest in public health. Colleagues suggested working here in the NHS to broaden her experience.
'There is a risk of communicable diseases if occupational health is overlooked, putting public health at risk'
"They had all said good things about the NHS and so I became curious about the healthcare system and researched how to do an attachment in the UK," she says.
In summer 2012, she secured a clinical placement at an NHS ENT department in Portsmouth, which gave her the confidence to work as a locum doctor in the NHS.
"I had very helpful colleagues in Portsmouth who recognised the specialist knowledge I had and were happy to help me learn and then apply for locum work," she says.
"Colleagues have been proactive in explaining how the UK system works and sharing important information with me, including patient safety guidelines."
To minimise risk to patient safety, Dr Haurisa completed the following key compliance checks before working as a locum doctor in the NHS supported by HCL:
Pre-screen and full registration checks including her CV, UK and non-UK police checks, Right to Work verification, references, GMC registration check and Fitness to Practice checks.
A face-to-face interview, including a language competency review.
An occupational health summary review, and a review of references to support the doctor working in the UK.
Mandatory training, including safeguarding of vulnerable adults and children as well as health and safety training required in the NHS.
In addition to compliance checks, as a locum doctor placed by HCL Doctors, Dr Haurisa was also supported to work at each NHS hospital through an induction programme and a named contact at HCL.
Making sure she was safe to work here in the UK as a locum doctor was as important for Dr Haurisa as it was for potential employers. She says: "Patient safety is very important, and so I liked the idea of having all of these checks. It was time consuming, yes, but pretty straightforward and my German qualifications helped."
Inadequate vetting
In comparison to the German healthcare system, Dr Haurisa says the way in which NHS doctors train together and are structured to work in departments promotes patient safety standards.
"In Germany, the structure is not as transparent, and training happens in blocks. I really enjoyed working in the UK because I knew my responsibilities, and who to direct questions to." She continues: "When working with patients I was encouraged to discuss and learn from experience and not only guidelines."
Dr Haurisa also highlights the promotion of ongoing training in the NHS, and has enjoyed the opportunities she has had to develop while working as a locum, joining training courses and attending seminars on a regular basis.
Jackie Knowles, head of clinical governance and compliance at HCL, says the risks of failing to carry out compliance checks are high. "Patient safety is put at risk by inadequate vetting," she says. "This could mean unverified identity, so you don't know whether the doctor is who they say they are, or whether they hold the qualifications they claim or are qualified for the role they applied for.
"There is a risk of communicable diseases if occupational health is overlooked - putting public health at risk - as well as of illegal workers in the healthcare system when right to work is not confirmed. Unchecked criminal records pose a potential risk to vulnerable adults and children. All of this can be minimised with rigorous vetting of each healthcare worker."
As for Dr Haurisa, she is now working in Cambodia to establish ENT services at a non-governmental hospital to European standards, but may in future return to locum work in the UK.
She adds: "I really enjoyed learning about the differences to my training and work experience in Germany, and retrospectively I can see what I did there could have improved if I'd had the experience I have received since being in the UK."
Sandwell and West Birmingham Hospitals Trust
A desire to create a more flexible nursing workforce has led Sandwell and West Birmingham Hospitals Trust, which serves a population of 500,000, to begin recruiting nurses from across the European Union in partnership with workforce solutions specialist HCL.
In addition to existing nursing staff, the trust runs its own nurse bank which it uses to create a flexible approach to staffing parts of the trust when it needs to vary bed capacity, ensuring patient safety is maintained.
The trust is actively recruiting to vacant and bank posts and the remaining staffing gaps had, until the partnership with HCL, tended to be filled through agencies.
But now a group of experienced and compliant nurses from Spain and Italy have joined the trust to undertake flexible work placements across its three hospitals: Birmingham City Hospital, Sandwell General Hospital and Rowley Regis Hospital.
To create this more flexible workforce, the trust joined its local NHS trust cluster (Birmingham) to procure a staffing service in line with the HTE (Health Trust Europe) framework agreement, and engaged HCL Nursing to source trained, experienced nurses to overcome the lack of local qualified resources who could provide the flexible service required.
"It was a challenge," says Helen Rudanec, managing director of HCL Nursing. "But not one unique to the Sandwell and Birmingham area. A growing number of our NHS clients are having difficulty recruiting qualified, compliant and flexible nurses and so we've developed relationships with several healthcare organisations across the EU to help meet that demand."
Peace of mind
She continues: "By hand picking candidates, providing any necessary training, compliance checks and a tailored induction programme, we have created a bank of framework-approved nurses ready for rostering."
Glynis Fenner, nurse bank manager at Sandwell General Hospital, says the partnership has been a practical and pleasant experience to date. "With the bank in place, it has been much easier to meet the changing service demands across our sites. We have peace of mind because we know the staff are skilled and compliant."
She adds: "As the nurses are with us for a block placement, they offer our patients a continuity of care not provided by agency staff, and the few teething problems we've had, due to it being a pilot programme, are vastly outweighed by the enthusiasm each nurse has for providing quality patient care.
"We offer block placements for all staff working through our bank and other agencies."
Patient Safety − an HSJ supplement
1

2

3

4

5

6

Currently reading

Ensuring workforce compliance: case studies

7