University Hospitals Plymouth has announced a novel partnership with Care UK, for the independent provider to carry out a large amount of elective surgery. Ann James, Plymouth chief executive, and Jim Easton, of Care UK, explain the project.
As we head into winter, we are confident a new kind of partnership between University Hospitals Plymouth and Care UK will mean reduced waiting times for patients needing planned orthopaedic procedures. And we hope it will virtually eliminate waits of more than 52 weeks for elective hip and knee operations.
Last winter had an unprecedented impact on patients waiting for planned surgery and particularly orthopaedics at Derriford Hospital, UHP's main site.
The trust saw a 4 per cent growth in emergency department attendances and a 6 per cent growth in emergency admissions. This surge was almost exclusively in the over-65 years age range. This placed additional demand on beds and wider community capacity to support timely care and discharge.
The ward previously ring-fenced for elective orthopaedic patients was re-purposed for general medicine to meet the needs of the higher number of people being admitted. The impact on patients needing planned orthopaedic care can be seen in the first graph below, which shows timeliness of treatment was reducing whilst the number of patients waiting more than 52 weeks grew.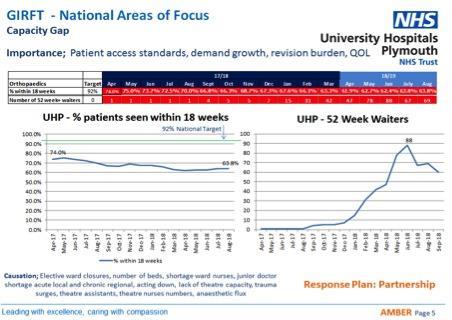 UHP is a single site major trauma centre and specialist teaching trust for Devon and Cornwall, treating patients with the most complex needs. Plymouth's experiences in access for elective care mirror those in other UK hospitals and was reflected in a cohort study by Wong et al published in the British Journal of Anaesthesia in October 2018.
In their cohort of 15,000 patients, the presence of an emergency department in the hospital increased the chance of a case being cancelled four fold and the need for urgent surgery reduced the chance three fold.
UHP already has much to celebrate in its services with better than average lengths of stay for orthopaedic trauma patients and, as the regional MTC, it has exemplary outcomes.
However, the trauma service adds to the pressures on the elective service – with elective care being cancelled to allow for trauma surges. Addressing this tricky issue is key.
This year the local system is better prepared for winter, with a joined-up resilience plan. There is also a different option for elective orthopaedics – an important part of this plan.
Treating planned patients in a sustainable way
In discussion with the orthopaedic department and following a visit from the Getting It Right First Time team earlier this year, the two organisations started to explore whether we could secure a different type of partnership: a more integrated approach to treating patients.
The clinical and local leadership teams at UHP and Care UK worked out what a different arrangement would look like – an insourcing of an elective site for the NHS in partnership with Care UK.
This means UHP surgeons and anaesthetists will work at the Peninsula treatment centre, just up the road from Derriford and managed by Care UK, to operate on around 200 NHS patients per month.
Orthopaedic operations involving major trauma and for those patients with other conditions who need a higher level of care, will continue to be carried out at Derriford Hospital.
This is a different kind of integrated care model where a trust is geographically challenged on a single site and unable to support a split between trauma and elective work alone.
Care UK is developing and evaluating an 18-month pilot. This means elective orthopaedics is effectively a managed service through a partnership involving UHP and Care UK. A joint clinical board will oversee the arrangements for the contract. The board will have full responsibility for the delivery against contract, the clinical governance of the endeavour and the open book of our GIRFT metrics.
As a single site hospital trust, UHP will be a pioneer in establishing a hot/cold site split of its emergency and elective orthopaedic service whilst maintaining services to both regional major trauma and local trauma patients.
The maintenance and improvement of trauma performance is a key metric in establishing the success of the scheme.
There is, we know, untapped financial benefit in collaborating on procurement in orthopaedics. And as UHP can now plan their work better, the increased efficiency of theatres has knock on benefits for other specialties.
The pilot starts in mid November and we are looking to deliver:
Virtual elimination of 52 week waits for patients in orthopaedics.
Referral to Treatment performance in orthopaedics improved by up to 3.5 per cent across the partnership.
Use national GIRFT data to drive change in reducing infection rates, length of stay and improving patient experience on both sites.
Innovative training and recruitment approaches for all clinical staff.
Joint processes for recruitment.
Achieve outstanding in Care Quality Commission assessments.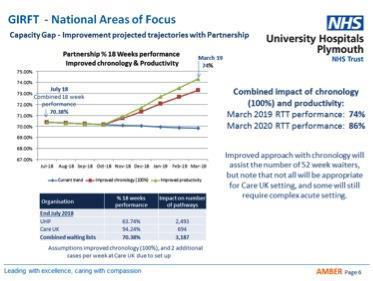 The pilot will be subject to ongoing evaluation.
We are better prepared for winter as a system and UHP's collaboration with Care UK will help to ensure planned orthopaedic activity is not adversely impacted by increasing emergency trauma activity through the winter months.