Schwartz Centre Rounds were first trialled by two trusts in 2007 and have since spread to more than 70 organisations. But what are they and why are they taking off? Jocelyn Cornwell, who is credited with bringing them to the UK, explains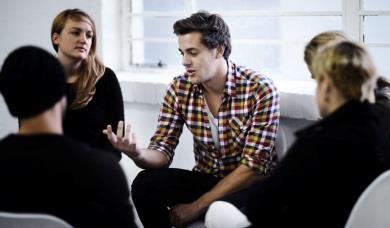 Schwartz Centre Rounds – known as Schwartz rounds or simply "rounds" – were highlighted by the Francis inquiry as a way to build organisational team working for the benefit of patients. But there is growing evidence that they do more than this.
'Topics have included dealing with bereavement, maintaining hope when treatment does not work and inter-staff conflict'
Healthcare professionals generally suffer higher rates of stress and depression than their public sector counterparts. Stress can lead to burnout and loss of ideals, and get in the way of compassion and empathy. Initiatives to support staff, such as Schwartz rounds, are likely to help address these factors.
Schwartz rounds are confidential monthly meetings, where staff from different professions and backgrounds come together to discuss the non-clinical aspects of their work.
Centred around a particular case or theme, each round meeting starts with a panel of presenters talking briefly about their own experiences. The purpose of the round is not to solve problems, but to share experiences and support one another.
Topics to date have included dealing with bereavement, maintaining hope when treatment does not work, inter-staff conflict and times when we have made a difference (see case study, below).
Making the unbearable bearable
Schwartz rounds were developed by The Schwartz Center for Compassionate Healthcare in Boston, Massachusetts, and named after Kenneth Schwartz, a health attorney. Schwartz died in his 40s and had wanted healthcare professionals to know that the "smallest acts of kindness" on their part could make "the unbearable bearable" for patients.
'We don't often think about the human cost – the impact that caring has on us as clinicians'
The experiences shared during a Schwartz round often detail the emotional and social challenges involved in healthcare work and help staff to connect with one another.
As one social worker involved in rounds at the Princess Alice Hospice in Surrey said: "Sometimes when we're very stretched, you feel it's just you that's carrying this burden – and then you realise that actually the whole team is around you and they're carrying it too."
By better connecting with one another, clinicians report being able to better empathise with their patients.
Emma Husbands, consultant in palliative medicine at Gloucestershire Hospitals Foundation Trust, says: "They allow us to look at how working in the trust has an impact on us as human beings and on how we interact with the patients that we are caring for. We don't often think about the human cost – the impact that caring has on us as clinicians, but also the impact that we will have on our patients, their relatives, and so on."
Tangible results
Two evaluations of Schwartz rounds have been undertaken, one in the US and one in the UK. Findings show that staff involved in these rounds have reported an improved ability to deal with stress, better team working and a greater organisational focus on delivering patient centred care.
'Senior staff acknowledge their own challenges and show junior staff the importance of discussing the emotional side of caring for patients'
The opportunity for increasing understanding among staff has been linked to better multidisciplinary working. As one participant reported: "Generally, we are quite siloed and some teams work more collaboratively than others. People do need to acknowledge the impact of their work on each other. Schwartz rounds are likely to affect how they work together."
Rounds have also been seen to help underpin an organisation's values and strategic vision, as one participant explained: "Overuse of targets results in people feeling beaten rather than inspired."
Another said: "A benefit of Schwartz rounds is that it counterbalances some of the targets stuff and humanises the mix."
Meanwhile, a steering group member explained: "Happy staff create happy patients. We haven't done well with our staff or patient survey, so Schwartz rounds are part of creating happy staff."
They also help with role-modelling, as senior staff acknowledge their own challenges and show junior staff the importance of discussing the emotional side of caring for patients. They appear to give all staff more confidence in their ability to attend to the psychosocial and emotional aspects of care and to strengthen their beliefs about the importance of empathy.
Case study: 'I felt the biggest fraud on earth'
Over 30 staff from different professions and with different levels of seniority came together to share instances when they had felt professionally challenged, at this NHS trust's inaugural Schwartz round. During the course of the discussion, many expressed relief that they were not alone in experiencing feelings of "inadequacy" and "fear" during the course of professional practice.
The first to present at the round was a young doctor who described his first day practising as a qualified doctor. He recounted feeling "daunted and unprepared" and the horror of discovering, that despite assurances to the contrary, he was on his own: the consultant was off sick and the senior house officer was on night shifts. He lost count of the number of times nurses came up to him asking questions and despite thinking he did not know the answer, he had felt he had to try and respond.
The second to speak was a band 5 staff nurse who had qualified a year earlier. She spoke about how proud she had been to wear the blue uniform; how much she had wanted everyone to know that she was a nurse. During her early weeks she recorded words describing her feelings in a notebook. The first word was "proud". Shortly after, as her responsibilities began to dawn on her, she wrote down "accountability" – and later on "panic" and "terror". She recalled the terror of early decisions she was expected to make and how in the first few months she found it hard to breathe.
The third speaker, a head nurse, spoke about her first 24 hour shift as the on-call manager as the "longest 24 hours in my life". She described her feelings of inadequacy and her fear in the face of often enormous logistical problems. She said that after one 12 hour shift: "I remember thinking that I wished all the patients in the emergency department would just go home. I was so worried about breaching waiting times."
Before opening the round out to the group, the final speaker, a senior consultant described the pressure she felt upon becoming a consultant. Despite her seniority she drew parallels with the less senior staff who had presented, echoing their feelings of doubt and vulnerability: "I felt the biggest fraud on earth." She closed with the reassuring plea that health professionals are generally surrounded by people who do know the answer and the advice "never to be too proud to ask for help from others".
After the presentations, which lasted about 20 minutes, there was a facilitated discussion with staff reflecting on their own experiences and responding to the presentations. Many people echoed the feelings raised by the panellists. A senior consultant said: "I don't think those feelings ever go away. I think the feelings of being an imposter are always there."
Others reflected on how good it was to hear the experiences of other people. As one nurse said: "It's been so valuable hearing from different professional groups and learning that they too are vulnerable. When I was a newly qualified nurse there was one consultant who I was so terrified of that I used to hide in the toilets so that I wouldn't have to accompany them on the ward round. If I'd known at the time that consultants had the same emotions as me then I wouldn't have had to hide myself away."
Awaiting research
A further piece of research, funded by the National Institute for Health Research, is currently being led by King's College London, with results expected in 2016. This research aims to strengthen the existing evidence base and to provide robust evidence on the extent to which participation in Schwartz rounds affects staff wellbeing, improves relationships between staff and patients, and aids the provision of compassionate care.
There are a number of key roles and requirements for Schwartz rounds to be a success. These include:
Board level support: a high level of commitment from the "top team" must be demonstrated.
The steering group: this group has an essential function in helping set up the rounds and working to embed them in the organisation. Its members help find topics, challenge where topics may be inappropriate or not timely, feedback on how the round went and consider how to extend the reach of the rounds.
The facilitator: often a psychologist or a person trained to work with groups, the facilitator is trained by The Point of Care Foundation and is responsible for ensuring the round is safe, confidential, responsive and maintains quality standards.
The clinical lead: usually a senior doctor who helps champion Schwartz rounds within the organisation's clinical community, they also have a symbolic role in demonstrating that clinical staff are committed to paying attention to the experience of work.
The administrator: they are responsible for all the background and supporting work that enable rounds to take place.
The Point of Care Foundation is currently the only licenced provider of training and support to organisations in the UK wishing to run Schwartz rounds. Organisations can of course set up their own methods of reflective practice, but to be called Schwartz rounds, they need to be part of a quality assurance system administered by foundation.
By signing up to Schwartz rounds, organisations implicitly acknowledge that caring for patients is difficult work and they want to support staff in that work. It is a way of supporting staff to deliver compassionate care, rather than chastising them when they do not.
Jocelyn Cornwell is founder and chief executive of The Point of Care Foundation and one of this year's HSJ Inspirational Women