New care models director Samantha Jones is to step down next month to spend more time with her children, HSJ has learned.
Ms Jones was appointed by NHS England in January 2015 to lead the vanguard programme to set up and test five new models of care outlined in the Five Year Forward View. She will step down at the end of May.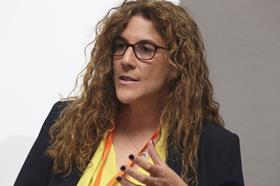 The vanguard programme is in its final year.
Ms Jones, who has seven-year-old twins, told HSJ: "It has been a massive privilege to lead the new care models programme for two and a half years.
"I have taken the very personal decision to stand down as new care models director, for no other reason than to improve my work/life balance, and spend more time with my kids while they're small."
She told HSJ she will not immediately be starting another job. "I am going to have a bit of a holiday and then work out how I can do both things, and have a better balance," she said.
In 2017-18 the vanguards and national new care models team will increasingly focus on supporting the rest of the country to implement new care models, she added.
Louise Watson, currently deputy director for new care models, will take over as director.
New care models featured prominently in last week's Next Steps on the NHS Five Year Forward View document.
The publication said both primary and acute care system and multispecialty community provider vanguards had seen lower growth in emergency hospital admissions and emergency inpatient bed days – two indicators that will be used to judge the success of local health systems.
Although PACS and MCP sites were outperforming the rest of the country before the vanguard programme began in 2015-16, both had cut growth rates during the 2015 and 2016 calendar years.
The document emphasised the importance of sustainability and transformation partnerships adopting PACS and MCP models by becoming "accountable care systems".
The enhanced health in care homes and acute care collaboration vanguards were also yielding "promising results", Ms Jones said.
Ms Jones' appointment to the new care models programme was the first major national appointment by NHS England following the publication of the forward view.
She had previously spent two years as chief executive of West Hertfordshire Hospitals Trust, where she attracted attention for her work to improve the culture and patient safety focus across its three hospitals.
Ms Jones started her career as a paediatric and general nurse and was a national management trainee. She has also been chief executive of Epsom and St Helier Hospitals Trust.