NHS pilots Airbnb style company that sources rooms in private homes for patients post-discharge
Company says "hosts" need no care experience and can help both NHS and patients
Campaigners and ADASS raise safeguarding concerns about "abuse of vulnerable people"
Members of the public with no care experience are being offered up to £1,000 a month to rent spare rooms to patients after they are discharged from hospital, under an Airbnb style model to be piloted by the NHS.
A new start up company, CareRooms, is working with NHS organisations and councils in Essex to pilot and finalise how the model will work as it develops "proof of concept" before it goes live.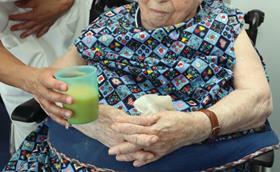 The principle of the model is to provide a room for "patients who may have had a minor procedure and live alone or whose own families are not able to provide short term assistance post hospital care".
The company, believed to be the first of its kind in the UK, said it would benefit patients, by creating "a safe, comfortable place for people to recuperate from hospital", and the NHS – by helping alleviate bed shortages and delayed transfers of care.
However, the Save Southend A&E campaign group, whose members include clinicians, has raised concerns the plan "opens a huge can of worms for safeguarding, governance and possible financial and emotional abuse of people at their most vulnerable time".
The Association of Directors of Adult Social Services also raised concerns. It said it would need to see more details about the model before making a full assessment, but that "the model of care, as described, raises questions about whether the safety and wellbeing of the individual have been fully considered".
The medical director of the company, which is part of the NHS England's clinical entrepreneur programme, said it would have governance and quality standards "better than standard practice" to address these concerns.
Its website says host households would provide a room "with easy access to a private bathroom", inspected for suitability as part of an initial vetting and interview process. Hosts do not need any previous care experience because any professional care would be provided by existing services.
The website adds: "Earn up to £1,000 per month renting out your spare room… The role of a host is to welcome the patient, cook three microwave meals and drinks for them each day, and offer conversation where appropriate. Everything else we arrange.
"There is the option to attend training to become a carer for your patient if you are interested in increasing your skills and income. This is delivered through our Care Quality Commission registered partners."
A company spokeswoman agreed the model was comparable to Airbnb – the website that allows people to rent out their spare rooms and properties – but said it would be much more hands on in its management to ensure safeguarding.
She said the suitable patient cohort was still being finalised but the pilot would focus on patients who were "medically fit for discharge but that had no one to go home to".
She said: "[Suitable patients could be people] who have had elective surgery, like a knee operation. They don't need hands on care but a welcoming environment… but there are many other cohorts of patients this could work with."
Robust checks
The company's medical director, Harry Thirkettle, a part time emergency registrar in Essex, told HSJ: "Everyone's immediate concern is, understandably, safeguarding. We are working hard to be better than standard practice.
"We are not going off half cocked… We are not going to start taking on patients until we have satisfied all these different organisations' governance procedures and committees [NHS providers, commissioners and councils]. We are really carefully considering this and making sure it is as safe as possible."
He said hosts would face robust checks involving interviews, Disclosure and Barring Service checks and be required to complete training to ensure understanding of the Mental Capacity Act, food hygiene and cleanliness standards.
The financial model is also still being finalised. Dr Thirkettle said rooms would be rented out to funders at around £100 a night, with half going to the "host". The rest would be used to pay for the care services required and a margin kept by the company as profit.
He said: "The proposition we are working on is that it is joint funded by [NHS organisations and councils]. We may also look to take self funding patients who pay us directly."
For self payers, the option would be presented by a hospital's discharge team alongside existing options like nursing homes, he said.
Save Southend A&E said in addition to its safeguarding questions, it was concerned about the way the company was pitching itself as a money making venture for hosts, rather than emphasising care quality.
The campaign group said the company was "handing out flyers in the public canteen at Southend Hospital" this month, which "headlines with a financial opener offering people the chance to earn up to £1,000 a month renting out a spare room to accommodate someone needing to recuperate from hospital".
It added: "We are shocked that an NHS trust is endorsing such a company… Offering beds in private residential homes opens a huge can of worms for safeguarding, governance and possible financial and emotional abuse of people at their most vulnerable time.
"It is almost weekly that there are reports of abuse and poor care in registered residential and care homes therefore the monitoring of such 'placements' in private homes would be a huge and risky task."
The pilot involves: Southend University Hospital Foundation Trust; Southend and Castlepoint, Rayleigh and Rochford clinical commissioning groups; Essex County Council; and Southend Borough Council. The chair of South and Mid Essex sustainability and transformation partnership, Mike Bewick, the former deputy medical director of NHS England, is an unpaid adviser to the company.
Safety warnings
Southend Hospital managing director Yvonne Blücher said CareRooms was one of several "innovative solutions to further enhance health and social care pathways for our patients" being explored in Essex.
She said: "The CareRooms principle is to provide additional support to those patients who may have had a minor procedure and live alone or whose own families are not able to provide short term assistance post hospital care.
"A number of patient cohorts are currently being assessed to identify opportunities that may exist with our system.
"To help with this exploration, the CareRooms team have been talking to staff, patients and visitors about the concept with a view to identifying potential 'hosts' by having a stall in the hospital restaurant."
The CQC told HSJ its registration team did not have a record of CareRooms and could not say whether such a registration would be required. A spokesman said: "The CQC will contact CareRooms to better understand their business model in case they are providing something that would fall within the scope of our regulation."
ADASS safeguarding network lead, Helen Jones, said: "Without knowing full details, the proponents of this alternative model would need to demonstrate to commissioners how it ensures safety and well being of people at a time when they may need help looking after themselves. No innovative model of care can be supported if it risks causing safeguarding concerns.
"The model of care, as described, raises questions about whether the safety and well being of the individual have been fully considered.
"Despite widely acknowledged pressures in the adult social care system, including delayed discharge from hospital and availability of suitable care places and staff, rigorous safeguarding and governance processes should never be compromised in the provision of professional care to people of all ages, including the elderly and disabled."