This week's HSJ facilities management supplement looks at how the NHS can make the most of an old estate, managing waste and how to collaborate with the private sector.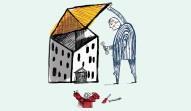 Estate management
A large proportion of NHS estates are past their prime but sell-off is just one of the options available to the shrewd manager.
Waste management
Encouraging trust staff to do the right thing with their waste items calls for more than just some light publicity − it requires a full scale culture change.
Working with the private sector
Turning facilities management over to a private sector partner can be an effective way of freeing NHS organisations to do what they do best − care.