Evidence based clinical care protocols hold the key to standardising care, ironing out variations in practice and saving money, as Shreshtha Trivedi explains. In association with BMJ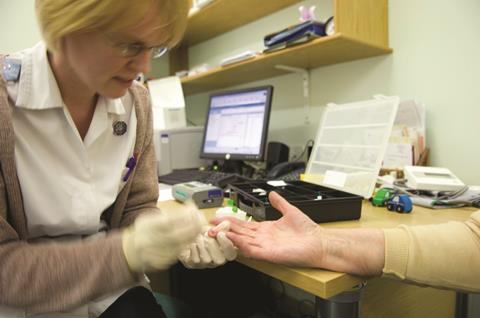 Lower death rates and fewer complications are reported by those using the protocols
Since the publication of the Francis report and the Keogh review, there has been a renewed focus on patient safety in the NHS. And hospitals are under increasing scrutiny as they strive to provide safer, better quality care that is cost effective, amid escalating financial, demographic and regulatory pressures.
'Evidence based clinical care protocols help in standardising delivery of care by guiding clinicians through diagnostic tests, drugs and referrals'
At the NHS Confederation conference held earlier this month, health secretary Jeremy Hunt said that unsafe care is one of the most expensive things the NHS can possibly do. As figures from the Health and Social Care Information Centre show, in 2012-13 the health service paid out more than £1bn in settlements to patients and their relatives for clinical negligence claims. The number of claimants has risen 80 per cent since 2008.
National Audit Office figures for 2012-13 show that almost one in five emergency admissions were readmissions within 30 days of discharge, for which hospitals are not reimbursed. By following the right clinical approach and putting correct assessment system in place, many of these could be avoided.
Reducing variations
So how can hospitals boost the quality and safety of the care they provide? Research published in the BMJ in 2010 reveals that reducing variations in the delivery of care and focusing on clinical decision-making are two of the most significant ways of improving efficiency in the NHS.
'The evidence shows that organisations that have adopted these protocols report lower death rates'
Evidence based clinical care protocols address both these issues. They help in standardising delivery of care by guiding clinicians through the most appropriate diagnostic tests, drugs and referrals at every stage of treatment, from assessment to discharge.
And since these protocols are used as an integral part of daily workflow, the subsequent impact on service quality can be easily tracked and analysed. And BMJ's clinical care protocols come with the assurance of high quality, the evidence for which is regularly updated and supplied by BMJ Clinical Evidence and BMJ Best Practice. As GP and former NHS medical director Hemal Desai puts it, they are a "no-brainer".
During a panel discussion at BMJ's International Forum on Quality and Safety in Healthcare in Paris earlier this year, Dr Desai explained: "These protocols appeal to both clinicians and managers because they iron out variations in clinical practice and improve patient outcomes, leading to safer, more efficient and cheaper care."
The evidence shows that organisations that have adopted these protocols report lower death rates; fewer complications; significantly fewer drug errors - the third most common cause of medical error in the UK - fewer unnecessary diagnostic tests; reduced length of hospital stay; and more effective preventive care.
Boosted confidence
In 2008, the American Academy of Orthopaedic Surgeons cited these protocols as a key component in eliminating illegible handwriting and dosing errors and improving vital communication during the transfer of care. It added that the approach could help hospitals save millions by more efficient use of resources.
At Queen Elizabeth Hospital King's Lynn Foundation Trust, evidence based decision support has made a tangible difference. It has driven improvements in the assessment and testing of COPD and community acquired pneumonia (CAP); falls among the elderly; and atrial fibrillation and heart failure.
'People prefer using the pathway they are familiar with. It's a big step to use a different evidence source'
It has also boosted efficiency. Length of hospital stay for CAP has fallen from 8.5 to 7.5 days, while the number of same day discharges has tripled. And it has helped doctors in adopting good clinical practice by stratifying risk more effectively, says Dr Wajihah Saghir, a junior doctor at the trust.
"At foundation year level, most important decisions are taken by senior clinicians. But clinical protocols have enabled junior doctors to order important tests and make the kinds of decisions that usually only come with a lot more experience," she says.
"This has boosted the confidence of junior doctors and medical students at the bedside, particularly in busy medical admissions units where key decisions need to be made quickly," she observes, adding "these protocols teach doctors the value of using evidence based care right from the start of their careers".
When the protocols were introduced, she recalls that junior doctors feared their role would be devalued and care turned into a "tick box exercise". But then they saw the impact these protocols had on patient outcomes and recognised that they reduced dependence on senior doctors.
Joining forces
Dr Tracey Tay, anaesthetist and clinical lead at the New South Wales Agency for Clinical Innovation in Australia, points out that clinical care protocols help bring together clinicians from different disciplines.
"The process of redesigning a care pathway informed by evidence brings together people from different sectors who wouldn't otherwise have had the opportunity to interact," she says.
'Protocols can enhance the patient experience because they offer an opportunity to involve patients early on in co-designing their own care pathways'
But despite the benefits, reaching consensus on how to implement them is not always easy as clinicians don't always agree on how to interpret the evidence.
"There has been good uptake in pockets, but this has largely been driven by individual departments and clinicians," says Dr Desai. "People are trained in a certain way and they prefer using the pathway they are familiar with. It's a big step for someone to use a different evidence source," he adds.
But there's a way round that, he suggests. And that's by maintaining a degree of clinical autonomy, so that clinicians can deviate from the protocol, if required, provided this can be clinically justified and the reasons behind it are recorded.
"The 80/20 compliance rule can apply, which, on an average, will allow for 20 per cent deviation and 80 per cent adherence to the protocol," he says.
The protocols are designed to adapt to local need and guidelines, which Dr Tay feels is essential. Access to diagnostic services and staff skill sets in the middle of London, for example, are not going to be the same as in the Australian outback, she suggests.
Audit trail
Protocols are good for patients too, says Fiona Watson, director of transformation and quality at Melbourne Health in Australia. "They can enhance the patient experience because they offer an opportunity to involve patients early on in co-designing their own care pathways," she says.
Importantly, clinical care protocols provide a clear audit trail, which can be used to quickly spot anything unusual and any decline in performance, as well as providing real time insight into where improvements are needed. All these data can then be shared with commissioners and regulators.
By providing consistent, safe, and cost effective care, these evidence-based protocols can help make high quality patient-centred care a cornerstone of health service delivery, just as Robert Francis recommended.
Tracy Eastman: Protocols are already making a difference
Among the raft of recommendations Robert Francis made in his report into the serious failings of care at Mid Staffordshire Foundation Trust was that hospitals should provide demonstrable proof of how they are actively tackling poor quality care and improving patient safety - and complying with evidence based, measurable service standards in the process.
Evidence based clinical care protocols can help hospitals meet these goals. And there's a growing body of evidence to show they not only help improve patient outcomes and save money, but also better the overall quality and safety of the care provided.
When used consistently they can iron out variations in clinical practice, ensure that patients receive the most appropriate and effective treatment at every stage of their care, and provide the means to easily track and analyse performance.
BMJ is a global provider of trusted and independent medical information and knowledge services for healthcare professionals at all levels. And it has earned a reputation for delivering world class, evidence based products to inform evidence based medicine and drive quality improvement.
Its clinical care protocols have been meticulously and rigorously developed using BMJ's wealth of expertise in the synthesis and appraisal of clinical evidence.
Clinical care protocols can be linked to the electronic patient record and drug databases. Content includes essentials about the condition as well as national and international guidelines and patient information. While content is based on international evidence, it is UK focused and reviewed by consultant level UK clinicians.
Importantly, content can easily be adapted to incorporate local policies and practice, and adjusted to fit patient profiles. It is regularly reviewed and updated annually, so clinicians can be sure they are basing their decisions on the latest clinical evidence and best practice.
Clinical care protocols from BMJ have already started to make a difference to the delivery of care in hospitals in the UK and Australia, enhancing safety and quality, and improving efficiency and cost effectiveness.
Clinical care protocols could prove invaluable for fostering a culture of continuous improvement at a time of increasing regulatory compliance and unprecedented fiscal constraints in the NHS. And most organisations will already have the infrastructure and resource in place to implement them.
Tracy Eastman is director of the BMJ Evidence Centre
Patient safety supplement: The locum motive and body of evidence
1

2

Currently reading

Clinical care protocols: When safe comes as standard

3

4