HSJ presents its second celebration of healthcare's most inspirational female leaders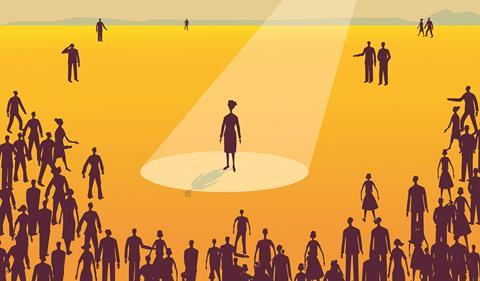 Inspirational Women
Professor Jane Anderson
Consultant physician and director, Centre for the Study of Sexual Health and HIV, Homerton University Foundation Trust
One of those who nominated Professor Anderson put it very simply: "An exemplary leader in HIV medicine and medical anthropology." For the past 20 years, Jane has successfully worked with some of the most vulnerable and hard-to-reach patient populations and, via her academic research, has helped other colleagues do the same. Her appointment last year as an expert adviser to Public Health England indicates the respect she has - as do her numerous Twitter followers.
Judges' comments: "It's always good to see a citation which has really positive feedback from colleagues."
Trish Anderson
Chief officer, Wigan Borough CCG
Trish has a triumvirate of people singing her praises. First up, her clinical and governing body members who are said to think highly of her. Then her colleagues in the social care sector who, given her regular championing of partnership working, seem likely to feel the same. And then there are the patients. The CCG is developing a strong track record in using patient feedback to inform its actions and decisions.
Judges' comments: "She deserves recognition for having the energy to support patient involvement given that she's working in the very difficult space which is the CCG environment."
Dr Tammy Angel
Consultant physician and clinical director for elderly care, West Hertfordshire Hospitals Trust
Tammy's colleagues credit her hard work with nothing less than "the transformation of elderly care at West Hertfordshire Hospitals Trust into a happy, thriving department ready to take on new challenges". The support she has secured across the organisation - including at executive level - is said to have reduced admissions and, where they have been necessary, to have improved the management of older patients.
Judges' comments: "Often, discussions about care of older people centre on what we get wrong. We are fortunate that there are people like Tammy to show us the best of what we can provide."
Professor Uduak Archibong
Professor of diversity, School of Health Studies, Bradford University
The UK's first professor of diversity, Uduak's research and publications seek to increase cross-cultural understanding in the health service. The director of her university's Centre for Inclusion and Diversity, she has also worked to find ways to promote the recruitment and retention of healthcare staff from BME backgrounds. That includes offering mentoring and support.
Judges' comments: "Udy's honesty and natural warmth, her incredible intellect, and her mentoring and coaching - which go well beyond the requirements of her day job - make her an inspiration."
Dr Janet Atherton
Director of public health, Sefton Council
Read Janet's list of responsibilities and the contention that she is "a ball of energy", made by someone who nominated her, starts to seem irrefutable. As president of the Association of Directors of Public Health, she has led her colleagues through their challenging relocation from the NHS to local authorities. This at the same time as holding the director of public health role at Sefton Council and being a key member of a collaborative public health group in Cheshire and Merseyside.
Judges' comments: "Public health does not tend to get much attention - unfairly. Here is someone who is local authority-based and making a difference."
Gill Baker
Clinical team leader, Derbyshire Healthcare Foundation Trust
Gill is a senior clinical manager at the largest provider of mental health, substance misuse and learning disabilities services in Derbyshire but, says a colleague, "if you need support with a home visit or at a meeting she will rearrange everything and support as requested. She has a vision for the learning disabilities service, and you can trust that, if she says she will do something, it will get done." Little wonder she is described as being well liked and respected across her organisation and as an excellent manager and leader.
Judges' comments: "Learning disabilities is a really challenging area, and one in which we need good leaders."
Amanda Barnes
Divisional head of nursing and healthcare professions, University Hospital Southampton Foundation Trust
One of those nominating Amanda said she "gets" what being a role model is all about - "she behaves impeccably and is explicit about her expectations of the nursing service, so our patients consistently receive the highest possible standard of care". Our judges were also impressed by her commitment to developing others, and her support of those who are having difficulties in their working lives.
Judges' comments: "An example of someone at the top of her profession who has retained skills, knowledge and experience that she continues to use for others."
Dr Jackie Bene
Chief executive and consultant in geriatric and acute medicine, Bolton Foundation Trust
As a medical professional who is serving as a trust chief executive, Jackie is a rarity. Rarer still is the fact that she continues to practise clinically, holding two sessions each week in her role as consultant in geriatric and acute medicine. The trust has been through difficult times, but Jackie is said never to have lost the confidence of the staff she leads.
Judges' comments: "She leads with a calmness that inspires confidence. She also has an ability to communicate at all levels within the organisation and is a highly supportive leader."
Karen Breen
Deputy chief executive and chief operating officer, Croydon Health Services Trust
One of those who nominated Karen told us Croydon Health Services Trust's deputy chief executive and chief operating officer is "a legend in the making". She is said to have a hands-on style, regularly meeting staff to better understand the issues they face, and is credited with supporting the trust's introduction of an electronic patient record. Barts Health Trust is clearly impressed too: the organisation recently recruited her to the role of director of delivery and improvement, which she will begin in September.
Judges' comments: "She is really well thought of and has done a good job in a very difficult trust."
Dianne Brown
Director of nursing and midwifery, Liverpool Women's Foundation Trust
As our judges read the nomination for Dianne, there was one part that particularly stuck out. It was about her reaction to lunchtime delays in an oncology outpatients clinic at Liverpool Women's Hospital: she contacted the catering manager and arranged for 50 portions of sandwiches to be brought to the waiting room and distributed to patients. Our panel was impressed by this simple but powerful action, and by other examples of her focus on patients. In November, Dianne received an NHS Leadership Academy Award as inspirational leader of the year. Now she becomes one of HSJ's Inspirational Women as well.
Judges comments': "A director of nursing organising food for waiting patients is a really strong example of patient focus."
Alison Cameron
Patient leader
Alison describes herself as dedicated "to challenging the culture of enforced passivity among people dependent on health and social care services". She is a prominent and vocal proponent of the principle of patient leadership and co-production, taking regularly to Twitter to build a network and spread her message. It is unsurprising, then, that many of those who nominated her used 140 characters to do so. Said one: "Patient leaders should show up more prominently in this year's HSJ Inspirational Women." Our judges agreed, and felt Alison was a particularly powerful example.
Judges' comments: "She stands out because she's been pushing forward the agenda around the use of patient leaders and co-production. And you do get the feeling it's at great personal cost to herself: she uses her skills in quite a difficult world."
Naomi Campbell
Hydration lead nurse, Peninsula Community Health
Research shows that dehydration costs the NHS billions each year, and causes significant avoidable harm. It is a situation that Naomi Campbell has dedicated herself to addressing. She speaks widely about this important topic, and created a special straw to help older people sip fluids independently. It is an idea that has secured her a £15,000 grant from NHS Innovations South West - and helped her secure recognition as one of HSJ's Inspirational Women.
Judges' comments: "For a nurse to be creating products and innovations is really going above and beyond the day job. If her inclusion on the list inspires just one person to help keep an older person hydrated and out of hospital, it will have been worth it."
Karen Castille
Associate director, NHS Confederation
Karen joined the NHS Confederation last year from Cambridge University Hospitals, where she impressed in her roles as chief nurse, director of organisational development and later as interim chief executive. In her new role, she is supporting the NHS in its response to the Francis report. But she is also looking at board leadership, culture and values, and supporting women in senior roles - all areas in which she has significant experience.
Judges' comments: "Karen's deep understanding of what it takes to change organisations and culture is always in evidence. She understands the importance of gender issues and her work to improve the profile and development of senior women leaders is notable."
Teresa Chinn
Registered nurse and founder of WeNurses
The creator of the social media juggernaut that is WeNurses, Teresa was praised by one of those nominating her as "showing the influence we can all have from any level". Our judges were impressed by the way in which this registered nurse has mobilised massive numbers of people through Twitter chats. It may have started out as a nurse-focused concept but, increasingly, Teresa is driving connections in other groups too: the brand has now expanded to include chats for pharmacists, midwives and ambulance staff, among others.
Judges comments': "The work she's done has been fabulous."
Dr Alys Cole-King
Consultant liaison psychiatrist, Betsi Cadwaladr University Health Board and co-founder, Connecting with People
In some ways, just eight letters explain why Alys, a suicide prevention specialist, is on our list: U Can Cope. That is the name of the campaign she began to highlight that it is possible to overcome suicidal thoughts. It is a movement that has gained enormous attention and which has helped place the important issue of suicide prevention on the national agenda.
Judges' comments: "She hits every one of our criteria. She's an incredible leader, she shares knowledge, she supports others and she's just very brave. And with the U Can Cope campaign, her work for World Suicide Prevention Day and now her campaign for NHS Change Day, she really has taken it to another level this year."
Anne Cooper
Clinical informatics advisor, NHS England
Anne Cooper is on a mission to get nurses involved with the information technology and informatics agenda - and, say our judges, it is a mission in which she is succeeding. They were also impressed by the way in which Anne builds bridges between patients and healthcare professionals by offering insight into how she manages her own type I diabetes.
Judges' comments: "She is really good at understanding how people with long term conditions and other patients use social media. She does a lot of work around getting nurses involved with technology, and just has an incredible constancy of vision in this area."
Jocelyn Cornwell
Founder and director, The Point of Care Foundation
It is only a year since Jocelyn established The Point of Care Foundation to further work she had begun at The King's Trust. Yet the introduction of "Schwarz rounds" to almost 70 UK healthcare organisations means the foundation already has significant success of which to boast. The rounds give healthcare staff a regularly scheduled time to discuss the emotional issues that arise in caring for patients, helping to fulfil the foundation's aim of increasing support for staff.
Judges' comments: "A quietly inspirational women who has been able to influence great care for so many hundreds of people through her pioneering development of the Schwarz round model in the NHS."
Angela Douglas
Scientific director, Liverpool Women's Foundation Trust
Angela has spent more than 30 years working in the field of genetics, and all of them have been in the NHS. Her work in local networks demonstrates her dedication to sharing best practice and highlighting the important role health scientists play in delivering effective care. Most recently, Angela joined with colleagues to create the North West Coast Genomics Healthcare Network. The aim? To ensure that organisations in the area share their breakthroughs in an area of healthcare widely identified as crucial to the future.
Judges' comments: "I don't know that many female scientific directors and, looking at genetics, it is not exactly a field that is overflowing with women either. So it is good to be able to celebrate Angela's work in this area."
Dr Michelle Drage
GP and chief executive of Londonwide Local Medical Committees
As chief executive of the representative body for London's GP practices, Michelle is an important and vocal proponent of the interests of those working in general practice. She has spoken powerfully of the need for greater investment in primary care, and argues healthcare policy reform can only work if GPs are supported to make bottom-up changes.
Judges' comments: "She is a GP doing brilliant, outside-the-job, things."
Dr Margaret du Feu
Consultant psychiatrist
Margaret has dedicated her working life to the care of deaf and hard-of-hearing people with mental health problems. It is fair to say she has an interesting perspective to offer: a cochlear condition meant the consultant psychiatrist began to lose her own hearing in her 20s, and she is now profoundly deaf. After setting up a mental health and deafness service in Birmingham, she then moved to Northern Ireland where she did the same, before extending her work to the Republic of Ireland.
Judges' comments: "There is absolutely no doubt that she is inspirational."
Annmaria Ellard
Miscarriage specialist nurse, Liverpool Women's Foundation Trust
When Liverpool Women's Hospital posted a profile of Annmaria Ellard on its Facebook page, the comments came thick and fast. "Annmaria looked after us through so many miscarriages and pregnancies," said one. "Amazing and so kind." Added another: "I remember that she gave me the time to sit and cry about my losses, not just labelled me." This miscarriage nurse is the first point of contact for patients who attend the specialist clinic from all over the UK, and clearly offers immensely compassionate care.
Judges' comments: "It's wonderful that there are lots of patients who have taken the trouble to share feedback - there's even one there who has been inspired to become a midwife because of her."
Kath Evans
Head of patient experience, NHS England
Kath was one of our Rising Stars last December and now she becomes one of our Inspirational Women. In each instance, she has been recognised for her dedication to improving the experience children and young people have of healthcare. "Watching Kath with young people, you know she is the real deal," argued one of those who nominated her. Others praised her use of Twitter to engage with colleagues and share best practice.
Judges' comments: "All the paediatricians I know follow her on Twitter. She's done a massive amount of work on the children's agenda, and on standing up for children's rights in healthcare."
Val Freestone
Clinical nurse specialist for dementia, Cambridge University Hospitals Foundation Trust
Val was a jobbing community psychiatric nurse when she decided to apply for a Mary Seacole Award. Her application was successful, and her project was an important look at why diagnosis of dementia is often slower in hard-to-reach groups. She has since started studying for a degree and been appointed a nurse specialist, a role in which she is said to bring a quiet passion for increasing awareness and early diagnosis of dementia.
Judges' comments: "She has gone from strength to strength and is a role model for others."
Dr Kate Granger
Specialist registrar in elderly medicine, Pinderfields Hospital
Our judges barely debated Kate's inclusion on this list. It was so obvious, it seemed to warrant no discussion, simply because this year she has only added to the incredible achievements that saw her named as one of our first group of inspirational women. Perhaps most notably, her #hellomynameis campaign - which encourages healthcare professionals to ensure they introduce themselves to each and every patient - has had enormous impact.
Judges' comments: "I just think she's a fantastic woman. Despite being ill, she still talks about things like work-life balance, and about baking. And it's totally selfless to spend the last part of her life trying to leave a legacy in healthcare."
Professor Tricia Hart
Chief executive, South Tees Hospitals Foundation Trust
Tricia describes herself as "committed to the pursuit of safe, kind and compassionate care for every patient we care for". It is a commitment she has exhibited during the course of 40 years in the health service, first as a nurse and midwife and then in various management roles. Recently she has had a significant impact on the national stage through her involvement in the Caldicott report and the Francis review.
Judges' comments: "Tricia is a testament to what hard work and commitment will get you when you are absolutely committed to delivering the best in patient care. Despite the heights she has reached, she remains approachable and interested in the development of her staff."
Katie Hovenden
Director of clinical and professional development, Portsmouth CCG
Katie leads a team of fellow pharmacists, all of whom are practice-based and who are aiming to drive improvement in primary care. She is also developing the role of community pharmacists, through imaginative initiatives such as the locally developed healthy living pharmacies. These aim to reduce health inequalities through commissioned services and by actively promoting a healthy lifestyle. "Kate is passionate about improving outcomes for patients," one of her colleagues told us. "She is an inspiration to the team."
Judges' comments: "It is good to have pharmacy represented on this list, and particularly a community pharmacist who is doing something at board level. If her appearance here could help us get more people inspired around community pharmacy, that would be a wonderful outcome."
Karen James
Interim chief executive, Tameside Hospital Foundation Trust
Times have not been easy at Tameside Hospital Foundation Trust. In July 2013, it was one of 14 trusts identified by Professor Sir Bruce Keogh as having above-expected mortality rates, and was immediately placed in special measures. It was in this environment that Karen James began her stewardship of the trust - she had been in post for just seven days when the Keogh review reported - but 12 months later it is an organisation that seems to be turning around.
Judges' comments: "She's taken on a lot - it is a challenged trust in a difficult area. But when I read the words of those who nominated her, I thought it sounded like an organisation I wouldn't mind working for."
Dr Nikita Kanani
GP, vice chair of Bexley CCG, and quality lead, Faculty of Medical Leadership and Management
One of our judges, Nikita stepped out of the room while her nomination was discussed. More or less the moment the door had closed, her fellow judges were talking about how impressed they were by her portfolio career. They particularly praised her STEMMsisters project - founded with her sister - which is trying to support groups who may not usually study science, technology, engineering, maths and medicine.
Judges' comments: "Her portfolio of commitments is really impressive, particularly since she has two young children. And her work to increase the number of females in traditionally male-dominated fields of science is great."
Mandip Kaur
Programme manager, leadership development, The King's Fund
One of those nominating Mandip described her as an emerging female leader in healthcare and, indeed, she has only been working at The King's Fund since April 2013. Even so, she is already said to be vocal and passionate about ensuring that women from minority ethnic backgrounds have access to the full range of opportunities in the NHS.
Judges' comments: "We need to see more BME leaders in healthcare, and so it's great to see a young woman emerging in this area."
Alison Leary
Independent healthcare researcher and consultant
Alison has a simple explanation of her work. She is, she says, "trying to make care safer through maths". Recently that has led the independent researcher to a detailed analysis of the value specialist nurses add to healthcare. It is an area in which Alison has personal experience, having spent 15 years as a clinical nurse specialist in oncology before moving into her current sphere of work.
Judges' comments: "Alison tackles very thorny issues, and she's not afraid to be unpopular. Fundamentally, she brings a level of credibility to nursing research: she's one of these people who can take very complex information and turn it into something easily understandable. And her work on specialist nurses is motivating those in the role to understand their own value, and proving that value with evidence."
Deborah Lee
Deputy chief executive and director of strategic development, University Hospitals Bristol Foundation Trust
When our judges realised that one of the people nominating Deborah was her mentee, they were impressed. For a senior figure to be taking the time to bring on the leaders of tomorrow was worthy of recognition, they quickly concluded. Deborah is said to be extraordinarily influential within her own organisation, and well respected. And she proves it is possible to have a family life alongside a senior role - she has two young children - surely meets the definition of inspirational.
Judges' comments: "The fact that she mentors future leaders is fantastic. And she's definitely a chief executive of the future."
Karen Lynas
Deputy managing director, NHS Leadership Academy
It was the second year Karen had been nominated and had to disappear as her fellow judges discussed her nomination, and the second year she was immediately designated a "yes". She continues to be inspirational in her work to put leadership development at the top of the agenda.
Judges' comments: "She is unafraid to talk about difficult things, and to make herself vulnerable. Some of the things I've heard her speak out about are topics that no one else would have the courage to speak about."
Sarah-Jane Marsh
Chief executive, Birmingham Children's Hospital Foundation Trust
Already one of our HSJ top 50 chief executives, Sarah-Jane now becomes one of our inspirational women. The reason? Her strong focus on staff and patient engagement. "She actively pursues both," said one colleague of the woman who was the youngest provider chief executive at the time of her appointment. "She uses her Twitter account to personally respond to staff and to air patient stories."
Judges' comments: "She just has a really good reputation as very active on staff and patient engagement."
Bev Maybury
Director of adult social care, Calderdale Council
Bev is leading on a challenging task - transforming adult social care in Calderdale so that it truly recognises users as experts in their own condition. At this year's Association of Directors of Adult Social Services Conference, Norman Lamb cited work on personalising home care in the area as an example of national best practice. A colleague puts it simply: "Bev is a truly authentic, inspirational woman."
Judges' comments: "Her work has been widely recognised, and it's right we recognise her too."
Comfort Momoh
Female genital mutilation and public health specialist, Guy's and St Thomas' Foundation Trust
For two decades, Comfort has worked tirelessly to increase awareness and understanding of female genital mutilation (FGM), as well as to care for those who have undergone FGM. Her pioneering African Well Women's Clinic - which she set up at St Thomas' Hospital in 1997, only the second in the country - has cared for thousands of women and girls, and similar services now exist across the country.
Judges' comments: "Historically, FGM has been a taboo. Comfort has been a leading light in normalising conversation about it, and raising awareness in schools and in healthcare services. She was talking about this issue long before ministers caught on."
Professor Rachel Munton
Managing director, East Midlands Academic Health Science Network
To condense Professsor Rachel Munton's healthcare career into just a few sentences is a difficult proposition. She started as a mental health nurse, spent a period in nurse education, and then moved to the national stage with a number of jobs at the Department of Health. More recently, she has held a number of senior roles in the East Midlands. Alongside her career has been involvement in the voluntary sector, most notably as the chair and trustee of a Nottingham-based charity which supports local women working in prostitution.
Judges' comments: "I think she's utterly amazing. Whatever role she's worked in, she's created wide ripples of influence and impact."
Vijaya Nath
Assistant director leadership, The King's Fund
"Vijaya Nath, in recognition of commitment and devotion to leadership development in the NHS." So opened one of the several nominations we received for the assistant director leadership at The King's Fund, and there are likely few better summaries of her contribution to healthcare. Our judges were particularly impressed with her commitment to helping other women succeed in the NHS: she is the co-director of the fund's Athena programme for female executives.
Judges' comments: "There is no doubt that she has had a really positive impact on lots of people."
Yvonne Newbold
Service user and author of The Special Parent's Handbook
Yvonne Newbold is something of an expert when it comes to navigating the sometimes complex health and social care systems. All three of her children have different disabilities or serious illness and, in 2012, she received her own unwelcome diagnosis of stage IV breast cancer. Children with disabilities do not come with a handbook, she points out, and so she decided to write her own, The Special Parent's Handbook, published in June. The guide for parents of seriously ill or disabled children aims to help "make life easier and more fun". It is characteristic of Yvonne's positive approach and desire to share her experiences with others, which she also does through social media and through speeches at conferences.
Judges comments': "I like the fact she's a service user, an important group we want to recognise."
Annie Ollivierre-Smith
Cath lab manager and lead cardiac nurse, BMI The London Independent Hospital
Annie was Nursing Times' Nurse of the Year in 2013, and the same qualities that impressed the judging panel for that award impressed our Inspirational Women judges - namely, her complete focus on patient experience and care. Although she works in the private sector, this cardiac nurse says she does not think of the two as different in that "we are all here to care for the patient. Just as you would lend a neighbour a cup of sugar, I will often lend local NHS trusts some kit if their order hasn't come in." Few would disagree that such an attitude is inspirational.
Judges comments': "She has this amazing non-competitive attitude where she cares about the patient above all. She's a great role model."
Clare Panniker
Chief executive, Basildon and Thurrock University Hospitals Foundation Trust
Just like one of the other chief executives on our list, Clare is leading an organisation that has been through troubled times. And, just like Karen James, it seems she is doing so successfully. At a recent CQC inspection, the former special measures trust was signed off as "good". Her innovative approach to change has included inviting patients that have had a bad experience of care at the trust to come in and train staff.
Judges' comments: "She has taken the organisation's worst critics and turned them into advocates. That's impressive."
Gill Phillips
Creator, Whose Shoes?
After 30 years in the social care sector, Gill could be forgiven for having developed a distinct scepticism about the benefits of top-down training. In an effort to save her colleagues in the sector from death by PowerPoint, she decided to create an interactive training tool. The result was Whose Shoes?, a board game that allows players to "walk in other people's shoes". The tool brings together colleagues from all levels and areas of an organisation to consider person-centred care, particularly for those with dementia.
Judges' comments: "I think she's genuinely someone who inspires people to do more for those with dementia. She is excellent."
Dr Jane Povey
GP and deputy medical director (primary care and public health), Faculty of Medical Leadership and Management
As clinical engagement and leadership director for the implementation of the new commissioning system, Jane played an important role in supporting the move to CCGs. She is dedicated to improving collaborative working between all partners in health and social care, both locally and nationally. And, as a keen musician, she is also planning a social venture to make creative arts more accessible to her local community in Shropshire.
Judges' comments: "She's doing brilliant things."
Professor Kathy Pritchard-Jones
Programme director, Integrated Cancer Programme at UCL Partners and chief medical officer, London Cancer
Integration is a watchword in today's NHS but in Kathy the health service has someone who is delivering on the promise. Over the last three years, she has created London Cancer to care for patients across north and east London. More than 200 clinicians from close to 20 acute providers are now working together with GPs and academics to deliver the best possible care to local patients.
Judges comments': "Making a significant impact on the care of so many patients through engagement of other professions and partners is not always easy. Kathy has done this with enthusiasm and energy and inspired a very wide group of clinicians."
Dr Daghni Rajasingam
Consultant obstetrician and lead for birth centres, Guy's and St Thomas' Foundation Trust
When she was named one of our first BME Pioneers last year, Daghni was praised by our judges for "being one of the very few doctors who support ethnic minority female doctors". It is this support that sees her recognised as one of our inspirational women this year, as well as her extensive efforts to raise the profile of women's health issues.
Judges' comments: "Hugely inspiring and supportive."
Melinda Rees
Consultant clinical psychologist and clinical lead for iCope, Camden and Islington Foundation Trust
Melinda leads her organisation's increasing access to psychological therapies service, which her colleagues describe as having becoming one of the most successful in London under her stewardship. At the same time as managing a team of 90, she is a mother to three young sons - "she is always full of energy and drive," said one of those who nominated her.
Judges' comments: "This is a really difficult area to work in, because there is a massive growth rate in the people needing access to psychological services. She sounds fantastic, and we want to meet her!"
Professor Laura Serrant
Professor of community and public health nursing and associate dean of research and enterprise, School of Health and Wellbeing, Wolverhampton University
It is a year of accolades for Laura: in May, she was presented with a Queen's Nurse Award in recognition of her efforts to raise the profile of community nursing. The academic and former nurse has long been interested in exploring ways for health and social care to better reach marginalised communities.
Judges' comments: "Laura has a rare blend of energy, enthusiasm and warmth. When combined with her expertise and depth of knowledge of her subject, it makes her a true inspiration to all clinicians working to promote better outcomes for diverse communities. She leads with authenticity, grace and wisdom and is a fantastic role model for many."
Andrea Sutcliffe
Chief inspector of adult social care, Care Quality Commission
When Andrea Sutcliffe was appointed to her a role at the CQC, The Daily Telegraph suggested she was on a hiding to nothing in public relations terms - get it right and expect silence, get it wrong and expect an outcry. Yet her advocation of the "mum test" sums up her compassionate, respected, common-sense approach.
Judges' comments: "She is inspirational not just in what she does, but in how she does it. She's confident without being arrogant, ambitious for her work not herself, and always focused on the good she can do for others."
Leila Williams
Director of service transformation, NHS Greater Manchester
To lead one successful service transformation programme could be considered impressive. To lead several is, our judges agreed, inspirational. Leila has been responsible for several projects, including Making It Better, a reconfiguration of children's and women's services across Greater Manchester, and is now running Healthier Together. "She leads others to put their head above the parapet and reconfigure services to optimise care for patients," said one of those nominating her.
Judges' comments: "I hear great work has come out of the Greater Manchester area around service transformation, and it's not an easy task."
Dr Ingrid Wolfe
Director, Evelina London Child Health programme and paediatric public health consultant, Guy's and St Thomas' Foundation Trust
Ingrid is keen to address what she argues is "a national scandal": the fact that research she led shows the UK has the highest number of excess child deaths among 15 European Union member states. She regularly seeks opportunities to make the public and government aware of this, and uses social media to share examples of practice that could drive down the rate.
Judges' comments: "Innovation in public health is pretty unheard of, even more so in paediatrics, so she deserves recognition."
Fran Woodard
Director for England, Macmillan Cancer Support
Fran has only been at Macmillan Cancer Support for 10 months, but she brings with her a strong record of driving patient-centred change. During her time as director of the Department of Health's Modernisation Initiative, she led three major programmes in south east London. One was focused on kidney disease, and led to two national firsts: the introduction of nocturnal dialysis and self-care dialysis. As one of those nominating her says, "she has led some of the most genuinely patient-centred transformation projects in the NHS".
Judges' comments: "She's fabulous, and has a track record of doing things which are undoubtedly inspiring."
The judging process
For the second HSJ Most Inspirational Women in Healthcare, we decided to focus our attention on the women driving transformational change in healthcare.
We opened nominations in May, inviting our readers to name those they thought our judges should be considering. Nominations were accepted both via Twitter and via hsj.co.uk. Nominees could be from either a clinical or non-clinical background, and from within the NHS or outside it.
Our judges met at the HSJ offices a month later to consider the long list. The only nominees that were excluded from consideration were those who work for HSJ or one of our sister publications. Judges were not prevented from being on the list, but were not party to conversations about their potential inclusion.
The judges considered a wide range of factors in coming to their decisions. However, they were particularly keen to highlight individuals who they considered to be meeting one or more of the following criteria:
delivering outstanding leadership;
acting as a role model/mentor to colleagues;
sharing knowledge and expertise with others in the sector;
driving innovation in service redesign and/or
research; and
being at the heart of shaping or influencing policy.
The judges
Gail Adams, head of nursing, Unison
Lisa Bayliss-Pratt, director of nursing, Health Education England
Susan Hamer, organisational and workforce development director, National Institute for Health Research's Clinical Research Network
Harry Hayer, director of organisation, people and performance, North Bristol Trust
Wendy Irwin, diversity and equalities coordinator, Royal College of Nursing
Dr Nikita Kanani, GP, vice chair of Bexley CCG, and quality lead, Faculty of Medical Leadership and Management
Karen Lynas, deputy managing director, NHS Leadership Academy
Jenni Middleton, editor, Nursing Times
Adam Sewell-Jones, deputy chief executive and interim chief operating officer, Basildon and Thurrock University Hospitals Foundation Trust
Ruth Warden, assistant director of employment services, NHS Employers