Daloni Carlisle reports on how British Red Cross volunteers have been successful in giving care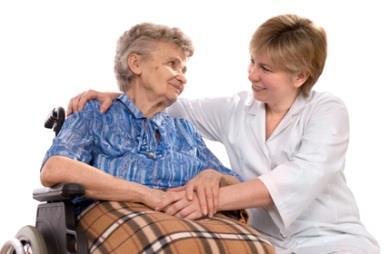 If you had been waiting in the accident and emergency department at Leighton Hospital in Crewe this winter, you would have seen a couple of very friendly faces atop bright red uniforms: that of the British Red Cross.

The BRC volunteers have been working in this busy A&E since mid November 2014, helping patients who don't need a hospital bed, but rather to get home quickly and safely. By late January they had helped more than 200 patients home.
Amanda Palin, A&E discharge service manager for the BRC at Leighton Hospital, explains how the service works.
"We have a small team working in the discharge lounge in A&E and in the patient intervention unit," she says. "We are on duty from noon until 8pm. We work with the discharge team at the hospital to identify vulnerable patients who could be discharged home safely with our support."
They use their own cars to drive the patients home, settle them in and follow them up for 24 hours.
'Patients recognise the Red Cross uniform and they trust it'
"We make sure the house is warm and safe and give the patient an information pack about local services," says Ms Palin. "We fill in a patient passport if that's needed, with details such as what has happened to them, how they like to be addressed, what is their favourite food and so on. This is crucial if people cannot speak for themselves."
If a patient has left hospital before take home medication has been dispensed, the BRC delivers the meds by Land Rover.
On day two, they make a follow up – a phone call. If all is well, great. If not, they can refer on to the BRC's Home from Hospital scheme that provides up to six weeks social support such as help with shopping and befriending (see case study, below).
Both Ms Palin and Denise Frodsham, chief operating officer at Leighton Hospital, describe the service as "incredibly successful".
"It has amazed us how the service has become part of the team within such a short time," says Mrs Frodsham. "Patients recognise the Red Cross uniform and they trust it. They look smart and professional and always have big smiles on their faces. I see them holding elderly patients' hands and comforting them."
Often a new service needs time to bed down but Mrs Frodsham says this has not been the case. "It's gone like a dream," she says. "I cannot tell you how smooth it has been. You see them talking to the discharge team like they have always been here."
The job of caring
Part of the success is that the volunteers do the important caring jobs that are now beyond the capacity of busy clinical staff in an A&E department receiving one third more ambulances than last year and an increasing number of very elderly patients aged over 90. They make tea, they hold hands, they listen and reassure and then they do something very practical. The clinical staff know the impact this has on patients.
"The hospital discharge team bought the Red Cross workers a box of biscuits at Christmas to say thank you," says Mrs Frodsham.
Leighton Hospital kept the A&E open this winter and did not declare a major incident and undoubtedly the BRC's role complementing NHS services was crucial in this.
'The BRC is a can do organisation, with a clear mandate to provide a crisis response'
Ms Frodsham is reluctant to say the service has prevented x number of admissions or saved y number of bed days, recognising that it is just part of the jigsaw of services.
It is a jigsaw assembled by Cheshire's Health Economy Operational Resilience Group that brings together the hospital trust, community services, GPs, social services and the clinical commissioning group.
In summer 2014, this group put together their bids for winter funding, top slicing some money to commission third sector services, of which the BRC A&E discharge service was one.
That the set up, integration and operation of the service in Crewe was so smooth comes as no surprise to Sue Collins, head of independent living at BRC. "We were asked to set up a service by Worcester CCG this winter," she says. "We managed to get it up and running in 24 hours."
Can do
The Red Cross now runs 26 such A&E discharge services alongside 86 Home from Hospital schemes and has another 19 contracts with ambulance trusts. Last year, BRC supported just short of 500,000 people with independent living services.
She gives four key characteristics of the BRC's approach: "Local and national leadership is crucial – having the right conversations with the right people at the right time."
'Like the NHS, we are focused on service user dignity and put the patient at the heart of what we do'
The approach is proactive; they go to chief executives of trusts and CCGs not with a bid for funds but with a practical solution to a problem. They provide evidence – for example she has been able to demonstrate over £100,000 savings at one hospital alone.
"We have a shared value base," she adds. "Like the NHS, we are focused on service user dignity and put the patient at the heart of what we do."
Finally, the BRC is a "can do" organisation, with a clear mandate to provide a crisis response and able to call on 30,000 trained volunteers. "This solution is scalable," says Ms Collins.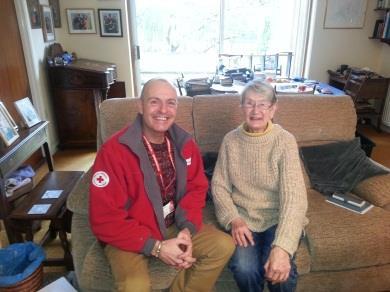 Interest in third sector
Given the winter A&E pressures in 2014-15, it is no surprise that there is now national political interest in what the third sector can do to support the NHS.
In January, Sir Jeremy Heywood, the cabinet secretary and head of the Civil Service, and Una O'Brien, permanent secretary at the Department of Health, met with a delegation from the Red Cross, Age UK, Royal Voluntary Service led by the Association of Chief Executives of Voluntary Organisations to consider the matter.
Now more winter funding has been allocated to these organisations, not just for A&E discharge but also to help hospitals prevent delayed transfers of care.
'It's no surprise that there is now national political interest in what the third sector can do to support the NHS'
Back in Crewe there is a real sense of pride at what has been achieved in a few short months.
Ms Palin describes her team as "proud" to work alongside the NHS.
Mrs Frodsham, meanwhile, is busy working to extend the service beyond the winter and into spring.
Would she recommend other hospitals work with BRC to develop similar services?
"Absolutely yes," she says. "I just wish someone had recommended it to us sooner."
Case study: 'They gave me unlimited time'
"My name is Mrs Shirley Green and I'm an 81-year-old widow living in Woodbridge, near Ipswich, where I've lived for 25 years. Last year, on 16 December, I was walking my greyhound Psyche when I had a fall. I'm usually very active and walk her for at least an hour a day, so it was a shock.
I had to stay overnight at Ipswich Hospital to have a scan of my head to make sure I was OK. The next day I was nervous about getting home on my own after being in hospital, but the Red Cross came up trumps.
Their volunteers took me home from hospital and made sure I was fine on my own, gave me information on schemes and how they could help, and asked if there were any practical things I needed around the house, such as mobility aids.
They also helped by checking that everything was safe and warm for the winter. And when I needed to get my Christmas food, Amy, one of the Red Cross volunteers, helped me with that as well.
My only daughter, who lives in Wales, visited me the next day and was pleased to see I was being cared for so well at home by the Red Cross. She's said she has peace of mind now I'm being looked after like this!
It would have been completely different being on my own without the Red Cross's help, and I gave them a donation to show my gratitude.
The two Red Cross ladies who supported me to get back home were charming, extremely helpful and caring. They gave me unlimited time, and I was not rushed. They carefully checked I would be able to manage everything, without making me feel a liability.
There's nothing as good as being at home. It was even better when the Red Cross ladies rang the next day and the day after that to see if there was anything else I needed, and Amy helped me to the hospital for my checkups. The volunteers are just like friends coming round.
My daughter and her husband are also coming round to stay and help me with a few things around the house, which I'm really looking forward to, and I've been shopping with friends and feel much better now."
Supplement: Everybody's talking about integration but can the NHS deliver?
1

2

3

4

5

Currently reading

Integration supplement: How the third sector helps discharged patients