For the million people who take warfarin – and who often have to give up holidays to make monthly or even weekly clinic visits to have their blood tested – home monitoring offers a sunnier future. By Claire Read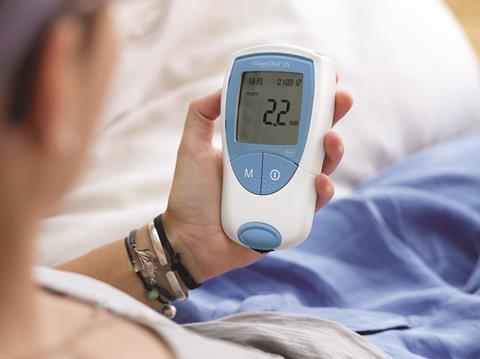 For the estimated 1 million people in the UK who take warfarin, being on the drug can sometimes feel like having a demanding part-time job. The medication is the most commonly prescribed anticoagulant, slowing the rate at which blood clots. In so doing, it reduces the risk of potentially seriously conditions such as deep vein thrombosis, pulmonary embolism, heart attack and stroke.
'A number of our patients tell us that, when they come to clinic, they have to take the time as holiday'
But its use involves careful monitoring. That is a process which has traditionally involved seeing a healthcare professional for a blood test, which measures how quickly the blood is clotting. From there, a decision is taken on whether the warfarin dose needs adjusting. These tests usually require attending a clinic, at least monthly and sometimes as frequently as weekly.
The disruption to a person's life is not hard to imagine: the challenge of securing time away from work or other responsibilities, the need to pay frequent car parking charges or bus fares, the inability to go away on holiday for anything resembling an extended period of time. Too often, the role of warfarin patient means losing money and time - and overall quality of life with it.
"We've had a number of our patients tell us that, when they come to clinic, they have to take the time as holiday," explains Jeannie Hardy, telehealth programme manager at County Durham and Darlington Foundation Trust. "That of course isn't good from a health point of view that people aren't getting their holidays and their time off.
"We've also had people tell us that it's really difficult if you're out of work and applying for a job, because you have to say to prospective employers: 'I need to go to clinic frequently to get my blood tested.' In the current climate, people felt that might be off putting."
Staying at home
In that context, the success of a project which makes it possible for those on warfarin to be monitored from home is unsurprising. For just over a year, patients cared for by County Durham and Darlington Foundation Trust have had the option to use a digital self-testing service. They are trained to take a finger prick blood sample, put it onto a test strip, and then place the test strip in a monitor with which they are provided.
'By taking 200 people out of the clinic environment, it's meant that the patients who do come to clinic have more time with the nurses'
The monitor gives a reading of the person's INR – international normalised ratio, a measure of how quickly blood clots – which he or she can then share with clinic staff via an automated phone call. Software automatically shares the figure with clinical staff, who check it, and the patient receives an automated call back letting them know whether they need to change their dose of warfarin. That's it. No need to attend a clinic, and the patient can even choose the time of day at which they submit their reading and at which they receive the call back with their dose.
For the 200 people who have been on the service during its initial trial, the system has changed their lives. As Ian Dove, the trust's business development manager, puts it: "They don't have to come to hospital every two weeks, they don't have to pay £2.50 for parking for that hour and sit in queues in the clinic, they don't have to ask for time off work, they can go on their holidays to Spain or go off caravanning and still receive their warfarin dose from the nurses at County Durham and Darlington Foundation Trust."
Little wonder that almost all of those on the pilot programme agreed that it had helped improve the anticoagulation service. It has also helped improve the patients' outcomes. Before the project began, these people were only in therapeutic range around 60 per cent of the time. In other words, 40 per cent of the time their blood was either clotting too quickly, putting them at risk of thrombosis, or too slowly, putting them at risk of bleeding complications. By the end of the trial, time in therapeutic range had increased to around 75 per cent.
As Mr Dove explains, that's a significant benefit for the trust too. "Because the people on the pilot were in range more often, they're not likely to be burdening a health system which is creaking to meet capacity. Our A&E and one of our hospitals in particular is under real pressure at the moment, so it's good that we're increasing their TTR so they're unlikely to have clotting events. It's much safer."
In addition, he says clinicians are finding that the project has improved the quality of the time they spend with patients who do attend clinic. "Imagine what these clinics are like: 90 people coming in over a period of three hours who we need to rush through. So by taking 200 people out of that clinic environment, it's meant that the patients who do come to clinic have more time with the nurses. The quality and time we spend with patients who need to be seen face to face increases."
Unexpected benefit
Mr Dove admits that this benefit falls into the category of "unexpected but welcomed". Indeed, while the success of a project that freed people from attending INR clinics might have been predictable, all involved say that there has been a lot of learning along the way. That includes working out which patients will benefit from the system most.
"The INR project started from the idea of making it unnecessary for nurses to go out and take INR readings for people who were homebound," says Mr Dove. "Instead of a district nurse going out and pricking someone's finger and phoning in the results, we'd give people a Roche CoaguChek XS monitor and strips so that they could do it themselves.
'You're asking the clinicians: what is the problem that you have, and how do we get things to actually make that work?'
"We worked with the warfarin team to develop that pathway, but unfortunately when we went out to ask for volunteers to come on to the pilot, we found than none of those who were housebound were wanting to volunteer. For them it was a benefit to have a district nurse coming in for a chat every week, and in any case their cases were fairly complex.
"So instead we handpicked some people who weren't particularly good at showing up at clinic regularly but were fairly well in range, and these tended to be people who were working. We have one person for instance who works in Aberdeen, and he used to have to fly down to get his INR done and then go back. These were people who were notoriously difficult to get into the clinic, because they had lots going on in their lives and we were asking them to come to us every two to three weeks to get their blood tests done."
When this cohort was invited onto the pilot, there was no shortage of volunteers. "We managed to reach 100 patients and started with that group. And then we found there were a load of other patients who wanted to be on it because they'd spoken to someone, because this is a fairly close group. So we got to 200, and now we've got a waiting list to get to 300.
"So in some ways it was sort of by accident that we found the cohort and a successful product. It wasn't where we'd originally intended to release the capacity in the system. But it's been successful because we're giving patients a lifestyle choice - they're not bound by hospital appointments."
Patient choice
Associate director of business development Ian Briggs agrees. "It is about lifestyle and patients having a choice and being considered as a whole person. If somebody does not want to turn up at the clinic all the time, and if we can provide a safe cost-effective alternative, then that's a legitimate choice in terms of not wanting to be defined by your condition.
"It won't work for everyone," he emphasises. "In some ways, this is not about offering digital health – it's about our services having a digital offer, and there being a choice for patients. We still do anticoagulant clinics in the hospital, but we need to offer choice. So the Health Call INR Monitoring is the digital offer for these services; the digital part of the INR service."
It is just one of many subtle distinctions which characterises the trust's approach to digital health. "I think that, in the past, telehealth has often been an initiative looking for something to do; a box looking for some patient to attach itself to," argues Mr Briggs. "Whereas we've tried to flip it around into an outcome or a problem we're trying to solve with a digital approach. You're asking the clinicians: what is the problem that you have, and how do we get things to actually make that work? And you get the clinician involved in the design."
What that meant for the INR project is that clinicians fully designed the pathways and protocols that sit behind the system. It is they who have decided when, for instance, the system instructs the patient to come in and see a healthcare professional rather than continuing to manage their condition at home.
Richard Quine, product director at Inhealthcare Ltd - the company that developed the software which drives the whole automated process - clearly remembers how that clinician led design came about.
"We went in to meet the warfarin team and explained we had this method of monitoring INR at home. But the mistake we made is that we engaged with the team after we had designed the software. We sat there with a sceptical team of nurses - who are now massive advocates of the system, incidentally," he explains with a smile.
The patient's story
When June started getting out of breath when she tried to walk anything other than very short distances, she knew it was time for a visit to her doctor.
She was soon diagnosed with an irregular heartbeat, and was put on warfarin. That meant some visits to clinics, which was not the easiest of processes.
"I live in Gainford [a village in a rural part of Durham] and it's eight miles either way to Barnard Castle Hospital, or Darlington, or Bishop Auckland," she explains.
"When I first went, there was a lot of snow on the road and I was driving. I had to park at the bottom car park and walk uphill to the hospital, and then it was a long corridor down to the clinic. When I went back out, I had to sit down in the entrance before I could walk back to my car."
Now, however, June rarely needs to attend the warfarin clinic. The Health Call INR Monitoring programme means she and her clinicians can keep an eye on her progress without her needing to go the hospital.
She admits it took her a little while to get the hang of the system - "I am 83," she says with a laugh - but says she's comfortable using it now.
"You can take the prick of blood from any finger and it's nothing really, is it, a prick of your finger. And I have the monitor there, and just drop the blood on.
"Then I get a phone call at 10am and it asks me what the result is; asks me what the monitor says. I enter that in and it says I'll ring you back at 5pm. So it rings me back at 5pm with the dose and I have a little book [where I keep track of it].
"It's much easier for me," she says.
"So I think one of the things that we learnt from that exercise was don't go in saying: 'Here's some technology that we think could benefit you.' We should have said: 'What are your challenges? How do you think we can help you meet them?' So we reversed and went back through the process.
"And so ultimately it wasn't us who designed the service and it wasn't Roche, who supply the CoaguChek XS monitors. It was the clinicians at the coalface dealing with real NHS problems and dealing with real patients. They weren't interested in national targets or strategic outputs or anything like that - they just had a day job to do and they needed to do it better. So that's what we've learnt throughout this project: start with a real problem, and start with the people who are trying to deal with that problem.
Engaging clinicians
"You have to make sure you engage the clinicians from day one," he continues. "It sounds obvious, and when people see it written down, they will all say, well, of course you should. But that's actually not how a lot of tech projects work in the NHS."
'Ultimately it was the clinicians at the coalface dealing with real NHS problems and dealing with real patients who designed the service'
It's a point echoed by Mr Dove. "Where we've found digital health to be successful is where we've had the clinicians design the protocol, the specification of the software, the pathways that surround it – and through that, they become engaged. Where we've just asked them to adopt a product that's been sold to us or developed by another area, we've had no luck whatsoever."
A partnership approach, in other words. In many ways, it is an approach which characterises the whole project.
"The relationship building and the trust between us and Roche and Inhealthcare has been key in the development of the system," reports Ms Hardy. "We started at a point, and we've all learned as we've moved along, and we've all been very flexible in how we've worked together. Things that needed amending have been done along the way. So, for instance, based on clinical feedback about ease of use, Inhealthcare adapted the web portal.
"We all give feedback about what is and isn't working, and people don't feel threatened by that. We can all work together and move on."
So where to next? All emphasise the extent of the progress already made: the pilot that became a project is now simply an established part of service delivery. It is also sufficiently respected to have gained national attention – the National Institute for Health and Care Excellence has invited staff at the trust to contribute as it develops its guidance on self-monitoring, expected to be published shortly.
The next stage
Mr Dove sees the next stage as refining the service. He explains that there is a demographic that wants to use smartphones to share their results and get their dosing information, or perhaps to send and receive information online. Important too, he says, will be meeting the classic NHS technology challenge of interoperability.
"We have been working with multiple systems until now. So the software gets the results from the patient and delivers that to the nurse. But then the nurse had to take those results and put them into a clinical dosing system called DAWN and then go back and put them into the telehealth unit.
'Once you've seen the benefits, you want every patient to have it – not just those in our area'
"That meant there were risks of incorrect transcribing and it was taking much longer than if it had been a face to face appointment and you just took the results on the spot. So we've now engaged with the company that makes DAWN and they're connecting with the Inhealthcare platform. In future, the system will just send the results straight to DAWN so it will be much faster and much safer."
The other key area of focus is on introducing the system to other organisations. While the system is built on protocols and pathways developed by staff at the organisation, the software can be made available to other trusts through Inhealthcare's platform - which would lead to financial benefits for County Durham and Darlington Foundation Trust.
"The platform is designed to host protocols and pathways and ways of doing things from several different organisations," explains Mr Quine. "They put their services on to our platform, and then our platform is integrated into all other sorts of systems like TPP, EMIS, Spine, DAWN, INRstar and so on."
"Certainly in the last year, year and a half, we've had a lot of discussions with and inquiries from other NHS trusts who've been interested in what we've been doing and would like to be able to use the product we've developed," reports Ms Hardy. "So I think potentially we could see a much wider rollout to other parts of the country. Once you've seen the benefits, you want every patient to have it – not just those in our area."
For more information contact burgesshill.coaguchek@roche.com or contact@inhealthcare.co.uk