Monitoring patients with chronic conditions in their homes with new technology improves outcomes, but the NHS is not ready to operate this model on a wider basis. By Alison Moore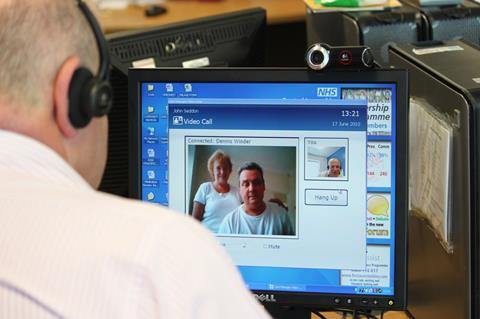 Many patients want to be more involved in their care and avoid unplanned hospital visits
Delivering care to patients that is both personalised to their needs and integrated will be one of the big challenges for the NHS as the population ages and suffers from chronic conditions.
There is widespread recognition that existing models of care are neither financially affordable nor meet patients' aspirations about the kind of life they want to lead. Many patients do not want to make multiple visits to hospital if they can be avoided and would prefer to remain at home. They are also keen to be more involved in their own care.
Technology can help to reconcile these demands.
Who needs what
One of the first steps is to identify which parts of the population require which resources. Liverpool Clinical Commissioning Group is looking at its population needs for the future and is leading More Independent - a partnership that is helping more people in Liverpool live independently at home.
Dave Horsfield, programme manager of the partnership, says that often the issues are about "how we deliver the service and the battle for hearts and minds". With telehealth, for example, some patients may be concerned that technology would mean less contact with their district nurse and an increase in social isolation.
"However, our experience is patients who regularly monitor their condition alongside the support of a health professional feel more confident, and can therefore get out and about in their community more," says Mr Horsfield.
'One of the challenges is that monitoring technology has changed and will continue to change'
He believes it is wrong to assume that older people cannot use technology or learn how to use it. Many older people already use a range of technology in their daily lives. And for those who need it, there is help and support available when technology is installed in their homes and ongoing support available through More Independent partners.
One of the challenges is that monitoring technology has changed and will continue to change. What was once a black box in the living room is often now integrated with the TV, is moving to tablet or smartphone, and may soon become an app - a shift from hardware to software that has been evident in other industries. Investing in fixed equipment can therefore be risky for the NHS and there has been a shift towards leasing as a more flexible option.
"Part of the solution is seeing your technology supplier as partner rather than just a supplier," says Mr Horsfield. Feedback about what technology needs to do and the issues raised can help guide development.
Self-help
Patients' role in their care is now increasingly important.
Mr Horsfield says: "With [chronic obstructive pulmonary disease] the ability to do vital tests at home can make a big difference to the patient. For example, if they see their blood oxygen saturation is at 95 per cent, they know they are OK. However, if it's at 80 per cent patients can be reassured that a health professional is monitoring them and will get them the most appropriate help.
"For many patients it's meant less stress and upset for them and their families, as well as a reduction in unplanned visits to the GP or hospital."
Technology can help healthcare workers to draw up a comprehensive care plan that has elements of self-monitoring, where appropriate, and involves primary and secondary healthcare, and increasingly community social care providers and voluntary support agencies.
The challenge for many health economies will be how to scale up technology to cover larger numbers of patients and how to change working practices among NHS staff. Many will be used to a hands-on, face to face approach with a small group of patients they see regularly.
The future shape of healthcare may involve them responding to changes picked up by monitoring equipment among a larger group of patients who they may not know or be so familiar with.
'Patients who regularly monitor their condition alongside the support of a health professional feel more confident'
In Hull around 220 patients with heart failure are monitored remotely at any one time. Weight, blood pressure, pulse and any change in symptoms are recorded daily. If these change outside the normal parameters for each patient a team of nurses based at the local hospital are alerted. They will use their clinical judgement about what it means for the patient. They also have access to specialist doctors.
The system has resulted in better outcomes for patients and fewer hospital admissions. The cost of the service has also shown to be lower than the cost of the avoided admissions.
There are considerations in upscaling this scheme to cover all the patients in the area.
David Barrett, a nurse lecturer at Hull University involved in the project, says there are questions about what section of patients it will work for and also what model of monitoring works best for different patients and different conditions. Some patients will be able to self-monitor effectively anyhow and will proactively contact the health service if their readings changes. Others may have conditions that are too unstable for remote monitoring.
The Whole System Demonstrator for telemonitoring - a huge research programme covering sites across the country - showed good results for some patients but high costs, Mr Barrett points out.
Some schemes take a more call centre style approach with staff triaging the results before a nurse gets involved. These centres can potentially monitor people with a range of different conditions and can cover wide geographical areas.
There will also be workforce implications if staff work full time on monitoring and responding to problems. Mr Barrett says issues of peer support and continuing professional development will need to be addressed.
Data stream
But no one doubts that monitoring at home can offer benefits to patients and save them unnecessary visits to hospital. Non-invasive ventilation and sleep therapy, for example, can be carried out with equipment at home. The data can be wirelessly transmitted to hospital staff, who can then review it and contact patients if they have concerns.
Becky Hall, a physiotherapist who heads an NIV service in Bristol, uses the Philips EncoreAnywhere remote monitoring system and says she has been able to spot problems, such as an ill fitting mask, quickly rather than waiting until the patient is back in hospital.
'No one doubts that monitoring at home can offer benefits to patients and save them unnecessary visits to hospital'
Those involved in NIV may not have to spend a long time reviewing each patient on a hospital visit, but time is needed to review data daily.
But Sara Parsons, who runs a sleep service at St George's Hospital in London, highlights the benefits for patients.
"The big thing for me is being able to deal with issues as they crop up, rather than waiting. Some patients used to struggle for several weeks between appointments."
Telehealth special report: Remote control of care
1

Currently reading

Telehealth special report: Remote control of care

2