Trusts racing to speed up clinical letters must radically rethink an often tortuous process. By Daloni Carlisle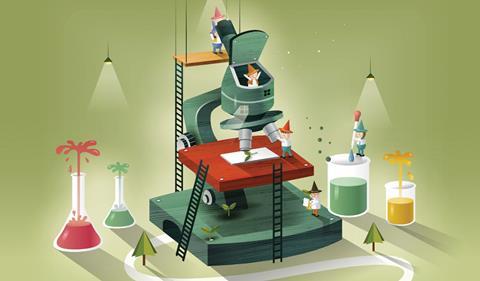 Did you hear about the trust where secretaries had to go through ten steps to find the right information to complete standard clinic letters for patients attending an outpatient appointment? Or about the consultants who docked their handheld digital dictation recorders once a day - just before they left for home?
Such scenarios are common and, until now, have largely gone unnoticed because they are just the way things are done. Each of them delays getting that all-important clinic letter to GPs and patients.
'When patient letters get delayed or lost, you risk drug errors or the inability to follow treatment plans'
But with new pressures on trusts to meet targets for getting letters out in a timely manner − often backed by quality payments − they are now coming under the microscope.
Anna Bayes − a hospital doctor, management IT consultant and director of AB Consulting − says: "A lot of trusts have tried to make quick efficiency gains where they have huge transcription backlogs by using digital dictation or outsourcing their transcription. I hear again and again that this has gone some way to making improvements in timeliness but it has not delivered the savings they expected."
And that's because producing a letter is a process: the clinician dictates the letter, possibly having to wait for test results to complete it; the secretary transcribes it and adds in details such as patient demographics and the GP details; the doctor reviews and approves it; and then out the letter goes. Possibly by post. And at each stage of this process there are potential bottlenecks. Some are human; some can be solved with technology.
Fresh memories
"The first bottleneck is the dictation," says Dr Bayes. "Some clinicians do it as they go; some do it at the end of the clinic; some do it later. Yes, there might be clinics where they need to wait for test results, but many clinicians believe it should be done at the point of care when their memory about that patient is fresh."
Next comes transcription. Here there are two more bottlenecks - first the speed with which audio files reach the secretaries and second the speed and accuracy with which secretaries can complete letters, for example by adding patient names and addresses, checking the GP details and importing test results.
Templates really help too. Speeding up this part of the process is part human − getting clinicians to send audio files in a timely manner − and part automation.
"Digital dictation and speech recognition systems need to integrate with and communicate with other hospital systems such as the PAS and National GP Database," explains Chris Rodwell, head of healthcare for Winscribe.
Then there is review and approval. Again clinicians vary in how they like to do things. Some want every iteration printed, says Dr Bayes.
"But the more IT savvy are happy to review and correct on screen themselves rather than instructing secretarial staff to make corrections. Some even use electronic signatures."
There is another dimension in a changing NHS. "More and more we are seeing outpatient clinics taking place in community settings," adds Mr Rodwell. "If the clinician comes once a week to a clinic, ideally you want the letters ready for review and approval by the end of that clinic."
Finally comes dispatch. Increasingly this is done electronically, using NHSmail or other information exchanges. "Ideally what you want is for the patient to see the letter too, via a web portal," adds Mr Rodwell. "This is all part of improving the patient experience and empowering patients."
All of this is technically achievable with Winscribe and its clinical workflow Epro modules that can manage letter production from end to end. But it is not easy and requires not just the IT but also time and motion studies to understand existing processes, where these might need to change and how technology can fit in.
Sheffield Teaching Hospitals Foundation Trust has recently begun to explore this dynamic in a pilot project with Winscribe. The trust already uses digital dictation— and is now keen to explore wider benefits. The four-month pilot will look at workflow in three clinical areas picked to represent a good sample of the type of work carried out by the trust and which are at various stages in terms of meeting document turnaround time targets using a range of different processes.
"We want to understand where the variance comes from and identify improvements," says Alan Smith, the trust's project manager. "We know there may need to be some difference in processes between departments but as much as possible we want standard processes."
The project has senior buy in - it is one of a series of transformation projects that reports to the chief executive. Mr Smith reports via the director of HR while the project sponsor is the deputy medical director.
Major benefits to safety
The pilot will involve looking at how and when clinicians make their dictations, how quickly they can be transcribed and approved, how they get to GPs and patients − and how this can be streamlined to improve patient experience. It will also introduce speech recognition.
Only once these workflow processes have been thoroughly understood - along with any potential benefits and drawbacks of new technology - will the trust make any decisions about future investment or move forward with a formal tendering process.
It is an approach endorsed by Winscribe, where Mr Rodwell is interested in going beyond selling the technology to helping trusts get the most from it. Yes, there is scope for trusts to make significant savings. He has seen trusts slash their bills for paper, printing and postage as well as reduce the number of porters pushing trolleys of notes between clinics and records.
But ultimately the major benefits should be in patient experience and patient safety. As Dr Bayes says: "The burning platform for clinicians is patient safety. When patient letters get delayed or lost, you risk drug errors or the inability to follow treatment plans. That's why commissioners are getting feisty about this - and why hospital doctors and senior managers must get engaged."
Chris Rodwell on better processes
The humble clinic letter is gaining a new profile as commissioners introduce quality payments that reward providers for producing timely, high quality letters for GPs and patients following outpatient clinic appointments.
Technology has its place in streamlining correspondence to help meet these targets, but it is only part of the story. At the core of the process are the people involved. This may seem a strange message from a company best known for providing digital dictation and speech recognition solutions.
It is nevertheless our experience. Producing clinic letters is a process with multiple stakeholders in which creating the dictation is but one step.
The key to transformation is streamlining processes - for getting transcribed letters to doctors for signing, for example, or automating the importing of patient or clinic details or test results electronically, eliminating the need for laborious and error-prone manual re-typing.
A streamlined process integrated into other hospital systems can automate sending electronic letters to patients or GPs, which in turn can generate savings and benefits. This is why we think it is time to look at clinical correspondence as a workflow issue that requires transformational leadership with senior level buy-in.
This approach, coupled with technological innovation to automate many of the steps in document production, can really start to deliver efficiencies. Where this has been tried, trusts have achieved 48-hour turnaround times.
We have seen trusts transform their processes so clinic letters are transcribed and ready for the consultant to sign at the end of the clinic - and for patients to view in a portal before they get home.
Winscribe is the only company currently able to offer an end-to-end document trail to the NHS from clinic to letter distribution, integrating with the hospital's existing systems to populate data. Trusts achieve much more than faster letter production. Safer processes, secure patient data and more accurate documents all improve patient experience.
We have experience of where the bottlenecks are and how they can be streamlined. Our systems, including digital dictation, speech recognition and Epro clinical workflow management, are easy to train on and use.
Streamlining clinical correspondence is about more than secretaries and typing. It's about patient satisfaction and safety - an issue we will explore in a forthcoming HSJ supplement.
Innovation Through Technology − an HSJ supplement
1

2

3

Currently reading

Unplugging the clinical letter bottleneck