In association with Newton Europe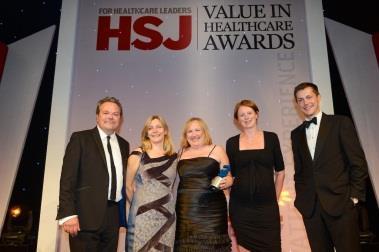 Finalists
Chelsea and Westminster Hospital Foundation Trust and Central London Community Healthcare Trust - winner
Birmingham Women's Foundation Trust - highly commended
Heart of England Foundation Trust
NAViGO Health & Social Care CIC
North West London Hospitals Trust
NHS Tower Hamlets Clinical Commissioning Group
United Lincolnshire Hospitals Trust
Worcestershire Acute Hospitals Trust
Wrightington, Wigan and Leigh Foundation Trust
Chelsea and Westminster Hospital Foundation Trust and Central London Community Healthcare Trust: Boundaryless patient flow across acute and community emergency care pathway
Judges said: The winner offered an excellent and grounded piece of work, demonstrating solid outcomes. The plan was well integrated and recognised the need for close system working and effective partnership.
Chelsea and Westminster Hospital Foundation Trust and Central London Community Healthcare with NWL Clinical Commissioners jointly initiated the Emergency Care Pathway Programme to improve boundaryless patient flow between their services. They partnered with GE Healthcare Performance Solutions to achieve this.
The first step was to set up a GP led programme board drawing together core members with key partners: London Ambulance, social services and CCG commissioners. The objectives were:
to reduce emergency admissions by 5 per cent on the previous year;
deliver earlier supported discharge and rehabilitation; and
keep patients safely at home.
The partners built a model simulating the end to end patient pathway which allowed Chelsea and Westminster to understand the interconnected impact of change on the whole system.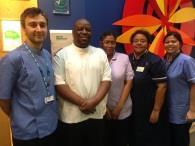 Rapid access acute medical and surgical clinics were developed, offering an alternative to admission for ambulant patients requiring urgent consultant opinion. This has contributed significantly to delivering a 6.5 per cent year on year reduction in emergency admissions at C&W in 2013-14.
Detailed analysis was also undertaken with CLCH around the key patient cohort of frequent attenders and/or admitters to C&W. Only 40 per cent of this cohort were already known to CLCH, and, on average, from seven to 17 beds were consumed at C&W by such patients, equivalent up to 502 bed days a month. This is a potential saving of up to £972,000 in costs within the acute setting.
Among other benefits were a reduction in emergency admissions by nearly 6.5 per cent on last year's volumes, which is over 1,500 fewer admissions, and also excess bed days reducing by 30 per cent.
Finalists
Birmingham Women's Foundation Trust: Hyperemesis Day Centre - highly commended
Heart of England Foundation Trust: Supported integrated discharge team
NAViGO Health & Social Care CIC: Providing services our families would be happy to use
North West London Hospitals Trust: Introduction of ARFI elastography into the patient pathway for chronic liver disease
NHS Tower Hamlets Clinical Commissioning Group: Accident and emergency streaming project
United Lincolnshire Hospitals Trust: Admission avoidance in Lincolnshire
Worcestershire Acute Hospitals Trust: Stroke service
Wrightington, Wigan and Leigh Foundation Trust: Maternity triage
Chelsea and Westminster Hospital Foundation Trust: Boundaryless patient flow across acute and community emergency care pathway
Sponsor profile: Newton Europe
Newton, which was founded in 2001 by a group of highly qualified and experienced engineers, is today the leading cost and efficiency improvement specialist in Europe. The company also currently holds the National Business Awards title of Best Small to Medium Sized Business in the UK.
Having grown consistently from year to year, the Oxford based company has developed an extensive track record of delivering performance improvements of 10-50 per cent for all client operations and supply chains without incurring capital expenditure.
Newton applies a unique engineering-based approach across a wide range of industry sectors including healthcare, local government, defence and aerospace, consumer, wholesale and retail. Working alongside client teams from the shop floor through to the boardroom, Newton helps organisations deliver tangible, sustainable improvements.
Newton has a substantial proven track record and has worked with an impressive list of clients including the NHS, Rolls-Royce, BAE Systems, VT Group, Nissan, Kerry Foods, and British Airways.
All projects are delivered under a guaranteed no results, no fee basis. For more information, visit www.newtoneurope.com