In association with Microsoft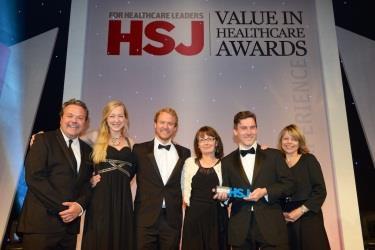 Finalists
Macmillan Cancer Support - winner
Aintree University Hospital Foundation Trust
Coventry and Warwickshire Partnership Trust
Derby Hospitals Foundation Trust
Emersons Green Treatment Centre, Care UK
St Helens and Knowsley Health Informatics Service
Hillingdon Hospitals Foundation Trust and Newton Europe
Wrightington, Wigan and Leigh Foundation Trust: WHO safer surgery checklist online
Macmillan Cancer Support: Macmillan electronic cancer decision support tool
The judges said this was a nationally important innovation that directly addresses a major health problem in a way that allows rapid delivery across primary care throughout the UK.
The Macmillan Cancer Decision Support Tool (CDS) is a symptom-based software tool that raises awareness of cancer and aids GPs' clinical judgement. The tool runs in the background of a GP's computer system and is activated when a patient record is viewed.
CDS is central to developing the area of early diagnosis of cancer by identifying and linking symptoms that may otherwise be missed in a busy surgery environment.
CDS can also be used in two more explicit ways. Firstly, as a symptom checker that allows a GP to record symptoms during a patient consultation and calculate an individual risk score.
Secondly, the population risk stratification function allows a practice to see a list of patients for whom a risk has been calculated; this can then be organised to illustrate which patients are at a higher or lower risk. CDS is currently live in over 550 practices across the UK and is available to over 2,000 GPs for patient consultations.
Macmillan developed CDS in partnership with BMJ Informatica and is fully integrated to run in the background of any GP's IT system.
Indicative results from evaluation show that for 31 per cent of cases, GPs' perceived risk of the patient was lower than the risk calculated by the symptom checker.
A fifth of all patients that the symptom checker tool was used on were referred for suspected cancer and nearly a quarter (23 per cent) were intended for investigation. Of the patients that GPs referred or went on to investigate after using the symptom checker, GPs reported that they would not have acted for around a fifth of those patients if they had not used the tool.
Finalists
Aintree University Hospital Foundation Trust: Medicines management web portal
Coventry and Warwickshire Partnership Trust: Service redesign and development
Derby Hospitals Foundation Trust: Innovative hospital app connects hospital and community care
Emersons Green Treatment Centre, Care UK: Enhancement of patient journey by reducing waiting times releasing hospital resources to expand its service offering
St Helens and Knowsley Health Informatics Service: GP information technology – Re-designing and improving primary care information technology
Hillingdon Hospitals Foundation Trust and Newton Europe: Annualised savings of £1.5m and an inspired patient status system
Wrightington, Wigan and Leigh Foundation Trust: WHO safer surgery checklist online
Sponsor profile: Microsoft
Microsoft and its partners are working with healthcare organisations across the UK to deliver proactive, personalised care through the performance of informed, highly collaborative teams.
Microsoft technologies are designed to help every user analyse, share, and manage information using technology that is both powerful and familiar. We build these capabilities into a customisable, security-enhanced platform that offers robust device management, powerful analytics, and better coordination between your existing technologies - breathing new life into your health IT.
Mobile devices and apps bring healthcare access to those who need it most - in cites, remote communities, and homes - at a lower overall cost. Not only does this broaden and deepen collaboration with colleagues and patients, but also helps extend access to information to authorised health professionals, helping them make insightful and informed decisions, faster.
Furthermore, technologies designed to meet the highest standards for security, privacy, and compliance can help you protect health information, maintain compliance, and mitigate risk as you are able to swiftly respond to changes in demand.
When you connect the individuals, institutions, and systems that make your ecosystem of care, you'll be better positioned to serve patients and citizens. To hear more, please contact us on Health-UK-Contact@microsoft.com