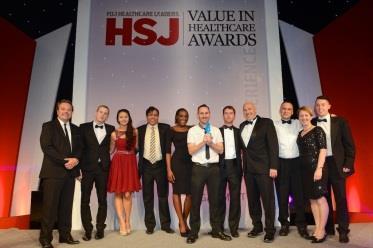 Finalists
Chelsea and Westminster Hospital Foundation Trust - winner
Greater Manchester Clinical Assessment and Treatment Service, Care UK
Health and Social Services Department, States of Jersey
Salford Royal Foundation Trust
University Hospital of North Staffordshire Trust
University Hospitals of Leicester Trust
Windsor, Ascot and Maidenhead Clinical Commissioning Group and Berkshire Healthcare Foundation Trust
Chelsea and Westminster Hospital Foundation Trust: Dean Street Express
The judges praised a user friendly and innovative service with the laboratory at its heart, which is removing patient stigma and improving access.
Because of the infectious nature of sexually transmitted infections, early diagnosis and treatment is important to prevent transmission to others. The challenge was to improve the diagnostic service to make it user friendly enough to encourage people to test more frequently, while reducing costs against the background of reduced resources.
The solution was to redesign the asymptomatic screening service from the ground up, focusing on self-directed care wherever possible. The service was moved into a shopfront based at 34 Dean Street. Lean management principles were used to improve patient flow and the automation of many tasks allowed increased use of healthcare assistants rather than higher banded nursing staff.
By developing integrated IT solutions that also seamlessly connected with the latest available diagnostic equipment, the team has developed a unique STI diagnostic service. At the heart of Dean Street Express is an Infinity Machine which can process gonorrhoea and chlamydia samples in 90 minutes.
Before Dean Street Express, waiting times for appointments were up to three weeks. Visits could last two hours. Gonorrhoea, chlamydia, syphilis and hepatitis results were manually texted 10 working days after the visit.
Dean Street Express was designed to reduce transcribing errors to a minimum. For example patients enter their own telephone number into the touch screen rather than it be transcribed from a paper form. This is confirmed by an automated text message to the patient. All results are then automatically sent to this phone number as soon as they are uploaded from the Infinity Machine into the patient management system.
Finalists
Greater Manchester Clinical Assessment and Treatment Service, Care UK: Community mobile endoscopy service
Health and Social Services Department, States of Jersey - Bowel cancer screening on a small island
Salford Royal Foundation Trust: CATCH - Community access to chest CT
University Hospital of North Staffordshire Trust: Early bird CT scanning
University Hospitals of Leicester Trust: Seven day imaging for cancer
Windsor, Ascot and Maidenhead Clinical Commissioning Group and Berkshire Healthcare Foundation Trust: Improving the diagnosis of dementia