With hospitals under pressure to reduce emergency admissions, trusts could free up more beds if patients were offered more support to recover at home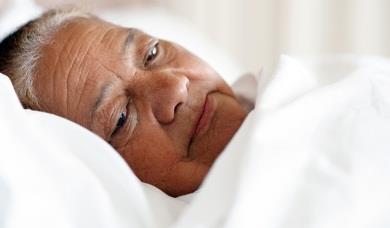 Recovery at Home programmes across the country are providing a solution that could release the pressure on congested hospitals. New research suggests that 40 beds per hospital trust could be released if patients were offered support to recover at home.
'The figures show that the incidence of falls and infections are much lower in the patients that are discharged home'
Hospitals are under pressure from rising numbers of emergency admissions, particularly among frail elderly patients. For 48 weeks a year, most trusts are more than 90 per cent occupied, according to the 2012 Dr Foster Hospital Guide.
While much debate has centred on the challenge of preventative care and avoiding unnecessary admissions, there is increasing focus on the need to move people out of hospital more efficiently.
Recovery at Home services provide complex clinical support to patients in their own homes, enabling them to leave hospital earlier than might otherwise be the case, while remaining under the care of the NHS trust where they had their treatment or surgery.
The introduction of these services at scale across the NHS in England could create around 5,800 virtual beds and release about 40 beds in a typical acute trust. Recovery at Home means wards can be closed or capacity freed to deliver other services or meet demand in other areas.
Opening doors
Mike Farrar, chief executive of the NHS Confederation, says: "Recovery at Home services are a great example of the system working together, often with private providers, to produce more productive pathways that yield a better experience for patients. These ideas need to be expanded to also avoid admissions. I'd like to see 'virtual front doors' implemented alongside these successful virtual wards.'
A report published this week, Addressing the Hospital Capacity Problem, examines the impact Recovery at Home services have on hospital capacity. Written by clinical homecare provider Healthcare at Home, it focuses on three hospital trusts using different Recovery at Home services at scale: the Royal Free London Foundation Trust, University Hospital Southampton Foundation Trust and the Good Hope Hospital in Birmingham, which is part of Heart of England Foundation Trust.
All three trusts report benefits, enabling them to:
handle growth in A&E attendances and admissions resulting from local service reconfiguration, without increasing capacity;
take capacity out of the system by closing wards;
reduce the number of cancelled elective operations and medical outliers; and
develop new tertiary services.
At the moment, these kinds of services are not being used widely. While 80 per cent of trusts have schemes to promote enhanced recovery and early discharge, only around half were able to report the numbers of patients on these schemes. Of those that did know the numbers, many involved relatively few patients.
Two key factors distinguish the Recovery at Home approach:
Patients transfer out of hospital earlier than would otherwise have been the case, but they remain under the care of their hospital consultant and continue to receive acute clinical care at home.
Discharge planning and the coordination of onward primary care, community care and social care are integral to the homecare service, allowing for seamless transition after discharge.
According to the report:
The services deliver high levels of satisfaction, continuity of care and reduced risk of prior social care arrangements breaking down. At University Hospital Southampton, 98 per cent of patients feel that recovering at home had benefited their wellbeing, and 86 per cent reported lower levels of anxiety since leaving hospital.
Outcomes data shows very low rates of transfer back to the ward, and of readmission after discharge from the homecare service. At Southampton, only 45 patients out of 2,366 needed to be transferred back to hospital.
How three trusts use the extra capacity
Royal Free London
The Royal Free London Foundation Trust uses its service (called post-acute care enablement, or PACE), for frail elderly and those with long-term conditions. It has been able to release 24 beds, enabling it to accommodate new services and an increase in A&E attendances caused by the closure of neighbouring units without increasing capacity.
Clinical director Dr Alexandra Wu says: "PACE is a key strategic tool in increasing patient choice and enabling us to handle growing demand and release capacity to invest in new services. It's fast − patients can be moved home in four hours by our dedicated case finders − and it works."
University Hospital Southampton
Additional capacity created by the Recovery at Home service has allowed University Hospital Southampton to focus on specialist orthopaedic patients. Since starting the service two years ago, it has become a regional trauma centre.
Phillip Chapman-Sheath, consultant orthopaedic surgeon, says: "When the Recovery at Home programme started we were dealing with a specific number of conditions. Two years on and we are taking on patients after elective surgery, patients with trauma conditions and those patients with less invasive or serious conditions. I can see this becoming a model of healthcare for the future.'
Good Hope Hospital
For Good Hope Hospital in Birmingham, a bold decision to close a 26-bed ward was taken at the same time as introducing the Recovery at Home service, focusing on supporting frail elderly patients to receive treatment at home. They have been encouraged by the improved patient outcomes.
Helen Chamberlain, consultant geriatrician at Good Hope, says: "The figures that we see from the team show that the incidence of falls and infections are much lower in the patients that are discharged home."
Find out more