Improving the health of a community requires various services to work well together. Lord Ara Darzi and colleagues report on a simulation exercise that helped one academic health science network work out the dos and don'ts of effective collaboration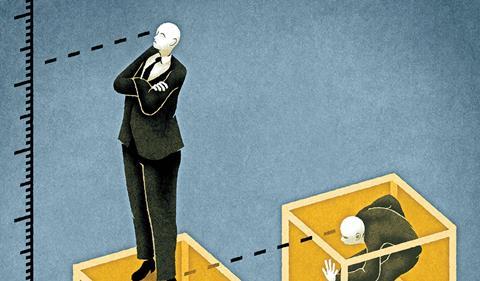 'All these new collaborations require new ways of working and sometimes setting aside old practices' NOT FOR REUSE
Last February, 30 health service leaders from north west London gathered in the simulated community of Greendale to explore new ways of working together − consolidating services, improving quality, creating new care pathways − in the interest of the health of their community.
'All these new collaborations require new ways of working and sometimes setting aside old practices'
Designed by Imperial College London's Centre for Health Policy, with the assistance of Greg Parston and the late Alasdair Liddell − two of the creators of the pioneering Rubber Windmill behavioural simulations of the 1990s − this simulation posed key challenges to managers and clinicians who, in the real world, had recently decided to work together more formally.
Amid the turmoil of the NHS's centrally driven reforms, groups of providers and medical schools are now collaborating locally in new ways. In some urban centres, NHS leaders are establishing corporate mechanisms that bring together partners with the ambition of planning and implementing new connections and patterns of service across the local geography.
One of these is Imperial College Health Partners, brings together 11 service providers, eight clinical commissioning groups and Imperial College London.
The Department of Health has tried to strengthen NHS collaboration by developing academic health science networks. These networks are also intended to foster joint research, learning, development and best practice among geographically proximate groups of providers. Imperial College Health Partners has successfully applied for AHSN status.
Let the games begin
All of these collaborations require new ways of working and sometimes setting aside old practices. The Centre for Health Policy, which has been developing the use of behavioural simulations to assist policy making, joined with Imperial College Health Partners to design an event in which participants could learn from their own efforts how organisations could optimise collective decision making and collaboration across the partnership.
The insights that emerged are not only valuable for Imperial College Health Partners but also for new partnerships everywhere − AHSNs and more formal groups − where history and cultural differences often stand in the way of more effective and efficient healthcare.
'The most challenging aspects of this collaborative design took place at partnership and at clinical pathway level'
The learning event, called Lateral Play, took place over three days. Participants included chief executives, medical directors and finance bosses from each of the 15 providers, as well as leaders and GPs from clinical commissioning groups, the dean of the medical school and Collaboration for Leadership in Applied Health Research and Care senior representatives.
At the first session, several days before the simulation, participants identified key issues they thought facilitated and encumbered effective joint working across the real, newly formed partnership. The Centre for Health Policy used the resulting list of issues to refine the workings of a simulated economy that had been in design for several months.
No rules
On the second day, participants were put into roles similar to their own in real life and had to run a simulated health system in Greendale, a fictional geography similar enough to north west London to present recognisable issues, problems and opportunities. This simulated health economy comprised seven providers (acute, community and mental health), two CCGs, regulators and a medical school − all members of "the Greendale Partnership" − and outside contractors belonging to both the private and public sectors.
Data packs provided detailed information on Greendale's population, as well as on the key activities and performance of each provider. Lord Darzi and Dr Adrian Bull, chair and managing director respectively of Imperial College Health Partners, were cast in the same roles in Greendale.
Through the agenda of the Greendale Partnership board, play was initiated by participants being assigned to multi-organisational working groups, each of which was to address key problems facing Greendale. These problems included:
needing to rationalise orthopaedic services across the community;
addressing problems of quality and inappropriate provision in maternity services;
developing a response to outside investors wanting to establish virtual wards, with commercial potential outside the region;
developing proposals for the DH regarding new accountable care organisations;
bridging finance between primary and secondary care; and
forging closer collaboration between community and mental health provision to integrate services, strengthening financial performance and warding off potential competition from outside.
There were no rules as to what the participants should do.
Five moderators − past deputy chief medical officer Sheila Adam, the King's Fund chief economist John Appleby, Professor Paul Corrigan, Commons health committee chair Stephen Dorrell and, as the media instigator, Nick Timmins, formerly of the Financial Times − were on hand to observe, add occasional twists of play (such as a newspaper campaign against closure), take on secondary additional roles when needed (for example, secretary of state) and later to reflect on learning.
The event took place over six simulated months, with three Greendale Partnership board meetings to set off the working groups and review progress.
While the simulation was designed to provide opportunities for radical change in services, what was surprising was that participants did not jump quickly to logical transactional answers but, instead, seriously considered how working together could provide the bases for more effective decisions over a longer term. This included not only collaboration within the partnership but also developing stronger links with local authorities − something that has not begun significantly at Imperial College Health Partners in real life.
Challenges of collaboration
The two most challenging aspects of this collaborative design took place at partnership and at clinical pathway level. A midday board meeting, when participants reported back on progress made in the first three months, quickly morphed into a serious revisiting of the purpose of Greendale Partnership.
'By learning together what that journey might be like, understanding, ownership and commitment have been developed '
Asking "why are we really here?", participants considered how, on one hand, the interests of individual institutions had to be balanced with the wider public good − improved health in Greendale − while, on the other, they had to be respected as representing the mission and expertise of what are, effectively, autonomous partners.
This consideration of corporate behaviour and responsibility was further complicated by the role of the CCGs. These were full of Greendale Partnership partners (as they are with Imperial College Health Partners), but their members were only representatives of the wider GP community and did not have the same executive authority of other partners' chief executives or chief medical officers. This made commissioner-provider planning and decision making − certainly at board level – problematic at times.
The second challenging aspect was the determination by two or three of the working groups to look beyond immediate issues and realise that service integration provided greater opportunities for innovation and improved outcome.
This involved acute and non-acute providers in the formation of whole system clinical planning groups and in negotiations about merger and service reconfigurations, sometimes in unexpected patterns − such as when combining hospital and community services in jointly managed clinical pathways.
Moving forward
Lateral Play was designed to give participants the shared experience of trying to solve simulated problems as a way of learning about how they could better work together on real problems in north west London. As a game, it provided a safe environment in which to learn – a sort of health version of Monopoly for estate agents. People could take risks and make mistakes without real implications.
A third meeting, two weeks after the simulation, was convened to reflect on what had happened and identify problems and opportunities at Imperial College Health Partners. This was also an opportunity to begin to construct a development plan to improve decision making, collective action and, ultimately, health across the partnership.
Several key areas of development were identified:
Vision for the partnership: explicit articulation of the partnership's ambition and the roles of the individual partners in it.
Explicit recognition of different partners' objectives, expertise and plans, not only for the individual partners but also for the collective consciousness of the partnership.
Actively promoting collaborative research and training within the partnership to ensure that the academic, health and science elements remain active components of the AHSN.
Mapping service variation honestly and transparently − identifying where patterns of delivery and quality vary, where there are strengths and best practices, where improvements are needed and where there are opportunities to assist each other in service improvement.
Valuable lessons were learned from the simulation exercise and will help shape the actions of Imperial College Health Partners as it aims to deliver improvements in patient and population health. As with all NHS partnerships, this is a daunting task and many challenges lie ahead.
By learning together what that journey might be like, understanding, ownership and commitment have been developed that should serve Imperial College Health Partners and north west London well.
Authors:
Greg Parston - Centre for Health Policy, Imperial College London
Ara Darzi - Centre for Health Policy, Imperial College London
Axel Heitmueller – Centre for Health Policy, Imperial College London
Rachel Davies – Centre for Health Policy, Imperial College London
Fiona Rennie – Centre for Health Policy, Imperial College London