Nosmot Gbadamosi considers how innovation is identified and how change can best achieve the forward view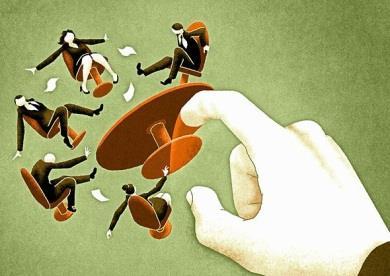 "Innovation" and "change" are words that are increasingly bandied about, not just in the health sector but across all sectors under strain from the after-effects of recession.
According to American author Scott Berkun, words such as "innovation" and "disruption" are often abused.
'Too often we end up with change for the sake of change'
"We're tripping over our own egos, lost in the ignorance of romance for the vagaries of pseudo thinking associated with these words," he says.
"The more often people in a company use these words, the less likely anything worthy of that label is actually happening."
There is nothing wrong with change itself, but in its approach.
Challenge Top-Down Change
Empty words
Technology designer Josh Brewer sees a greater problem occurring when innovation becomes a buzzword to mask the reality that a process has failed. "It shows that leadership is not truly leading or that the passion has simply been drained out of the company," he says.
The NHS Five Year Forward View recognises that, although the health service has "a track record of discovery and innovation to be proud of". In times of austerity, progress has often been piecemeal.
'Things have got to change'
It states that "too often single elements have been 'piloted' without other needed components". In other instances "the design has sometimes been weak" and implementation rushed.
What the forward view "does, more than any other document, is signal the radical change agenda", according to Helen Bevan, chief transformation officer of NHS Improving Quality.
"Anybody who looks at the system at the moment and just how hard people are working recognises how difficult it is to deliver. Things have got to change."
Pressure points
The NHS faces many challenges. Long term conditions now account for a significant part of health budget spending.
There is a large funding and efficiency gap; the rising cost of ill health caused by population lifestyle; rises in accident and emergency attendances and admissions; higher GP consultation rates coupled with a lack of investment in primary care; and greater expectations from younger, more technologically enabled patients who expect their care to be just as digitally savvy in terms of remote access via digital networks.
The NHS needs to change and adapt to growing pressures, she says.
"Too often we end up with change for the sake of change." A point Scott Burken referred to when he said, change then becomes like a "magic spell".
The danger of talking about "new ways of organising services in the NHS" is that organisations see these as end points; "the next shiny thing or national imperative against which it will chase after", NHS England chief executive Simon Stevens told the inaugural HSJ annual lecture last month.
'Existing practices to effect change are based on how organisations believe they can transform pressure points'
The service should focus on "why we are doing this and what we're seeking to achieve", he said.
Ms Bevan believes that good change is focused on a really clear mission. It makes a difference to patients and the public, and also brings benefits to staff, she says.
Yet she points out that change is often focussed on transforming pressure points, such as urgent care.
"What we [currently] do is say we're going to do a really good analysis of what's going on," she says. "We draw it out with a technical blueprint and we create six different work streams and hold people to account.
"And then a lot of the time change just doesn't happen because we don't think it through.
"Very often our change management approaches aren't very sophisticated. We'll pretend this change is an objective process when it can't be," she adds.
Endless transformation using the same processes is another well trodden path.
What must be avoided, warned Mr Stevens, "is the idea that people can just 're-spray' something they are already doing and, hey presto, it emerges into the sunlight as one of these new things, capable of receiving accolades, visits, HSJ Awards, and a bit of extra dough from NHS England".
"That ain't going to cut it," he concluded at the HSJ annual lecture.
New change
So how do we do change differently?
Last summer's King's Fund report, Reforming the NHS from Within: Beyond Hierarchy, Inspection and Markets, called for organisations to focus on what they can do to improve their operating systems rather than legislators or reformers operating at several steps removed from where care is delivered for guidance.
Within a complex system such as the NHS, change and innovation cannot come from the conventional models that rely on leadership from the top, the report recognised. Instead it "depends on fostering networks through which ideas and practices can spread".
"History shows us you can't drive compliance through compliance," says Ms Bevan. "Very often what we end up doing is managing very big complex change projects in very simple ways."
'Change always starts with the activists and it always starts at the edge'
Innovation and improvement led from the top down alone cannot work, says Nuffield Trust chief executive Nigel Edwards. "Decades of top-down targets, financial incentives and punitive approaches have left the NHS hooked on being told what to do," he says.
In response to Mr Stevens' forward view, he writes: "Far from driving lasting and effective improvements, these micro-incentives have languished precisely because there is no clearly understood model for how services can adapt to changing population needs."
Change is not a process that starts at the top of organisations, Ms Bevan notes.
When we look at care delivery, "change always starts with the activists and it always starts at the edge". She says: "If we can ignite the activists and the disruptive innovators in our organisation and at the same time can keep grip that's the sort of organisation we need for the future."
When the Nuffield Trust reviewed the introduction models into primary care, it identified change at successful early implementer sites as having "been driven by one or more partners whose job it had been to coax, encourage and enable their colleagues and peers to work in new ways".
This demonstrates the need for change to be driven from the bottom up.
"When you've got a senior leader who you have no connection with and no contact with and you're somebody who works at the frontline of care, constantly getting messages sent down the system, it feels transactional, it feels like 'have to do' change," explains Ms Bevan.
Clinicians first
London Cancer is one example of how to drive change from the front line. GPs, secondary and tertiary care providers, academics and charities use their collective resources and expertise to transform services in the region. Clinicians work together to spot and address underlying issues within the care system.
Another example of good practice comes from Dudley Clinical Commissioning Group. While it took the lead for redesigning its primary care services, it developed a culture of mutual ownership whereby service users and staff share responsibility for creating the best healthcare and wellbeing provision.
'Every single person that works in our system can make change happen'
"It's not just about having the person who's the head of patient safety or the head of implementation; everybody is a change agent," says Ms Bevan.
"There's a massive issue in our system around permission culture: frontline staff saying, 'I don't even think I can make a small change to my service without getting permission to do it because we live in a world that is so full of compliance and standards, and risk assessments and regulation that I don't feel I have any power to make change.'"
But a lot of that permission is self-imposed, says Ms Bevan.
"Every single person that works in our system can make change happen."