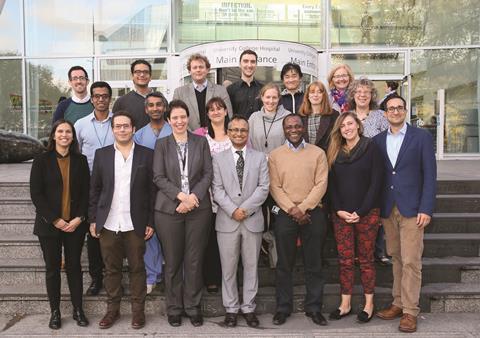 HSJ Awards 2015: University College London Hospitals Foundation Trust
University College London Hospitals Foundation Trust – UCLH Prostate Cancer Team
With both the diagnosis and treatment of prostate cancer leading to related harm for many of the 40,000 men diagnosed in the UK each year, University College London Hospitals Foundation Trust set about changing the way it dealt with suspected cases.
It held workshops every six months with key charities and patient support groups to ensure patient needs were at the heart of its prostate cancer pathway.
The trust found that highly accurate prostate magnetic resonance imaging (MRI) allowed men without cancer to avoid biopsies; and those with a suspicious lesion to have accurate, targeted biopsies.
UCLH invented, developed, evaluated and commercialised an image-fusion transperineal targeted-biopsy device that allows MRI to be fused to ultrasound to give a visible target.
Its pathway now allows men to have clinical review, MRI and transperineal targeted-biopsy all on one day.
One in three men coming to the trust now avoids a biopsy, while cancer detection has gone up by a third. Patient visit numbers are down as are diagnosis times.
The trust said it was "confident" that increased expenditure had led to net healthcare and cost benefits.
Judges said the scheme "made a difference to a common problem" and was innovative as well as cost effective.
Finalists
Highly Commended: King's College Hospital Foundation Trust - Paediatric ambulatory care service redesign
Aintree University Hospital Foundation Trust - Aintree at home
Derby Teaching Hospitals Foundation Trust - Derby's success in protecting elective care in the face of unprecedented emergency admissions
James Paget University Hospitals Foundation Trust - Establishment of ambulatory emergency care services utilising point-of-care testing and process change
Poole Hospital Foundation Trust - Alcohol care and treatment service
Royal Cornwall Hospitals Trust - Llama safe transfusion sampling
The Royal Bournemouth and Christchurch Hospitals Foundation Trust - Unscheduled care improvement team
Warrington and Halton Hospitals Foundation Trust - Reinventing the wheel
Wrightington, Wigan and Leigh Foundation Trust - Predicting the unpredictable – WWL's A&E app