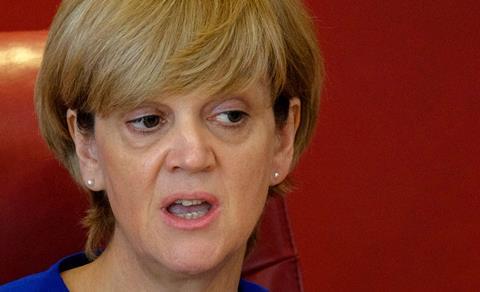 Sheena Cumiskey

Sheena Cumiskey – Cheshire and Wirral Partnership Foundation Trust
Sheena Cumiskey has won praise from a range of distinguished figures for how she carries out her work.
With 19 years as a chief executive in the health service, she is also is chair of the North West Leadership Academy and has been involved in a number of regional and national bodies.
North West Leadership Academy director Deborah Arnott said: "Sheena is an inclusive chair ensuring a diverse range of perspectives are considered."
Stephen Dalton, chief executive of the Mental Health Network, said: "She is an arch collaborator with the wider system and her understanding of the social determinants which shape health outcomes is a focus for her leadership style."
David Allison, chief executive of Wirral University Teaching Hospital Foundation Trust, added: "She is an immensely valued colleague who is able to work across a whole system rather than let organisational boundaries constrain her."
Colleagues at her own trust say Sheena "inspires people to achieve more for the benefit of patients".
Under her leadership, Cheshire and Wirral Partnership Foundation Trust became the first mental health trust to go completely smoke-free.
Sheena also presided over the trust's zero harm campaign, which has encouraged staff to share best practice, with a trebling of entries into its annual "Big Book of Best Practice".
Judges described Sheena as "brave" and "courageous".
Finalists
Highly Commended: Amanda Bloor – Harrogate and Rural District Clinical Commissioning Group
Dr Jackie Bene – Bolton Foundation Trust
Paula Clark – The Dudley Group Foundation Trust
Sir Leonard Fenwick – The Newcastle upon Tyne Hospitals Foundation Trust
Angela Hillery – Northamptonshire Healthcare Foundation Trust
Nick Hulme – The Ipswich Hospital Trust
Dr Liz Mear – North West Coast Academic Health Science Network
Suzanne Rankin – Ashford and St Peter's Hospitals Foundation Trust