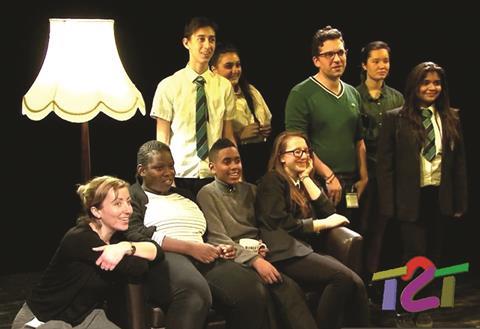 HSJ Awards 2015: Haringey Adolescent Outreach Team at Barnet, Enfield and Haringey Mental Health Trust and Partners
Haringey Adolescent Outreach Team at Barnet, Enfield and Haringey Mental Health Trust and Partners – Time 2 Talk: raising awareness about emotional wellbeing and challenging mental health stigma, a whole school approach
The Time 2 Talk pilot project used drama, film making, teaching and peer support to tackle the issue of mental ill health.
Designed and delivered by a partnership of agencies including the Haringey Adolescent Outreach Team, Park View School and others, it has been running since September 2013.
Anonymous case studies of young people who had experienced serious emotional distress were used for student drama workshops. The resulting theatre performance was then translated into a film called The Boy Behind the Mask.
This film provided a framework for the development of lesson plans for a module about mental health and emotional wellbeing, made available to all students in years 9 and 10.
Mentors were then chosen to support the emotional wellbeing of their peers; training and guidance was developed for staff and parents; and a mental health policy was developed for the whole school.
The trust said the project had much to offer other schools, and showed the potential of empowering young people.
Judges hailed "impressive leadership" on the project and praised its peer involvement.
Finalists
Berkshire Healthcare Foundation Trust – Support, hope and recovery online network for eating disorders
Big White Wall – Big White Wall digital mental wellbeing service
Central and North West London Foundation Trust – Mental health street triage service
Dudley and Walsall Mental Health Partnership Trust – WellMind app
Halton Clinical Commissioning Group, Warrington Clinical Commissioning Group, Cheshire Police and 5 Boroughs Partnership – Operation Emblem
Lambeth Clinical Commissioning Group – Lambeth Living Well Collaborative
Nene Clinical Commissioning Group and Corby Clinical Commissioning Group – Northamptonshire mental health stigma programme
Oxleas Foundation Trust – HeadScape: supporting children's wellbeing
Six Degrees Social Enterprise CIC – New roots in dementia care
Worcestershire Health and Care Trust – Supporting health and promoting exercise (SHAPE) project for young people with psychosis and bipolar disorder