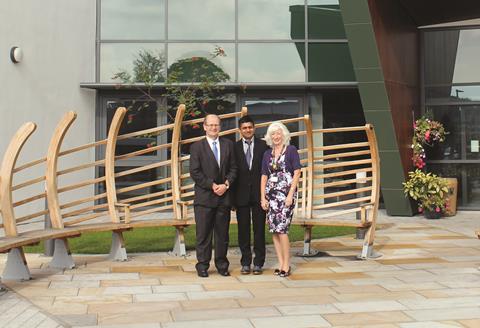 HSJ Awards 2015: The Walton Centre Foundation Trust
The Walton Centre Foundation Trust – Transformation of specialised rehabilitation services: developing a whole systems model to deliver patient focused care
The Walton Centre Foundation Trust played a key role in the creation of a network for rehabilitation services, which launched in 2013.
The Cheshire and Merseyside Rehabilitation Network collaborates with partner organisations; commissioners; healthcare trusts; social care, voluntary and third sector organisations; and patients and their families to create one pathway from the most seriously ill to those requiring care in the community.
Resources were pooled to support the redesign of the pathway with a combined budget, management and teams.
A single point of contact was introduced in a bid to increase access and ensure all patients received specialist treatment at the earliest opportunity, in the most appropriate setting.
Patients benefit from the input of a range of professionals, who the trust says act as a team, with the patient at the heart of everything they do. An impressive 96 per cent of patients said they were satisfied – or very satisfied – with their rehabilitation.
One patient said: "This is the type of service that all individuals with complex needs can benefit from. This service is the most person-centred that I have ever observed. Thank you for giving me back my life."
Judges were impressed that the scheme was based on patient needs rather than service needs and hailed the "impressive outcomes".
Finalists
Highly Commended: South West Yorkshire Partnership Foundation Trust – Specialist and accessible: how to tackle an oxymoron
Aintree University Hospital Foundation Trust – Aintree University Hospital Foundation Trust cancer pathway portfolio
Belfast Health and Social Care Trust – Modernisation of the Belfast glaucoma service
Northumberland, Tyne and Wear Foundation Trust – Community transformation
Nottingham University Hospitals Trust – Nottingham elective orthopaedic service
Portsmouth Hospitals Trust – Diabetes super six model: five-year outcomes of integration
South London and Maudsley Foundation Trust – Redesigning a prison counselling service: improving access and better mental health for all
The Christie Foundation Trust – Redesigning chemotherapy services: providing a network of services across Greater Manchester and Cheshire
UCLPartners and Barts Health Trust – Barts Heart Centre: a new specialist academic medical centre within an integrated cardiovascular system
Wirral University Teaching Hospital Foundation Trust – Early supported discharge for hip fractures