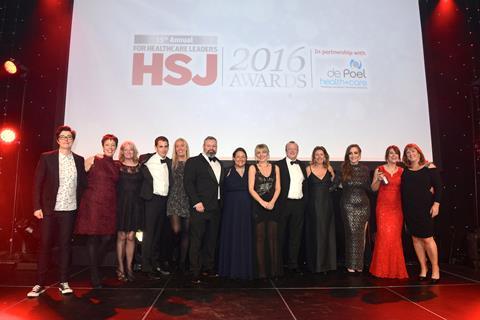 NHS Liverpool CCG
Formed in 2013, NHS Liverpool Clinical Commissioning Group is responsible for half a million people registered across almost 100 practices.
All commissioners and providers in the city have agreed on a vision for a centralised university teaching hospital campus to eliminate duplication and improve outcomes. This is just one of five strands of the CCG's Healthy Liverpool strategy.
Judges hailed the CCG's maturity and "strong partnership approach".
Finalists:
NHS Bexley CCG
NHS Brent CCG
NHS Castle Point and Rochford CCG
NHS Windsor Ascot and Maidenhead CCG
NHS North West Surrey CCG
NHS Mid Essex CCG
NHS Halton CCG
NHS Nottingham City CCG
NHS Fylde and Wyre CCG (Highly commended)
NHS Sandwell and West Birmingham CCG