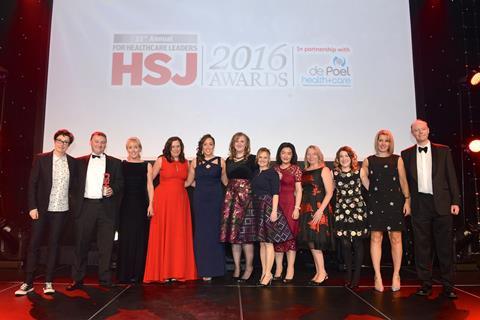 South Tyneside Foundation Trust - Delivering high quality gastroenterology research
South Tyneside Foundation Trust's gastroenterology team targeted research to improve the quality of care and benefit patients.
It produced more than 60 publications in peer-reviewed journals over three years. Broader Trust research activity has soared.
Judges noted evidence of global impact from the project and praised the use of research to drive innovation.
Read a detailed case study about this project at HSJ Solutions
Finalists:
Avon and Wiltshire Mental Health Partnership Trust - Everyone Included – Research For All! Making research accessible to all, it's what service users want!
Derbyshire Healthcare Foundation Trust - Centre for Research and Development - making research core business
East London Foundation Trust - Clinical Research at ELFT - Using Dialog+ to Improve Patient Outcomes in Community Mental Health Services
NHS Blood and Transplant - Changing the Face of Research in Blood Donation
Oxford Health Foundation Trust - Working Together to Bridge the Gap
Queen Square Medical Practice - The Lancashire North Approach to Increasing Research in the Local Population
Royal Devon and Exeter Foundation Trust and Devon Partnership Trust - Devon Dementia Collaboration
Royal Devon and Exeter Foundation Trust (Highly commended) - Emergency Medicine Research and Beyond
South Western Ambulance Service Foundation Trust - Developing and Embedding a Research Culture
Staffordshire and Stoke on Trent Partnership Trust - Creating a Trust-wide Research Programme