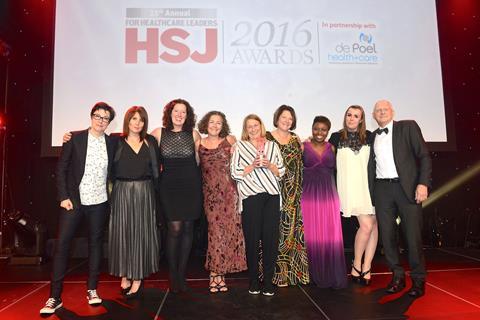 Hertfordshire Partnership University Foundation Trust - Hospitals at home: CAMHS eating disorder service
A two-day course was created to teach parents skills to help their children overcome eating disorders. A range of creative tools were developed to help patients, such as recovery playlists and vision boards.
Demand on Child and Adolescent Mental Health Services (CAMHS) clinics was reduced and funding was increased to develop the eating disorder service.
Judges said the scheme "feels very person centred" and "really focused on prevention and early intervention".
Read a detailed case study about this project at HSJ Solutions
Finalists:
Basildon and Thurrock University Hospitals Foundation Trust and Anglia Ruskin University - CARE clinic - Care After REsuscitation
Birmingham Community Healthcare Trust - Compassionate Community Care Delivers Red Carpet Treatment
NHS Nene CCG - The Armed Forces Community Covenant
NHS Sandwell and West Birmingham CCG - Safeguarding Children Unit
North East Ambulance Service Foundation Trust - End of Life Care Transport
North Tees and Hartlepool Foundation Trust - Macmillan Clinical End of Life Care Coordinator
Northern Lincolnshire and Goole Foundation Trust - Voice Banking for Motor Neurone Disease Patients
Oakley and Overton Surgery - Dementia Friendly GP Surgeries Improve Patient Care
Poole Hospital Foundation Trust - Gullys Place End of Life Care for Children and Young People
Warrington and Halton Foundation Trust - Creating a Social Movement - Dementia Care