The chief executive of a London acute trust has announced he is retiring this autumn.
Simon Pleydell said today he would be leaving the top job at Whittington Health Trust in September.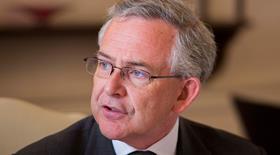 Mr Pleydell has led the organisation, which provides hospital services and community servies in the London boroughs of Islington and Haringey, for three years.
NHS Improvement confirmed Mr Pleydell will step down from his role as chief executive of Whittington Health Trust in September.
NHS Improvement chief executive Jim Mackey said: "I've known and worked alongside Simon in various guises, over many years. Throughout this time Simon has been nothing short of an outstanding, professional and honourable colleague, and NHS leader.
"He epitomises NHS values every day, and understands how clinical minds and services work, as well as anyone I have ever worked with. He is one of those leaders who cares deeply about his staff, and the patients they look after, along with that organisation's role in the locality.
"He will be greatly missed, but like all good NHS people, I am sure he will continue to contribute to and shape the NHS in some form or another. I wish him a long, happy, healthy and busy retirement."
Before coming to north London Mr Pleydell was chief executive of South Tees Hospitals Foundation Trust for nine years.
Whittington chair Steve Hitchins said: "Simon joined the Whittington on 1 April 2014 for six months 'maximum' as an interim but we all persuaded him to stay for 42 months, during which time the trust has made significant advances in almost every area. He will be a hard act to follow and we owe him a great deal. In his three and a half years here Simon has laid strong and durable foundations for our integrated care trust in the challenging times the NHS faces today."
My Pleydell said: "I decided to stay on permanently because I was impressed by the values and dedication of the staff, the tremendous potential and challenge of making further steps in terms of the delivery of integrated healthcare services and the importance of creating some badly needed leadership stability for colleagues in the trust.
"However, after over three years of trying to split my life between working in London and my home and family in the North and also twenty years as a trust chief executive in the NHS, I have decided to step down from my leadership role at Whittington Health and return to my home in the north.
"Although this may be seen as retirement, I have a number of part-time opportunities open to me in the NHS, which I am looking forward to and will give me an improved balance to my life."
Source
NHS Improvement statement