"Do nothing" scenario predicts elective waiting list would grow to 5 million and backlog to 800,000
Programme to improve surgeons' productivity is expected to lessen the deterioration
National waiting target for elective care has been deprioritised by national bodies
The backlog of patients waiting more than 18 weeks for elective care procedures is expected to more than double by 2019 if nothing is done to improve current services, according to a document leaked to HSJ.
Graphs used in a presentation by NHS Improvement have outlined a "do nothing" scenario in which performance against elective care targets deteriorates significantly over the next two years.
The document was used in the same month that the waiting target for elective care was widely deemed to have been deprioritised by national bodies.
The Royal College of Surgeons said it paints a "devastating picture" for patients, because without "clear proposals" to protect capacity and tackle waiting times, the NHS is effectively in the do-nothing scenario.
The graphs are in a section of the document outlining a national programme to improve the productivity of hospital surgery teams. It implies this programme would help avoid performance deteriorating to such an extent, but does not predict the impact of the programme.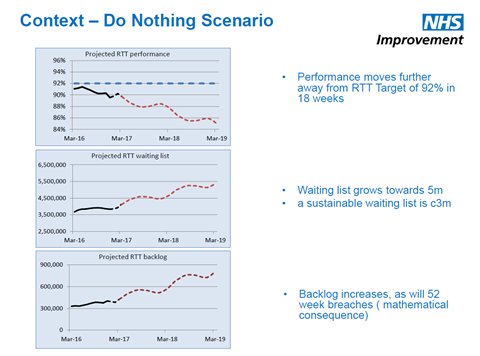 The graphs suggest the backlog of patients waiting more than 18 weeks would grow from around 370,000 in February 2017 to almost 800,000 by March 2019.
They also predict the proportion of patients waiting no more than 18 weeks would fall from around 90 per cent to around 85 per cent, while the overall waiting list would grow from around 4 million to almost 5.5 million. The document says a "sustainable" waiting list is 3 million.
In March, the Next Steps for the Five Year Forward View suggested that average waits for routine surgery are likely to increase.
The NHS England document admitted that demand for elective treatments is likely to grow faster than the NHS's capacity to meet the 18 week target, which prompted the RCS to say the target has been "jettisoned in all but name".
New rules were also set out earlier in the year that removed trusts' financial incentive to meet the referral to treatment target for elective care.
NHS England chief executive Simon Stevens last month told HSJ that the main target – for 92 per cent of patients to be waiting no more than 18 weeks – remains the "constitutional goal" but said the NHS has to be realistic in what it can achieve.
Elective care refers to routine treatments planned in advance such as hip or knee replacement surgery.
An NHSI spokesman said: "Doing nothing is not an option for the NHS. These slides were part of a presentation to hospital leaders about steps being taken to improve NHS performance. We are working with providers to improve their overall operational productivity and to help reduce waiting times for patients."
HSJ asked if there had been any estimates produced on the impact of the productivity programme, but this was not addressed in the response.
Ian Eardley, RCS vice president, said: "NHS Improvement's waiting times estimates paint a devastating picture for patients and hammer home just how damaging deprioritising the 18 week target for planned surgery will potentially be. Without further help from the next government after the election, this is what the real impact will be on patients of successive underfunding of the NHS.
"Patients need to understand that NHS England's decision to effectively abandon the waiting time target doesn't just mean longer waits in pain such as for hip and knee replacements, it also means unacceptably long waits for more serious heart and brain operations where, in some circumstances, serious disability or even death may result from long waits."
Chris Hopson, chief executive of NHS Providers, said performance against the 18 week standard was difficult to predict, and added: "Trusts and their staff will obviously work flat out to deliver the best possible care for patients.
"However, increasing demand means that just delivering the existing number of elective operations will lead to falling performance against the waiting time standard – trusts have to run faster just to stand still.
"Trust leaders tell us they're also worried about the financial consequences of not doing all the elective surgery they could. A lot of emergency work is not fully reimbursed under the NHS tariff, whereas elective surgery work is. Deprioritising elective care could therefore deepen provider sector financial problems just at the point when we're trying to solve them."
A spokesman for NHS England said: "NHS Improvement describe this alternative as the 'do nothing scenario', but as their slides rightly point out, in fact the NHS will be doing a lot, hence waits will not move in the way that the scenario sketches out."