Sir Robert Francis criticises NHS leadership over safe staffing approach and data
Written evidence to health committee warns against incremental cuts to nurse numbers
Support staff must not be expected to work beyond their training or competence
NHS leaders have "shied away" from accepting certain staff are associated with safe care, Sir Robert Francis QC has said.
In written evidence to the Commons health committee's nursing workforce inquiry, Sir Robert, who chaired the Mid Staffordshire public inquiry, also said reporting of staffing fill rates by NHS trusts lacked transparency and questioned the validity of the new care hours per day metric.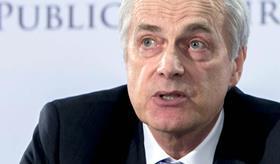 He warned that in the context of financial constraints, some trust could reduce planned staffing levels without any objective evidence that the levels are safe.
Sir Robert, who is a non-executive director at the Care Quality Commission and president of the Patients Association, also emphasised the need to improve working conditions for nurses, who he said were vital to good care.
He said the reporting of nurse staffing fill rates on NHS Choices since 2015 was not good enough.
He said: "While the expectation of transparency with regarding to planning and implementation of safe staffing is to be welcomed, it is not clear that this is delivered by this metric. The planned staffing numbers figures are expected to be derived from 'evidence based tools' as to which there is no standard to be met. The figure may well represent that which the provider's board has accepted as safe, but there is no measure as to whether this is in fact the case.
"In times of financial constraint there is a risk of the planned figures being reduced, without any evidence, or at least publicly available evidence, that the numbers are safe."
He said there was a lack of generally accepted evidence about the number of staff needed to deliver safe care in different specialities despite "data available in some areas for the number of registered nurses associated with better outcomes for patients".
He added: "The NHS leadership has shied away from accepting that numbers of staff of particular types can be associated with acceptably safe care. For example, the work of NICE into this very issue was stopped and the function transferred to NHS Improvement which has adopted a somewhat different approach.
"It must be acknowledged that such a task is challenging and that to date, at least in many areas, there is no evidence enabling that sort of judgement to be made. Instead of a focus on staff/patient ratios, NHS Improvement is recommending use of a new and untested metric [of] care hours per patient day, which seeks to measure the hours attendance/care required of both nurses and ancillary staff for each patient.
"There may be something to be said for starting to collect the statistics required to inform such a metric, but I suggest it will be some time before sufficient evidence is available to enable it to be a reliable measure of what level of care, by which type of staff, is associated with acceptable quality and safety."
Sir Robert warned against incremental cuts to nursing numbers by trusts under pressure to make savings. He pointed out that in Mid Staffordshire he believed cuts to nursing staff were key to subsequent events.
He said there were warnings about nurse staffing at the trust as early as 2002 but numbers were cut repeatedly in the years that followed.
Sir Robert warned increased use of support workers to fill staffing gaps must not mean "such employees are not expected to undertake work which is beyond their training and competence". He suggested the government's consultation on professional regulation "may be an opportunity for this to be considered further".