A programme to engage senior staff with clinical leadership through assessment and development is creating a core group of strong clinical leaders at Salford Royal. Stephen Perry and David Wood explain the programme.
Salford Royal Foundation Trust's clinical leaders development programme is part of an emerging organisational development strategy to engage senior medical staff in the business of clinical leadership and develop their talent. The programme has resulted in 15 appointments to senior clinical leadership posts. A second cohort started their leadership journeys in June last year.
In summer 2009, the chief executive and chair hosted two sessions with senior managers and consultant medical staff envisioning the future of clinical leadership within the organisation.
The vision was to place clinical leaders at the heart of decision making, ensuring accountability for their performance and outcomes.
This culminated in a paper by the chief executive, describing how the journey to achieving a performance culture would take place, how the crucial new roles of clinical leaders – chairs of division and clinical directors – would be established and recruited and how the trust would assess and develop those consultants who felt able to rise to the challenge.
Following discussions between consultants and executive directors, a new role for the clinical director was developed which balanced genuine authority and, where appropriate, autonomy, with accountability for results and performance. This ensured a balance between leadership/management activities and clinical caseload.
A new organisational structure provided the framework within which four new roles of chair of division/associate medical director were established, along with 16 new clinical director positions. All pre-existing arrangements would cease, once the appointees were in place.
Assessment centre process
The first key stage was the clinical leadership assessment centres, developed by Rachael Lewis, occupational psychologist and director of Envision. The assessment centres were designed to assess individuals against six key competencies/essential prerequisites of the role agreed with the executive team. These were:
patients first;
team approach;
inspiring and engaging;
change leader;
drive and accountability;
strategic problem solving.
The assessment centre process set out to identify:
candidates currently capable of stepping into the job role;
candidates who, with development, had the potential to carry out the job role;
candidates who were unlikely to be suitable for the role even with development.
In early 2010, 53 consultants expressed interest, of whom 42 went on to the assessment centre process. Each participant received a development report, highlighting key strengths and areas for development and their state of readiness for the role of clinical director (see graph and table, below).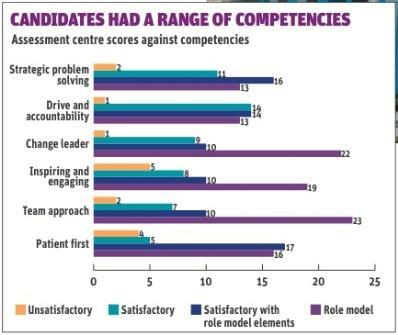 Development programme
A comprehensive development programme and ongoing development were designed following the competency themes. They were intended to enable candidates and clinical leaders to learn and enhance their existing skills through the leadership development programme plus coaching and mentoring. Methods included masterclasses, action learning and psychometrics.
Key themes included:
developing clinical leaders' confidence and skills to lead. The programme was designed and developed to facilitate candidates' understanding of themselves, how they contribute to the team and the organisation. It also helped them build on their level of belief in themselves and work in a collaborative way with peers and others, by giving them the opportunity to learn in action and develop projects that could initiate change;
developing members of the clinical leadership teams which they lead;
fostering the development of a project and ways of working that will contribute to efficiency and effectiveness and organisational development;
encouraging networking among the participants and other members of the trust.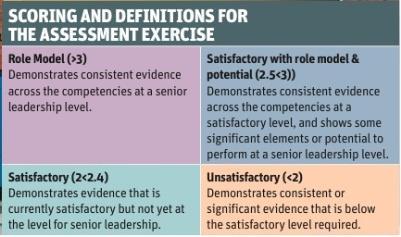 Achievements
Of the 42 consultants who attended the assessment centres, 20 scored as being a role model and went on to cohort one of the leadership programme. This equates to over 47 per cent of those attending assessment centres.
Of the 20, 15 were appointed to the role of clinical director, divisional chair or clinical lead. Each consultant who undertook the leadership programme was invited to include a quality improvement project.
Accountability for performance was made explicit through contracts and the trust's new performance framework.
All the new appointees will be assessed using this framework.
Executive leads, chairs of division and divisional managing directors have responsibility to ensure that robust goals and objectives are set for and agreed with the relevant post holders early in their tenure, and to undertake mid and end of year assessments of progress.
Year-end performance will be assessed in spring 2012, using the new framework and rewards, including bonuses, or performance improvement/development actions agreed.
While the original goals and milestones for clinical leadership development have been met, it is important that formal assessment of individuals' performance, capacity and capability is undertaken at regular intervals.
The original cohort intends to continue to meet and will devise a process to provide opinion and evidence on whether the assessment and development work undertaken has produced a solid foundation for success.
Tips for success
Engage people in the vision early on to ensure buy-in.
Be clear as to the "give" and "get" for the organisation and individuals.
Develop the contract through continuous dialogue with interested parties.
Ensure the job role, assessment centre activities and development programme are aligned to focus on the critical success factors.
Not everyone will succeed – ensure feedback and "what next?" support for those who are not successful first time round.