Embedding good quality work experience in the NHS is vital to attracting the college students needed to address the workforce crisis, writes Gillian Cairn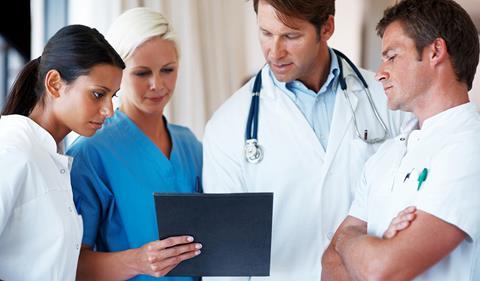 It is recognised that in order to develop our future workforce, we need to engage with young people and inspire them about the range of clinical and non-clinical careers in the NHS, however, we often find that they are unaware of all the available career options.
An example of this was that some of the local students on engineering courses were surprised and delighted to learn about roles in the electro-biomedical engineering department.
The work experience we arranged was a great success with one of the students successfully being recruited to an apprentice programme, fulfilling a recruitment gap in a specialist field of work. This apprentice was developed by the service area recognising the tremendous impact that work experience students can bring to the organisation.
Potential for placements
Whilst this is a great example of the potential for work experience placements it is acknowledged that it is not always as simple to organise as we might want it to be, when trusts are already accommodating greater numbers of pre-registration nurses, medical students and allied health professionals, and having to cope with day-to-day service pressures, creating additional work placements for college pupils will rarely be a priority.
Meanwhile, the work experience must be good quality, or we risk doing the entire opposite of what we intended and putting people off. It is so disappointing to hear of young people coming in for work experience and feeling like no one has time to spend with them and going home no longer wanting to have a career in the NHS.
In order to manage this, we decided to do something completely different to the approach used before.
Rather than simply responding to ad-hoc requests from individuals, East Lancashire Hospitals Trust decided to invest in a centrally-managed approach.
This required:
Working with our four local colleges; Nelson and Colne, Accrington, Blackburn and Burnley to develop an agreed timetable and process for selection;
Recruitment of a full-time workforce coordinator;
Development of the appropriate paperwork;
Design and procurement of placement resources, such as placement handbooks, uniforms, ID badges etc;
All students have a full induction day to prepare them for placement;
Development of placement plans within each service area.
We found that this enabled us to reduce the pressure in service areas by making certain all students had an understanding of key areas that they had to fulfil, such as, confidentiality, hand hygiene etc.
We have a fantastic support mechanism in place and should any issues occur in real time our placement coordinator is available to support placement areas without busy staff being diverted from patient care. Yes it has had an impact on service but in a positive way with more areas asking to be involved.
The young people have been their own best advocates being so keen to learn. We have reinforced with schools and colleges that only the students with the right attitude should come out to us.
Another lesson learned is it is important that the students are aligned to their chosen career pathway. There is no point sending a student who wants to go be a radiographer to path lab or vice versa.
Eighteen months after an original pilot and having included sixth forms into the process, it has been worth the investment.
The level of commitment from our staff has been fantastic and testimony to their professionalism and willingness to support our young people.
This is evidenced by the fact 95 per cent of those who have come here for work experience said they wanted to come back to work at ELHT. Since we started, we have supported 580 week-long work experience placements.
The success of the scheme has also resulted in different trust services requesting to develop apprenticeships and offer bank employment opportunities straight away.
None of this could have happened without the partnership working with the colleges and their whole-hearted commitment to supporting a new approach. Our college leaders believe it has been invaluable, and now see it as an exemplar programme.
Leaders at Health Education England have also praised the programme, which has led to us being contacted by trusts across the country who want to do something similar.
It is too early to evaluate the impact in terms of numbers returning to us as employees, but we are hopeful this will happen.

Gillian Cairns is the education and workforce lead at East Lancashire Hospitals Trust
View full Profile