NHS chief executive is a high profile job and every now and then one such leader suffers a public execution - but these days there is no guarantee of another job in the system for those who leave under a cloud. Alison Moore asks what fate has in store for an ex-manager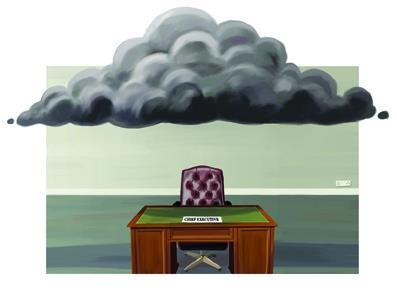 cloud
Key points
Media scrutiny means it is becoming harder for chief executives to find a new job if they leave under a cloud.
The Department of Health is considering a set of standards for managers but this could lead to some being blacklisted.
Chief executives could be better supported by strategic health authorities, and helped through difficult times.
It has all gone horribly wrong and you have been called to a meeting with the trust chair. It is goodbye to the chief executive role and hello to a small pay-off in lieu of notice. So what do you do for the rest of your life?
That has been the harsh position facing many chief executives over the years who have resigned - or in rare cases been sacked - when their organisations were seen as failing or were caught up in some controversy. While some have been subject to vituperative criticism by politicians and media, others have been able to go more quietly.
But all have faced the same question: what next? Up to now for many of them it has been au revoir to the NHS rather than goodbye. Many chief executives have found another job in the health service or have remained connected with it, perhaps through consultancy work.
But it is becoming harder to find a new job if you left under a cloud, says Managers in Partnership chief executive Jon Restell, because of increased media interest.
"The departures of chief executives are scrutinised in ways in which they have never been before," he says. "There used to be a lot of recycling in the system: chief executives fell out of one job under a bit of a cloud, the system took a view on whether they were competent or not and they were recycled.
"People are less likely to accept that. They are more likely to be criticised if they take on someone, particularly if they have left with payment from their last job."
He says that sometimes it is the level of media scrutiny that plays a part in a manager's fate, rather than what they did or did not do. Those appointing managers may now view someone as being too much of a hot potato, even if they come out on top when objective criteria are applied.
But only a handful of chief executives leave in circumstances that make it impossible for them to return to the NHS. These are exceptional and often well publicised cases.
So what is likely to be a "hanging offence" for a chief executive? Being caught up in a major failure of patient care seems to be a shortcut to an exit, even if culpability in these cases is very hard to quantify. Rose Gibb, who left Maidstone and Tunbridge Wells trust just before a critical report into infection control, will find it difficult to return to the NHS.
Impropriety, such as stealing or misusing public money or faking CVs, is also likely to stop a career in its tracks, although these cases are exceptionally rare at chief executive level.
Never going back: Ruth Harrison
Ruth Harrison quit as chief executive of Buckinghamshire Hospitals trust in July 2006, days before the release of a Healthcare Commission report into C difficile outbreaks at Stoke Mandeville Hospital.
Although she was offered a job in the Department of Health, she chose to become a partner at specialist healthcare consultancy Durrow, working on NHS, private healthcare and international projects, and as an adviser to the DH.
But there are drawbacks to having been at the heart of a major healthcare story: she had to hand over some consultancy work to a colleague at Epsom and St Helier trust when her role got into the headlines, although she says this was the only bad experience.
Three years on she says she would not go back to the NHS, and that the government needed a scapegoat to deal with the media focus.
It was only after the report was issued that it became obvious that the hospital's problems with C difficile were common across the NHS, although the problem was serious at Stoke Mandeville and a new strain had been registered, she says.
"I'm not sure regulation [of managers] would help: there does need to be a response in some situations and the politicians would be very loath to allow themselves to be held responsible for such issues.
"I can now see life in the NHS from many perspectives, and my experience has widened a lot," she says.
"I have been particularly pleased to be able to offer younger or up-and-coming managers coaching and advice.
"Instead of working 80 hours a week I can ensure my job fits in sensibly with family life. I do not have to suffer the alienation and fear that afflicts many of my friends in the clinical professions and management still caught up in today's NHS: a cocktail of two parts Stalin, one of Kafka with a mixer of Laurel and Hardy."
Political jungle
However, many chief executives have weathered lesser storms, particularly when those storms are more about the difficult job they have to do than their competence. David Loughton, former chief executive at University Hospitals Coventry and Warwickshire trust, resigned in 2002 after MPs and some consultants called for him to go in the wake of a critical Commission for Health Improvement report that said patient safety had been compromised.
Mr Loughton, who had been chief executive for 17 years, says it was "a bloody awful experience; I got to the point where I'd had enough".
Although he is proud to have left a legacy of a new hospital and a medical school, he had closed some services in Rugby and at points had to have police escorts to public meetings. After two years in the private sector he came back as chief executive of Royal Wolverhampton Hospitals trust, where he has won plaudits for his focus on patient safety and healthcare acquired infections, as well as tackling financial problems.
"I learned a lot from the experience at Coventry… I'm a pretty smooth operator now and I know my way around the political jungle," he says.
Other chief executives have survived a bumpy ride to have a long career in the NHS. Andrew Riley was suspended and later resigned from South Warwickshire trust in 2000-01 after waiting list irregularities. A confidential report said the problems were "not serious" and there was no question of disciplinary action. He worked for the Department of Health, before taking up two more chief executive jobs - first at the Whittington trust in London and then at Northampton General Hospital trust.
However, he left early in 2008 to move into NHS research and development. His time at Northampton was marred by a controversial letter sent to GPs suggesting that patients who faced a long wait for minor surgery, or who may not have it funded by the PCT, might consider paying the hospital to carry out the work privately.
Some chief executives have stepped down but have quickly moved into another post, with the support of the local NHS hierarchy. Often this happens when they are recognised as "sacrificial lambs". They have to be removed but are not really at fault. Moves into strategic health authorities or the Department of Health can help keep people out of the public eye for a while.
Ken Williams quit as chief executive of Bedford Hospitals trust when photographs of bodies stored in the hospital chapel were published in the media in 2001. Many NHS managers felt that he had been made a scapegoat for an unfortunate incident close to an election. He moved to work for the local workforce development confederation.
Consultancy - where chief executives can exploit some of their NHS knowledge - is often an attractive route, although Institute of Healthcare Management chief executive Sue Hodgetts says it can be a very variable experience. The skills demanded for project management in particular may be far removed from those chief executives have been used to exercising and can make them feel as if they are going backwards. Many find strategic work and board development more satisfying.
"I didn't expect it to be easy": Ken Cunningham
Ken Cunningham left his job at Surrey and Sussex Healthcare trust after controversially centralising major accident and emergency care at Redhill Hospital - an unpopular move with politicians and public in nearby Crawley.
His £145,000 severance deal led to further controversy, but four years on Mr Cunningham, who is still unable to talk about the details of his departure, believes that he took the right path and that it led to better services for the area. It is one of the few reconfigurations to have been achieved in the area.
"I was the focus of the reconfiguration for the media. Some of it was quite cruel," he says. "But I didn't take on a job as a chief executive and expect it to be easy."
He had worked as chief executive of Stoke Mandeville before coming to Surrey and Sussex but decided not to apply for another chief executive's job. Since 2005 he has worked as a consultant, recently acting as interim managing director at NHS Pensions.
"It was because of the difficult task I had been through at Surrey and Sussex that NHS Pensions took me on," he reveals. "Whatever your role in a major organisation you have a shelf life. I do think it is healthy for an organisation and an individual to move on. It was probably right for me to move on at that time."
But he feels there is a need to deal with chief executives better, perhaps providing policy or teaching roles to use their talents when they leave.
"We do need to have a way of supporting people when they get into difficulty," he says. "I have seen this with colleagues… I don't think the system allows for chief executives to leave with dignity before they get to a certain point.
"You don't get to be a chief executive if you are a muppet, you have to be pretty decent at what you have done. But there will come a point where your service is no longer required."
Intense media interest
Some chief executives find successful careers outside the NHS. Annette Sergeant left East Sussex Hospitals trust in 2005 with a £231,000 pay-off. The trust had had financial problems and, after her departure, the Healthcare Commission published a report saying that "staff perceived a high level of bullying and harassment" although the number of reported incidents was not unusually high.
After a period working as an interim chief executive, she now works as head of NHS practice at recruitment consultants Hoggett Bowers and was involved in recruiting some of the top people at the Care Quality Commission.
So could chief executives be handled better and in a fairer manner? The Department of Health is looking at standards for managers but this could result in what amounts to a blacklist of managers who will never be employed in the NHS again, effectively ending their career (and potentially their involvement in consultancy). Health minister Lord Darzi has said poor managers should be stopped from being re-employed within the service.
However, it might at least offer managers a forum where they can defend themselves against an objective set of standards - a little like the regulatory bodies for other healthcare professionals. However, there is concern about how it would work and whether it will make much difference to appointment committees if a chief executive is "cleared" but intense media interest remains over their future.
Ms Hodgetts says she hopes that whatever emerges will be able to distinguish between a sackable offence and an unfortunate circumstance.
Some managers may welcome the chance to "clear their name": often those leaving with a pay-off have to sign gagging agreements which prevent them talking about what went wrong in their organisation. Rose Gibb was unable to tell her side of the story until she took her former employer to court for breach of contract.
Bucking the trend
But one chief executive dramatically bucked this trend. Barbara Harris won more than £200,000 in uncontested damages at an employment tribunal hearing which ruled that she had been sacrificed "for the greater good of the organisation" and had been unfairly dismissed from Royal United Hospital Bath trust in 2002.
Ms Harris said at the time she wanted to return to the health service but does not appear to have done so.
Could earlier intervention help chief executives and improve the management of organisations? Chief executives at risk of failing have traditionally been pulled aside by those higher up and given a friendly warning that they are running into trouble, with perhaps the option of a secondment or some relatively informal support to help them through it. This enabled them to go on to perform better and were not lost to the NHS or left to struggle in a job until something dramatic went wrong.
Some managers feel that this system no longer works as well as it used to or that it depends on which SHA is involved.
Jon Restell suggests that sometimes "people are left to get away with it, or we work round them, but we leave it too late and it is irredeemable".
Early intervention with better management and support for chief executives can stop this, he suggests, emphasising that SHAs and chairs have to play a role.
Sticky period
An experienced, politically savvy chair can help a chief executive find their feet or warn them of brewing trouble. But in many cases chief executives and chairs end up sharing the same fate when things go wrong.
In 2007, NHS chief executive David Nicholson said: "We find it difficult to recruit people who want to be chief executives; the average time they spend in post is just 700 days."
Certainly, research by Hoggett Bowers suggests that only 5 per cent of departing chief executives were retiring at full pensionable age, although around a quarter were leaving with a package of some sort - either ill health, early retirement or a compromise package.
Yet some do enjoy a career in the health service: David Loughton may have had a difficult time in Coventry but his name now comes up when good practice on infection control is mentioned, and he is seen as a leader who has energised his trust on this issue. So chief executives who have had a "sticky period" can and do go on to do great work in the NHS.