Colchester "doesn't feel like an organisation that has control of its day to day functioning", says new chief executive
Nick Hulme says he expects merger with Ipswich over the next 18 months to two years
Merger timetable slowed considerably because of extent of care quality and performance issues
PERFORMANCE: The scale of problems at troubled Colchester Hospital University Foundation Trust is even "worse than I thought", the trust's new chief executive has told HSJ.
The challenges facing the trusts have already been repeatedly laid out by regulators.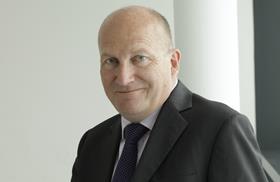 Nick Hulme delivered a damning assessment of the trust, which was told by regulators in April that its services were so bad it would be placed in the failure regime unless it formed a "long term partnership" with Ipswich Hospital Trust.
HSJ understands regulators gave serious consideration to making the trust the second to be placed in the failure regime solely for care quality reasons, following the now defunct Mid Staffordshire Foundation Trust.
In an exclusive HSJ interview Mr Hulme, who was placed in charge of Colchester in May in addition to his role as chief executive of Ipswich hospital, said plans to merge the trusts have been put on "the back burner" while Colchester's systemic failings are addressed.
However, he said he still foresaw a merger in the next "18 months to two years" because both were "financially and clinically unsustainable" as standalone organisations.
"The ambition to move towards a more integrated model of care and form of organisation, ultimately probably leading to a merger, [has been] put on to the back burner, because of what I have discovered at Colchester. I did my due diligence [but] things are worse than I thought they were," he said.
Asked what the main problems were, he listed almost every category of investigation undertaken by the Care Quality Commission. Mr Hulme said: "The scale of challenge in terms of governance, operational improvement, quality, safety, culture are much greater than I had imagined.
"It doesn't feel like an organisation that has control of its day to day functioning in terms of governance [and] risk management."
The trust has been in special measures since November 2013 and the CQC's latest inspection report said turning around "poor and unsafe practices" at the trust would require a "radical solution".
The April inspection report, published this month, said it was inadequate in terms of safety, leadership, effectiveness and responsiveness of services and required improvement in terms of how caring services were. Mr Hulme accepted the CQC's findings and has apologised to patients.
He told HSJ he had prioritised three main areas to make early improvements on: care of deteriorating patients; care of patients and the end of their life; and implementing a review of the trust's governance and accountability framework.
The former Croydon Health Services Trust chief executive, who joined Ipswich in 2013, said that while he accepted significant savings needed to be found, he did not envisage shutting any emergency departments or obstetric led maternity units.
"I can't see a future where there would not be a fully functioning ED [at both trusts] and also obstetric led maternity," he said.
"Having said that, I think there will be clinical reconfiguration. It won't be a full hot-cold split, but I think there will be a warmer and a cooler hospital in terms of concentrating more acute work on one site, and more elective work, outpatient activity and maybe more diagnostics on the other site."
He also cited out of hours services for some yet to be specified specialties as an area where duplication could be reduced.
He said any "big service reorganisation" would not begin for at "least 12 months" unless any services proved unsafe in their current form.
Mr Hulme also said addressing Colchester's performance against cancer waiting targets was a "very, very major" issue to address.
The trust's cancer services have been under scrutiny since it was placed in special measures, following allegations it manipulated cancer patient waiting time data, which were investigated by the police. The trust was later cleared of any wrongdoing.