Jeremy Hunt says pension cost increase should be "more bearable" than thought for employers
Cites lower than expected inflation
Health secretary believes £22bn savings target "possible"
The increased pension contributions expected from NHS employers will be a "more bearable burden" than previously thought, Jeremy Hunt has said.
The health secretary claimed the requirement for public sector employers to contribute £2bn more to staff pots, as outlined in this month's budget, was instituted partly due to lower inflation figures than those forecast in last November's spending review.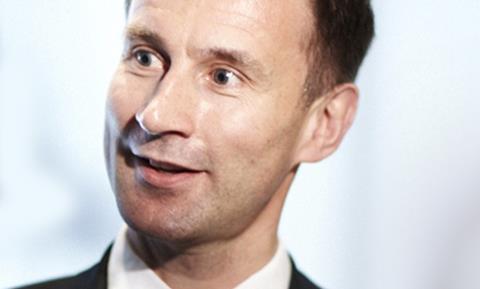 The health secretary was speaking at a meeting convened by HSJ to discuss the government's health policy and Mr Hunt's leadership.
Also present at the meeting were BMA council member and Tower Hamlets Clinical Commissioning Group chair Sir Sam Everington, Health Foundation chief executive Jennifer Dixon, Central and North West London Foundation Trust chief executive Claire Murdoch and HSJ editor Alastair McLellan.
NHS trade and professional bodies, as well as most leading think tanks, have raised questions over the wisdom of increasing the NHS's annual pension costs by £650m annually at a time of constrained resources.
Ms Murdoch confirmed that she was not "expecting" a further increase in pension payments over and above that agreed in the spending review. "I don't get the sense of where that money [to pay for the pensions increases in the budget] will come from," she said.
Asked if he agreed with the Treasury statement that NHS leaders should not have been surprised by the pensions increase in the budget, Mr Hunt said: "You know the reality is that we have to have properly funded public sector pensions. Because we need to look after people who have given their life to the NHS. I don't want to be party political here but we inherited a situation where public sector pensions were not properly funded.
"We think that this [rise] will be a more bearable burden for the NHS because inflation is likely to be considerably lower than forecasts were at the time of the spending review."
Inflation in 2019, measured through the consumer prices index, was forecast at 2 per cent in November 2015 when the spending review was drawn up. It is now forecast to be 2.1 per cent, according to the Office for Budget Responsibility.
Mr Hunt would not be drawn on when he was informed about the increase by the chancellor.
Turning to the NHS's efficiency challenge, the health secretary said he believed the £22bn savings target set out alongside the Five Year Forward was "possible…but challenging".
Mr Hunt continued: "I think the danger in a number like £22bn is that 'five years hence' figure. So it's a lot of money, but it's also a long way away. I think the real question we need to ask is what are the savings we need to achieve next year and the year after?"
Asked what those figures were, the health secretary said: "We need to be eliminating the bulk of hospital sector deficits because every pound used in acute hospital deficit is a pound that can't be spent on general practice and mental health. So that has got to be the overwhelming focus of the next 12 months."
Video: 'My job as health secretary is to do the right thing for the NHS, however difficult'
1

2

3

4

5

6

Currently reading

Hunt: Pension increase is 'more bearable' for NHS

7

8

9