We know the economic outlook is bleak and there are growing concerns about how this will affect spending in the NHS. So it is timely to consider the extent to which healthcare spending yields patient benefits.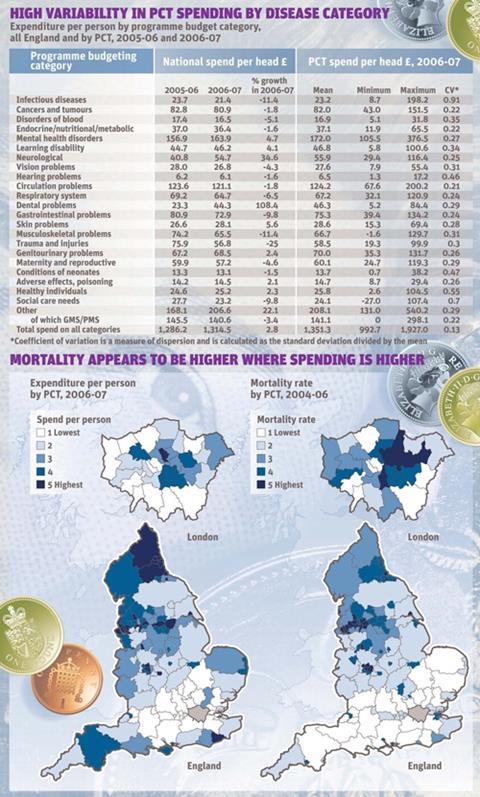 As part of the Health Foundation's Quest for Quality and Improved Performance programme, Stephen Martin, Nigel Rice and Peter Smith from York University have now released the third report on spending and outcomes in the English NHS. This study explores the link between spending and outcomes using programme budgeting data, estimates of population need, standardised mortality rates and years of life lost.
The data shows the high variability in spending across the 152 primary care trusts in England (see first chart). This variation enables the York study to examine whether increased expenditure is associated with an improved health outcome - a fundamental question for policy makers.
Mortality is higher where spending is higher
The report also shows the variability in mortality outcomes. In parallel with other studies, York's initial analysis shows that these two factors are positively correlated. In other words mortality is higher where spending is higher (see maps) - but this makes little sense. In adjusting the data in a separate step, which takes into account the effect of population need, the direction of the relationship changes and mortality is lower where spending is higher.
Using the same analytical approach for "years of life lost" as opposed to mortality, the study is able to estimate the expenditure needed to save a year of life. They estimate that in 2006-07, it cost£5,425 for respiratory problems,£9,974 for circulatory problems,£15,387 for cancer,£21,538 for gastrointestinal problems and£26,428 for diabetes. These are only estimates and they are not adjusted for quality of life, which is a more important aspect of care for some conditions. Nevertheless they have important implications for the National Institute for Health and Clinical Excellence.
The authors note that their work has a number of limitations including the use of a rather narrow outcome indicator (mortality) and the need to assume a relatively stable pattern of spending by PCTs across programmes in the recent past. But the study does offer clear confirmation that current spending by PCTs on some important programmes of care is highly cost-effective and illustrates how programme budgeting data can be used to generate information which might usefully inform PCTs' spending decisions.