Passion and inspiration are the key traits that will draw clinicians into leadership roles, writes Fergus Jepson
My experience of clinicians and leadership is that we all have to be leaders to a certain extent, whether that be in the day to day activities of leading on decisions at the bedside as a junior doctor, chairing multidisciplinary team meetings as the responsible consultant, or leading a team at the Department of Health.
Perhaps there are different levels of responsibility but the same skills are employed, just in different settings. That being said, how do we encourage development as leaders?
'Education is useful but there's no substitute for experience'
There are courses, mentoring, coaching programmes at all levels, online or residential, short or long that can give instruction and education. There are copious books on the subject of leadership that one can spend a lifetime reading. Education is useful but there is no substitute for experience.
Once you are in that leadership role, for whatever reason, there are many skills and attributes that you will demonstrate; observation, desire, necessity, vision, communication, support and perseverance, to name but a few. For me, the most important are passion and inspiration.
Be the game changer
When I became a consultant in 2007, one of my previous mentors advised me to spend the first year "bedding myself in" just taking care of patients and observing how things were done. I found quite quickly that there were areas that needed development, both in terms of staff and process.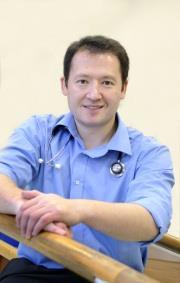 I am very passionate about the service and the patients we serve and found I couldn't wait a month before making some small changes, never mind a year.
These were only changes that involved the consultant's clinics - changes that really only involved me - but soon it moved onto areas involving others.
When I trained in Sheffield we had yearly Christmas parties for the younger patients. It was a great way for the children to see the unit as a happy and friendly place, to develop good memories of the place with their treating team, to meet other children with limb loss, and for parents to meet each other.
When I first mentioned my intention to start Christmas parties at a centre meeting, there were no takers and I backed down for a week or so, then I said in the next meeting I was going to do it and if anyone wanted to help that would be great and they should come to my office at a given time - 20 people turned up.
'The people I work with are some of the best I've ever worked with; that's what I get from working in the NHS'
We had 30 children for the first party and one of the parents told me how thrilled she was. Her son, who was five at the time, had never sat with other children at any party before. Being with other children with limb loss gave him the courage and confidence to sit with the others, have fun and eat some party food. Last month was our eighth party with more than 60 children.
The people I currently work with are some of the best I have ever worked with and this is what we get from working within the NHS.
People go into it not just for a job but for the old school principle of vocation and desire to contribute; they work extra hours, both paid and unpaid because they believe in the principles that the NHS stands for.
Recognition for the NHS
I am passionate about the NHS but my inspiration comes from my patients.
Seeing day in and day out the bravery with which they face adversity, the courage and perseverance after something so devastating as limb loss inspires me to make to strive for a better service.
But I need open and honest dialogue between the clinicians and the patients so they can tell me what works and what doesn't and the difficulties and adversities they face so together we can find the way forward.
'Good communication and support from the board is as essential as your team accompanying you on the journey'
However, to lead on something, to get traction past the observation, writing and assessment stage, you need support from your patients, colleagues and executive board.
I guess what I'm trying to say is that good communication and support from the executive board is as essential as your team accompanying you on the journey.
Seemingly endless bureaucracy is stifling and to encourage leadership you have to allow clinicians to be inspired and to support their aspirations. Less bureaucracy and books and more action.
Dr Fergus Jepson is leader of the specialist mobility rehabilitation centre at Lancashire Teaching Hospitals Foundation Trust and 2014's HSJ Awards Clinical Leader of the Year.
Rising Stars: Help emerging leaders to shine
1

2

3

Currently reading

Rising Stars: How to encourage clinicians to become leaders

4