Dorset CCG makes decision on future of hospitals in Bournemouth and Poole
Poole's emergency department to be downgraded
Royal Bournemouth Hospital to become emergency centre for east Dorset
Decision likely to boost trusts' merger plans
Commissioners have given the green light to an overhaul of NHS services in an accountable care system that will see two acute hospitals split into emergency and elective centres.
Following its clinical service review, Dorset Clinical Commissioning Group decided on Wednesday that Royal Bournemouth Hospital will become an emergency hospital while Poole Hospital will be the elective centre.
The decision means Poole will see its emergency department downgraded to a 24/7 urgent care centre.
The CCG's decision also paves the way for the Royal Bournemouth and Christchurch Hospitals Foundation Trust and Poole Hospital FT to ask the Competitions and Markets Authority to lift or change undertakings that block them from submitting merger proposals.
The future of both hospitals was among several decisions made by the CCG.
Other decisions included:
Commissioning 12 "community hubs" at hospitals across the county – eight with beds and four without.
Consultant led maternity and paediatric services to be delivered at Royal Bournemouth with an "integrated" model at Dorset County and Yeovil hospitals.
Commissioning 16 new mental health beds across Dorchester and Poole and five mental health "retreats and community front rooms" across the county.
Last year, the CCG announced Bournemouth as its preferred site for the emergency hospital on the basis that the capital costs (£147m) would be less than for Poole (£189m) and it has better access.
Capital funding for the scheme has been secured from the Treasury, pending submission of the full business case.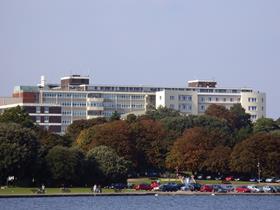 The capital cost of reconfiguring Royal Bournemouth and Poole hospitals is estimated to be £85m and £62m respectively.
But the success of the plans is linked to whether the trusts will be allowed to merge. Both leadership teams believe the changes will be easier to achieve under one management structure.
Tim Goodson, chief officer of Dorset CCG, said the trusts now "stand a far better chance" of being allowed to merge, compared to their previous attempt in 2013 that was thwarted by the CMA.
The CMA recently cleared two planned trust mergers in Manchester and Birmingham.
Dorset County Hospital in Dorchester will continue to provide emergency and elective care.
The CCG is commissioning the community hubs to bring care closer to people's homes, Mr Goodson said.
The hubs will be based at community hospitals, as well as the emergency and elective hospitals, and will provide a range of health and care services led by multidisciplinary teams.
Mr Goodson said: "We're trying to bring together healthcare workers with social care staff. They should deliver more local support to people."
On maternity and paediatric services, the CCG voted to merge the teams at Bournemouth and Poole with the new team working at Royal Bournemouth Hospital.
However, it is unclear what services will look like in the west of the county. Commissioners decided Dorset County and Yeovil hospitals need to design a service with Dorset and Somerset CCGs that meets future demand.
This followed a review by the Royal College of Paediatrics and Child Health, which warned the units at Dorchester and Yeovil will become "increasingly financially unsustainable" in 5-10 years.
The review suggested combining the units into a single service with consultant led obstetrics and inpatient paediatrics on one site and a paediatric assessment unit and midwifery led unit at the other.
Mr Goodson said work had begun between Dorset County Hospital and Yeovil and plans may be ready by Christmas.
On mental health services, he said: "There are not enough options in the county for people who go into a crisis.
"We have far too many people turning up at A&E or at police stations."
The CCG is commissioning "retreats" and "community front rooms" to offer a place for people experiencing poor mental health at an early stage.
Two retreats, in Bournemouth and Dorchester, will have opening times, including between 6pm and 2am at weekends. Patients can self-refer or be referred by their GP. Three "front rooms" will be established in north, west and south Dorset.
The changes from the clinical service and mental health reviews are to be implemented over the next five years.
The clinical service review attracted nine petitions with more than 75,000 signatures, most of which were against bed closures and the downgrading of Poole's emergency department.
Source
Information provided to HSJ; Dorset clinical services and mental health pathway reviews
Source date
20 September 2017