East of England now has double the number of critical care patients as last year
London ICU occupancy rises 183 per cent as significant increases seen across country
Capital's hospitals now have just one ICU for every four patients
One NHS region now has double the number of critical care patients it did last winter — and all areas are more full than last year — HSJ analysis shows.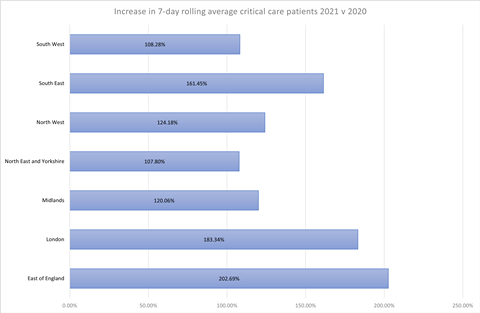 The East of England's adult critical care units had an average of 538 total patients, covid-19 and non covid-19, over the seven days to 12 January – 202 per cent of the 265 in the same period last year.
London's adult critical care units have had an average of 1,280 patients over the past week, 183 per cent of the figure in the same week last year (698). In the South East the latest seven-day average bed occupancy is 161 per cent of last year's number.
The figures in all three regions — all under significant pressure during the third wave — are well above their "baseline" critical care capacity.
Critical care has become the major pinch point as admissions have reached very high numbers in recent weeks; although general acute beds are also under severe pressure and are housing many very ill covid patients receiving non-invasive ventilation.
Critical care units in the Midlands had an average of 654 patients over the last seven days – 120 per cent of last year's number. The North West was on 124 per cent, and the North East and Yorkshire and South West were both up about 8 per cent on last year.
It comes as regions outside of the hardest-hit are being asked to surge their capacity so that they can take more transfers from elsewhere.
Across England, there were 4,484 critical care beds occupied over the last week — 144 per cent of last year's total of 3,110.
The analysis reveals more about the significant pressures critical care is under as they deal with the third covid peak. In the East of England, a third of ICUs have exceeded maximum safe capacity, and it is among many areas which are seeing daily transportation of criticially ill units between hospitals.
All regions growing
This chart shows a rolling average of the number of adults in critical care in each region, for all conditions, as a percentage of the region's average last winter. It shows all regions growing since early December, and all regions now exceeding last year's total.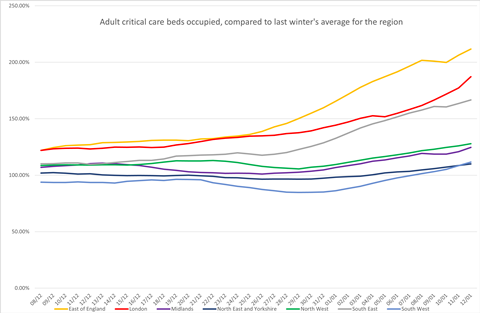 Critical care staffing in London 'cannot be stretched further'
Opening critical care beds beyond normal capacity involves diluting specialist staff cover, and redeploying staff from other services to support them.
In London most hospitals now have just one trained ICU nurse for every four critical care patients and in some units there are six critically ill patients for every one nurse, HSJ understands.
This is four times more stretched than normal times, when the ratio is one nurse to one patient. In November, all trusts in England were told they could dilute critical care staffing ratios to one nurse to two patients. These ratios do not include non-intensive care trained staff who have been seconded to help in the units.
Nicki Credland, British Association of Critical Care Nurses chair, told HSJ: "Critical care is at breaking point. Staffing ratios are being constantly stretched and nurses simply cannot deliver the same care as they could pre-pandemic.
"We are rapidly getting to a point that staff simply cannot be stretched any further. They are being broken."
Royal College of Anaesthetists council member Helgi Johannsson told HSJ: "Intensive care has always managed to preserve staffing ratios traditionally. This has never happened before - having one intensive care nurse diluted to four patients.
"From a patient safety point of view I really do worry about it but we don't have a choice.The [intensive care nurses] that I've been working with have been doing an amazing job, but are getting really tired of spreading themselves so thin.
"It does need to be made explicit that when our expertise gets diluted down […] and we're taking on people who are not trained in that particular discipline, mistakes get made. It's not actually their fault - the people who make those mistakes are doing their best in difficult circumstances.
"There should be an understanding from the government that we are working in non ideal circumstances and we cannot be expected to provide the same sort of care as we do when we have a fully-funded and well-resourced system."
A spokeswoman for NHS England's London regional team said: "The NHS has well established plans in place to cope with additional demand and maintain patient safety.
"Staff in London are working tirelessly to deal with high numbers of covid-19 admissions so is vital the public follow the 'hand, face, space' guidance to cut the number of new infections, reduce pressure on the health service and save lives."
Source
HSJ analysis, interviews