Pennine Acute Hospitals Trust rated "inadequate" by the CQC following an inspection in February when Gillian Fairfield still led the trust
It was also rated inadequate in the well led category, though the report noted staff were "very positive" about Dr Fairfield
Dr Fairfield: "I am very sorry that we did not achieve more, faster"
QUALITY: The former chief executive of Pennine Acute Hospitals Trust has apologised for not tackling the organisation's problems more quickly.
The large provider in Greater Manchester has been rated inadequate by the Care Quality Commission, following an inspection in February when Dr Gillian Fairfield led the trust.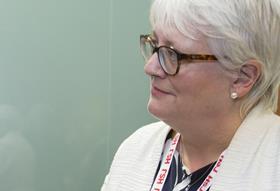 It was also rated inadequate in the well led category, with particular criticism of the non-executive directors and the leadership of maternity services, urgent care and services for children and young people.
However, the report said staff were "very positive about the visibility and responsiveness" of Dr Fairfield, as well as former chief nurse Gill Harris.
Dr Fairfield's secondment to Brighton and Sussex University Hospitals Trust was announced during the inspection.
In a statement sent to HSJ she said: "I was asked to take over as chief executive at Pennine Acute Hospitals Trust in 2014 to begin a process of improvement to try to address longstanding and well known significant financial and quality problems.
"It was recognised that the scale of transformation required to address the ingrained problems would take considerable time and would involve exploring long term sustainable solutions while tackling problems with a relentless focus on flushing out issues no matter how difficult that might be.
"Much had been done in a short time by the relatively new senior team but there is still much to do. I am very sorry that we did not achieve more, faster."
A trust statement in February said Dr Fairfield had accepted the move to Brighton after being recommended for the role by the NHS Trust Development Authority.
In the months before Dr Fairfield left the trust, there had been clear friction with the leaders of Manchester City Council. This was largely over the future of North Manchester General Hospital, which is now set to be merged into a newly formed foundation trust for the city.
Dr Fairfield's statement added that problems with emergency and maternity services were being "actively addressed" during her time in charge, including an external review of serious incidents and deaths in maternity services was commissioned.
It added: "We were working closely with system partners and regulators to address the findings of the review and indeed our maternity oversight group was co-chaired by the local CCG to ensure external scrutiny and challenge.
"In the same manner we were working closely with NHS Improvement, our CCGs and external partners on our A&E improvement plan.
"I was absolutely determined to see the CQC inspection through and that we were completely honest about what work was in train and the scale of issues remaining. Immediate actions were put in place following the CQC initial feedback and the CQC took no regulatory action.
"The CQC report is an important opportunity to take stock of where the trust is on its journey to drive up quality and safety. It is clear, that much more needs to be done to provide the standard and quality of care that is required and that patients deserve. I believe that the trust is now well placed to make rapid improvements."
Source
Information provided to HSJ
Source date
12 August 2016
CQC confirms inadequate rating for Greater Manchester trust
1

2

Currently reading

Former Pennine Acute chief 'very sorry' for speed of turnaround