The full benefits of advanced practitioners are yet to be seen. But they range from saving costs to reducing admissions. Lucy Brown and colleagues in the North West report on the difference these roles are making in the region.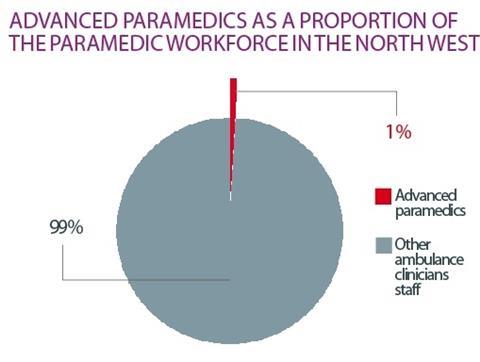 The 2008 North West Ambulance Service workforce development plan proposed tiered layers of clinical leadership from paramedic to consultant paramedic. This would increase opportunities to instigate safer community based assessment, treatment and discharge within the home and referral to alternative care pathways.
Within this model, advanced paramedic practitioners are unique to the trust.
Having developed a job description and person specification, NWAS successfully bid to the workforce modernisation team at NHS North West for funded training places to undertake an MSc in advanced practice (health and social care) and subsequently recruited a cohort of advanced paramedic practitioners in training.
The students attended university on two days each week, spending the rest of their time in practice. While the MSc in advanced practice is a generic programme, optional modules such as therapeutic management of respiratory and ventilatory support, managing cardiac illness, and neurological emergencies are available.
NWAS has also supported the students by identifying placements, developing an online forum and organising development days. Following the initial cohort, NWAS have obtained further training places supported by NHS North West and now have 36 advanced paramedic practitioners either qualified or in training.
Clinical leadership
The advanced paramedic practitioner role in NWAS is a band 7 role providing clinical leadership to improve patient care delivery. It is designed to provide strategic support to teams and units, by attending incidents at which an advanced paramedic practitioner in a rapid response car is more appropriate than an ambulance, giving phone advice to teams, or by acting as bronze commander at large incidents, focusing on medical management and organisational deployment.
The practitioners are putting new procedures into practice to avoid unnecessary admissions. They are developing non-conveyance guidelines for all ambulance clinicians to use, such as a new procedure, alternative to transport for post-ictal epilepsy. This procedure may save the patient an unnecessary and disruptive journey, and save around £1,000 of resources in staff time, transfer and investigations.
They are also spending time in the emergency control room "floor walking" - looking at calls, advising on response requirements and activating colleagues appropriately to maximise service and system capacity. In addition, the role allows advanced paramedic practitioners to undertake research and development activities and individual service improvement projects and participate in critical incident reviews to learn from incidents and improve practice and quality.
Advanced practitioners: clinical skills
Advanced clinical examination, assessment and treatment
Providing phone advice and consultation to paramedics/technicians on clinical issues and on matters such as assessing mental capacity to consent to or refuse treatment
Advanced communication skills enabling advanced paramedic practitioners to provide information and reassurance to patients and relatives, to deal effectively with known difficult patients, and to act as the patient's advocate
Liaising with other clinical services, such as A&E departments, GPs and case managers, including onward referral and follow-up care, and also liaising with other agencies such as the police
Administering and reviewing medication
Implementing evidence based practice to improve patient care.
NHS North West has supported the introduction of advanced practitioner roles since 2005 to help deliver service improvements and, more recently, the quality, innovation, productivity and prevention drive. Early work included defining and describing the characteristics of the advanced practitioner by developing a North West-wide concordat.
Demand for advanced practitioners was identified via NHS organisations' workforce plans and a strategic approach was taken to role development, in partnership with local education providers. Aims identified were to improve the quality of care and/or to reduce costs; increase access and extend the range of patient services; reduce the medical workload.
The role is multiprofessional and clinical in focus, functioning at level 7 of the career framework for health as an autonomous practitioner competent to assess and manage whole episodes of care. It can be accessed by experienced registered practitioners and is underpinned to the level of an MSc in advanced practice.
The North West advanced practitioner role has the following characteristics:
works across organisations and different agencies;
provides advanced levels of practice, knowledge and skills;
continues to develop skills, knowledge and practice in the context of service needs;
undertakes research mapped to service need;
undertakes practice to meet the needs of services working as required to fulfil the full 24 hour and seven day week;
self-directed, manages risk, has high levels of communication skills, a member of a wider clinical/service team;
manages medications including assessment, review and prescribing;
in many cases has their own patient/client caseload with decision making responsibilities, for example referral to others, discharge of patients;
undertakes a physical examination and history taking, diagnosis, and plans care and treatment;
coordinates, manages and signposts patients/clients according to their assessed need;
clinically accountable in the framework of clinical governance and risk management;
defines their scope of practice within the context of the wider clinical/service team;
is client centred;
a clinical/service role based in practice/service for the majority of their time (over 70 per cent to a maximum of 80 per cent of time in practice).
There are now approximately 600 advanced practitioners in the North West, both qualified and in training, from a range of professional backgrounds including nursing, pharmacy and allied health professions. The roles have been introduced across a variety of service areas including community health, acute services, children's and mental health settings.
To underpin the role and ensure fitness for purpose an MSc advanced practice programme was developed. The programme is commissioned from eight higher education institutions across the region and is undertaken over two years, with core elements including clinical assessment and diagnosis, evidence based practice and leadership. A strong focus on work based learning and some optional elements ensure that the role can be introduced across different service areas.
To support organisations in introducing a new role, a formal proposal process is in place, ensuring that the roles are driven by service improvement, are sustainable and have executive level approval. This involves the development of a business case demonstrating needs analysis, role clarity and educational requirements, and addressing HR, clinical governance and funding issues.
NHS North West provides support for the development of advanced practitioner roles. Organisations get a contribution to salary replacement for the trainee advanced practitioner, to help cover for the days when they are at university, along with the MSc course fees.
Evaluation of the impact and benefits of advanced practitioner roles is ongoing via a range of methods, such as formal longitudinal studies, case studies and audit. Findings to date include examples of increased access to services, reduced waiting times, avoided admissions and providing care closer to home.
Learning, development and management
Clinically supervising ambulance clinicians at a number of stations, checking in with them regularly and dealing with any issues or problems
Monitoring and performance managing clinical performance indicators
Providing leadership and supervision for senior paramedics and other clinical team members
Delivering clinical learning updates and continuing professional development to clinical practitioners
Implementing preceptorship, conducting knowledge and skills framework reviews, mentoring clinical staff and sharing knowledge with team members including other advanced paramedics
Emerging outcomes and benefits
Reduction in A&E attendances as more patients are treated within the community, either by the advanced paramedic practitioner or via referral on to other community based services
Provision of more comprehensive out-of-hospital care
Development and implementation of new evidence based procedures which improve patient care and may reduce costs
Increased collaborative working with other NHS providers of unscheduled community care
Reduction in ambulance transportation to hospital
Saved bed days in acute settings as more patients are managed in the community
Provision of telephone advice to paramedics and technicians attending incidents, enabling high-level clinical support
Improved use of ambulances and crews through system management and clinical decision making
Increased preceptorship, mentoring and performance development opportunities
The new role supports April 2011's national changes to ambulance service targets, where the category B 19-minute response time is replaced by 11 clinical quality indicators
The role offers paramedics a clinical development pathway allowing career progression while continuing to deliver patient care