Daloni Carlisle on a safety campaign that takes a bottom up approach – asking staff to work on areas that matter to them over the next three to five years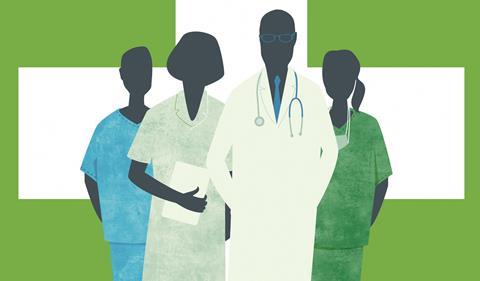 Safety in the NHS has been an important topic for a long time. National campaigns on specific actions have made inroads – think of infection control, for example. But, to date, nothing has been able to really embed safety improvement system-wide within NHS organisations.
A unique campaign
As a result, Sign up to Safety – a campaign with a different approach – was launched a year ago. It does not tell anyone what issues to tackle but asks organisations to sign up to a series of pledges and identify their own safety improvement action plans with a three to five year timescale.
Sign up to safety pledges
Put safety first Commit to reduce avoidable harm in the NHS by half and make public your locally developed goals and plans
Continually learn Make your organisation more resilient to risks by acting on the feedback from patients and staff and by constantly measuring and monitoring how safe our services are
Be honest Be transparent with people about your progress to tackle patient safety issues and support staff to be candid with patients and their families if something goes wrong
Collaborate Take a lead role in supporting local collaborative learning, so that improvements are made across all of the local services that patients use
Be supportive Help people understand why things go wrong and how to put them right. Give colleagues the time and support to improve and celebrate progress
"I have been in charge of many top down, large scale programmes and they have their place," says campaign director Suzette Woodward. "When I was asked about starting a new campaign, I said this time it has to be different. It has to shine a light on the people who are doing the work."
So far, 260 organisations have joined – that's 100 more than the expectation for the first year.
Organisations signed up
Total 260
Acute trust 137
AHSN 4
Ambulance 7
CCG 36
Community provider 29
GP 3
Mental health trusts 31
Other 13
"Our approach is different in that we help organisations create their safety improvement plans from the bottom up," says Ms Woodward. "Rather than being told what to do, frontline teams are working on the areas that matter to them.
'This is about sustained change rather than transient change'
"It gives organisations permission to take their time and work on their plans over the next three to five years rather than feel pressured to do something quickly.
This is about sustained change rather than transient change." It's an approach that, she says, harnesses the commitment and passion of NHS staff to make care safer. That commitment is then supported through shared learning – a key ingredient of quality improvement.
Ms Woodward says: "We work through social media, virtual webinars and by getting out and about in site visits. We are using the snowflake model of leadership and spread so that we create leaders across the system. There are now Sign up to Safety leads being developed across the country who are creating this virtual network."
It's been very exciting visiting some of Sign up to Safety sites, she adds. "We have found that it has really captured people's imaginations.
"A lot of them have launched the campaign themselves so that it belongs to them and not us. They have held launch events, designed posters, hats, cakes, bags, and really embraced the spirit of the campaign. This means that they have engaged with their staff and patients who can see what the organisation is doing to improve safety."
Collaborative efforts
Sign up to Safety does not operate in isolation but works alongside other initiatives such as the patient safety collaborative. These are regional level, run by the 15 academic health science networks, and work to solve intractable problems that cross organisational boundaries.
Another scheme is The Health Foundation's Q Initiative to develop individuals' knowledge and skills across the system and help them share learning.
Cheryl Crocker is regional lead for the East Midlands Patient Safety Collaborative. "We are separate but we are working absolutely in tandem to Sign up to Safety," she says. "We knit things together."
She works closely with Sign up to Safety patient safety leads in individual organisations, identifying their collective priorities and where the collaborative can add value by joining up the dots.
One recent example is work on pressure ulcers. Sign up to Safety hospital leads identified this as a safety issue – but one that was out of their hands.
"They have done what they can to reduce pressure ulcers developing in hospitals but were still seeing people admitted from care homes with sores," explains Ms Crocker. "It's an issue for community providers too who are treating patients in residential care."
Now she is working with care homes and nursing homes to implement an internationally recognised audit and improvement tool and to train staff.
Sign up to Safety also has the backing of key organisations such as NHS England, Monitor, the Care Quality Commission, the National Trust Development Authority, the NHS Litigation Authority and Health Education England. This backing comes with support and help to align patient safety activity across the NHS, says Ms Woodward.
Suzie Bailey, development director for Monitor, says: "Our statutory responsibility is to make sure services are safe, effective and patient centred, so building capability for quality and safety improvement at board level is a very important component of our work."
By far the biggest group of organisations signing up so far is acute hospitals. However, Sign up to Safety is for everyone and Ms Woodward is keen to see more primary and community organisations in particular join in.
She says: "The biggest challenge is one that has consistently been the same across the globe: engaging with primary care, general practice and others in the community. A lot of the time these types of initiatives are seen as acute focused only.
'It is beginning to shift the culture to one of support for people who work in the NHS'
"We are slowly gaining traction in this area and have 36 clinical commissioning groups and now three GP practices. This may seem tiny but we use these as a way to engage others and grow participation in this area."
It's only a year in and, as the campaign rightly emphasises, improving safety does not happen overnight. But Ms Woodward is hopeful that it could be the breakthrough that embeds a safety culture in the NHS in England.
She says: "Sign up to Safety has at last given ownership of improvement to the people who are responsible for delivering safe, high quality care to patients, carers and their families. It is beginning to shift the culture to one of support for people who work in the NHS."
David Naylor on knowledge capture
Everybody working in the NHS wants to keep their patients safer. Sign up to Safety is helping project teams to develop practical safety improvement plans [SIPs] and is explicitly valuing their "know how" through "knowledge capture".
Knowledge capture is a method of understanding how individuals turn ideas into effective action and help others to take up this learning in different contexts.
Knowledge capture involves listening, interpreting and recording the practical wisdom people express in their work. It is not instructing or teaching. It is about learning together.
People working with patients often know what improvements need to be made. It is this "know how" that people already possess and its translation into practical action that we want to capture, including how context enables people leading those safety improvement plans.
Knowledge capture will make the familiar strange, by enabling project teams to notice the skills and ideas they use to implement their SIPs. The process enables others to notice how any gaps between what teams want to achieve and their capabilities to do so are handled; and to understand how organisational contexts may also limit their progress.
Shared learning is key, with campaign members able to share knowledge through networks, blogs and webinars. A practical knowledge capture method we use is a "webdive".
There are four stages. The first is an offline semi-structured conversation with team members. The aim is to get beyond a sanitised narrative and into what people are noticing and learning about implementation. In this conversation we talk about:
the scope and discretion people have to lead their SIP;
how governance impacts their work;
how resistance is managed;
how the team keeps going;
how good ideas are silenced;
how people are engaged; and
what the team is learning.
We then record the SIP story in the team's own words. The third stage is a webinar. The team listen to their recording (in a live online session attended by other participants), offering further reflections and inviting questions.
The final stage is a commitment from other participants to test the team's learning in their own contexts.
Over time the campaign will build a repository of what works to keep people safer in different contexts, developed by those close to patients.
As such knowledge capture is aligned to Berwick's recommendation that continuous learning and the movement of this "know how" around the system, rather than people, is key to safer services.
David Naylor is a senior consultant at The King's Fund