Care organisations often struggle to offer good training. Claire Read on efforts to forge a new learning model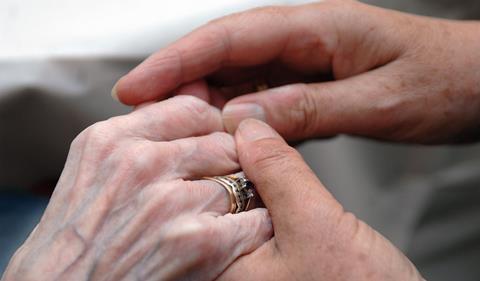 In a statement accompanying its 2009 State of Care report, the Care Quality Commission summed up the essential problem with the provision of training in health and social care. "It goes without saying that skilled, competent staff are essential for safe, high quality care," the commission reported. "Nevertheless many services in England struggle to meet the required quality standards in staff training."
'Staff should receive introductory training when they first come into a home, then basic skills training, and then specialist skills on top of that. It's also important that they are supported to learn on the job'
There is a common perception that such struggles can be explained by the mission of health and social care providers. How can training be reliably delivered in an environment where there are constant demands on staff to deliver care? Andrew Cannon, the new managing director of Bupa's UK care homes, is confident it can.
"I think it is easier [to deliver learning and development] than people believe it is," he states. "The critical thing is to be clear around what your purpose is."
Constantly improving
Mr Cannon says for Bupa Care Services that purpose is: "To improve people's lives - to give people a better life for the fact that they live with us. For me, learning and development is about continuously improving ourselves and our organisation for the benefit of our residents."
Clare Jacobs, employment relations adviser at the Royal College of Nursing, agrees that training is crucial to the provision of good quality services. "It is fundamental," she argues, "particularly in care homes which from my point of view is a specialist area of care. Staff should receive introductory training when they first come into a home, then basic skills training, and then specialist skills on top of that. It's also important that they are supported to learn on the job, not just going out and having classroom teaching or particular training sessions."
Staff at Bupa say they have long benefited from all of those sorts of opportunities. "Everybody has supervision, appraisals every year, personal development plans in place," explains regional manager Judith Reyner. "And I think those people that want to progress or want to try something different, Bupa supports you 100 per cent."
That support will be bolstered by the more than £10m investment Bupa Care Services is making in learning and development. The company is entirely relaunching these services, tied to the firm's vision of where it should be by 2020 - one of the key planks of that vision is "people love working at Bupa".
"I don't think we can be a care business without caring for our staff," reflects organisational development and learning partner Sarah Melia. "When people are in our care homes, we want them to feel they're treated as an individual, not a number. And I think we have to try and treat our staff in the same way.
"It is a huge responsibility looking after someone's wellbeing. So staff should feel supported and should always have someone to talk to, someone to ask a question to. They should always be able to have that training at their fingertips."
Training model
The company's new training model aims to ensure that knowledge and support. One notable innovation is the introduction of a dedicated trainer in each of Bupa's 300 UK care homes. "Before this new launch, training would be given by staff on top of their day job. But in a busy shift, training isn't always the first thing that gets prioritised," explains director of learning and development Julie Stephens. "Now there will be staff whose only role is to deliver training - that puts continuous learning right at the heart of our organisation."
"Having a trainer in every home should help ensure the training gets done efficiently and on time, but also make sure people are engaged in it," agrees Ms Melia.
The company is using technology to get that engagement as well. Everyone will have an iPad on which they can access a series of e-learning modules.
"The theoretical side of healthcare knowledge can be delivered really efficiently through e-learning," argues Ms Stephens. "Other organisations, and certainly the NHS, do this very well already but the flexibility and functionality of iPads means we can help everyone to drive their own learning, help them be fantastic at their jobs, and enable them to share their learning through blogs or community discussion groups."
While the ultimate aim is to deliver the best possible care for residents, Mr Cannon sees the benefits of a dedication to learning and development as going much further. He speaks of removing the hierarchical structure common in many care settings and of empowering employees to find better ways of caring for residents.
"In the really effective organisations I've been a part of – those that continuously improve – they have strong cultures around learning and development; strong cultures around testing ideas and learning," he says.
'Instead of having my brain at the top, or the 12 brains on the executive team, we have the 27,000 brains on the frontline focusing on constantly improving'
"If we can create a thinking environment and a culture of continuous improvement, which includes learning and development as a critical element of that, then actually we already liberate our people. And instead of having my brain at the top, or the 12 brains on the executive team, we have the 27,000 brains on the frontline focusing on constantly improving."
It is an idea about which Mr Cannon is clearly passionate. He has spent time working in a care home to understand the reality of life on the frontline, and the company intranet has an "Ask Andrew" section which allows staff to pose questions and share ideas.
He believes it will take some time for the new learning and development programme to become fully mature - he talks of a timeframe of 2015. At that point, he is keen for the organisation's approach to training to have an impact far beyond the company's own borders.
"My ambition is for us to be the gold standard - for people to join us because of our learning and development, and for us to be a point of reference for the rest of the industry for the quality of L&D and the scale and scope it gives people to progress.
"So my ambition is not to put in place a simple stage thing where we develop people, they get a qualification and they earn a little bit more money," he continues. "It is significantly broader than that. It is to be the touchstone for learning and development and quality care in this sector."
Andrew Cannon on people
We believe our people are priceless. That's why, at Bupa Care Homes, we've already invested over £10m into a fresh approach to learning. And why this renewed focus on development underpins our 2020 vision – a Bupa-wide plan with three key goals.
First, to expand the reach of our care and touch millions more lives. Second, to achieve extraordinary business performance and growth. And third, that people continue to genuinely love working at Bupa Care Homes.
For some people, joining us is vocational. For others, they "fell" into the care profession. For me, it shouldn't matter. Bupa should be a place that people love to be part of and where they feel they are getting all the world class training they need.
Having recently spent time in the US at Google and Facebook, I saw that the most effective organisations had a flatter structure that increased transparency and reduced the gap between leaders and the frontline.
And it's this approach we've started to take at Bupa. We don't limit our thinking to an executive team holed up in a boardroom. We tap into the skills and knowledge of the 27,000 minds across our business. I believe that by nurturing happier, more fulfilled employees, we can help our residents to live longer, healthier and happier lives too. It's part of why I feel so lucky to be part of Bupa. Our work has nobility about it and is uniquely rewarding in a way only care can be.
Throughout my career – and at Bupa specifically – I've seen that when people know their work has real value, it can inspire them to develop industry-leading ideas. But, of course, it's up to organisations to listen.
It all starts by putting lots of small changes into action. And, bit by bit, it can transform a business and change the lives of its own people, as well as its residents.
I believe we can change the culture to one that gives home managers the freedom to get away from their desks and ever-increasing paperwork.
It comes down to a choice. Do we only satisfy the bureaucrat? Or do we support our people to get out there, understand their residents better and deliver exceptional care?
Of course, that's not to say it isn't a challenge. After all, removing certain pressures and creating the space for people to improve millions more lives isn't easy.
But at Bupa Care Homes, we've put big plans in motion to achieve it.
Andrew Cannon is managing director of Bupa Care Services UK
Training – an HSJ special report
1

2

Currently reading

Delivering training is 'easier than people believe'

3