Commission calls for the DH to assess the cost of national living wage for social care sector
There is an "urgent need" for delayed transfer definitions for mental health
Payment mechanisms should be "coordinated" and block contract payments should be dropped
Delayed transfers of care can be avoided by pushing ahead with shared care records, paying social care workers the national living wage and strengthening the role of health and wellbeing boards, a report from NHS Providers has recommended.
These are some of the recommendations made by the Right Place, Right Time commission, which was led by former care minister Paul Burstow, in its final report.
There is an "urgent need" for NHS England to issue clear definitions for delayed transfers of care and out of area treatments in mental health settings, it says.
Without these definitions "vital activities" such as data collection and benchmarking services are "extremely challenging".
Delayed transfers of care increased by 15 per cent from August 2014 to August 2015, compared with the same period the previous year.
The Department of Health must "continue to spearhead" the introduction of shared care records because the "current difficulties" providers face in sharing records is "limiting their ability to join up care".
The report adds: "Information governance arrangements should support information sharing as the norm, rather than by exception."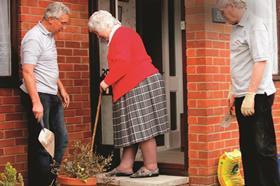 National payment mechanisms should be changed to allow a "coordinated, system-wide approach" to improving care transfers and this should include an end to block contract payments, the commission said.
Acute trust chief executives recently told HSJ they are already experiencing bed occupancy at winter levels and are concerned they will not have the capacity to treat increased numbers of admitted patients on a timely basis.
The commission highlights a "growing move" to complete full patient assessments upon admission. This means there is a focus on discharge planning as soon as the patient enters hospital and they are given an estimated discharge date, which can "avoid delays down the line" and "concentrate minds".
The Department of Health must assess the costs of paying social care workers the national living wage to create a "sustainable" social care market and plan for increases in demand in future years, the commission said.
The DH should also "strengthen" health and wellbeing boards to encourage joined up commissioning.
NHS England should help commissioners to work with local authorities and identify the capacity of the independent and voluntary sectors, the report adds.