Ali Raza suggests providing NHS General Management Training Scheme to undergraduate nurse and medical students to produce the next generation of clinical leaders. UPDATED TO INCLUDE INFOGRAPHIC (see attachment at bottom of page)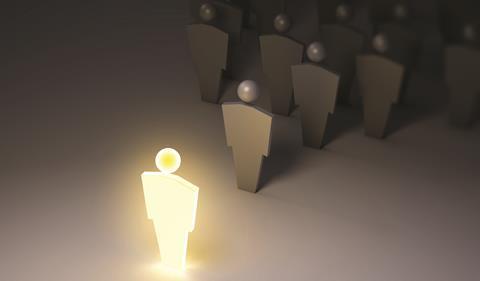 In a previous publication to HSJ , I wrote about how a new scheme for aspiring clinical leaders could be created through the NHS Leadership Academy and clinical education joining forces together. This would permit nurse and medical students access to NHS General Management Training Scheme during their studies.
I am more hopeful for this scheme now that the health secretary has announced that the number of places on NHS GMTS is set to increase to 1,000 after 2018. It would certainly be a shame to see all those places given away only to trainee NHS managers.
Catch them young
The approach of using NHS GMTS as a vehicle to train clinical leaders is fundamentally different from what I can see in much of the literature.
Consider for example an article published in the British Medical Journal which focuses on steps to transition from clinical to leadership positions. The author recommends qualified doctors to shadow managers and obtain service improvement experience by liaising with their training managers. Fair enough.
But what about targeting university students? Shouldn't we be casting as wide a net as possible, supporting students at the earliest stage of their educational journey? I think so.
The undergraduate education system needs support in delivering our future clinical leaders. Moreover, the steps highlighted in this British Medical Journal article all focus on students taking the initiative to get experience in leadership or management.
The quality of leadership training becomes dependent on opportunities local to individual students.
This creates an obvious problem. The quality of leadership training becomes dependent on opportunities local to individual students. Surely, we need a standardised, quality assured mechanism to deliver clinical leadership training to our aspiring clinical leaders. I believe access to NHS GMTS is the answer.
I actually worked with NHS GMTS whilst I was a trainee manager in Northern Ireland's healthcare system. It was brilliant. Our cohort was offered formal teaching in leadership and management by leaders both within and outside the NHS. Then we did simulations to practice our skills in a safe environment. Finally, I was able to apply this learning in the workplace.
A case in point is the "leadership styles" theory, which was taught in an experiential learning workshop. I completed a group exercise, from which my team produced the chart given in the figure.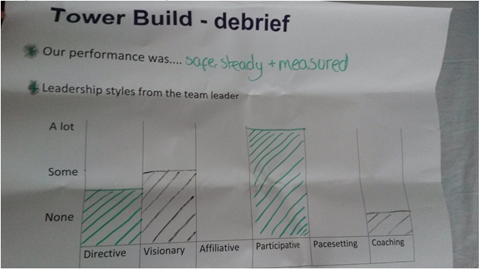 I used this feedback to become more effective in using different leadership styles, for example, using more coaching with my immediate team to increase productivity.
The point is made clearer by this example. Asking individuals to take initiative is fine, but it's important for experience to be backed up by theory from professionals who have the nous in clinical leadership and strategic thinking. You wouldn't necessarily get that by asking to jump on the bandwagon of a local service improvement project.
Breaking silos
The scheme I envisage would train nurse and medical students and it would, in fact, be enormously beneficial for these clinical disciplines to join trainee managers in the GMTS cohort, to create a single cohort.
I've actually given this student model a name; a "collaborative multiprofessional learning community". This simply means that formal teaching is delivered to a cohort of multiprofessionals who share common learning objectives.
It's simple, yet elegant because, for too long, undergraduate training has been split across professional lines, in which students learn within the silo of their own professional discipline. This ignores the reality that nurses, doctors and managers are confronted by challenges which affect and concern them collectively. Clinical leadership training needs to reflect this reality.
Nurses, doctors and managers are confronted by challenges which affect and concern them collectively. Clinical leadership training needs to reflect this reality
This model also reflects the complexity of multidisciplinary teams in the makeup of student mixes in learning simulations. The scheme would be an ideal platform to pilot and disseminate this model, for example, in Problem Based Learning formats in medical schools.
Table 1 compares the individual driven approach alluded to earlier with the proposed standardised NHS GMTS approach to clinical leadership training.
Item of comparison
Approach to clinical leadership training
Individual driven
NHS GMTS route
Quality assured leadership teaching
Leadership experience not necessarily complimented by an understanding of taught theory
Formally taught leadership theory underpins experiential learning
Quality assured leadership experience
Experience not necessarily benchmarked against leadership competencies
Experience benchmarked against leadership frameworks eg Healthcare Leadership Model
Cohort accessible
Not cohort accessible. Hence, quality of training is reliant on local opportunities
Cohort accessible. Hence, quality assured training possible irrespective of location
Learning community

Individual learning not necessarily supported by other learners

Peer support available, with the potential for a "collaborative multiprofessional learning community"
In summary, the announcement of significantly increased places on NHS GMTS creates an opportune moment for a scheme which does the hard work of providing relevant leadership experience with world class teaching from NHS leaders. This would transform the undergraduate system's ability to produce future generations of clinical leaders.

Ali Raza, graduate project manager, Lexica (formerly Essentia), Guy's and St Thomas' Foundation Trust
View full Profile