To relieve clinical and financial pressures on services, trusts must explore new models. Alison Moore examines two trusts that have successfully challenged assumptions about how care is delivered.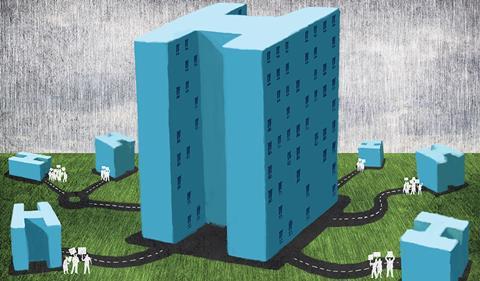 Hospital futures
The future for many hospitals will look very different to the past: financial and clinical pressures are forcing trusts to look hard at what services they provide and their role in the local community.
The NHS Five Year Forward View has pointed the way towards a range of models for services that may be applicable in future. For many in the NHS, this freedom to determine their shape has come as a surprise, and it is a striking contrast to the days of central control.
Increasingly, leaders with the ability to articulate a vision, build consensus around it and find a way of implementing it will be called upon, and change may or may not be structural or organisational.
'All trusts will have to answer questions about their future model'
David Meredith, a partner at management consultancy McKinsey, says: "There are a series of pressures in the system, both clinical and financial. They are driving the consolidation of some more specialist services. But at the same time, there are pressures driving services closer to home."
Given those pressures, he suggests any hospital will need to think about what happens to their specialist services; their DGH type services; and community and primary care services in their local area.
"I think they need to have answers on all three levels to be sustainable in the future," says Mr Meredith.
Specialist service consolidation
All trusts will have to answer questions about their future model.
For hospitals with specialist services, there is a need to understand and proactively manage increasing specialist service consolidation and the impact this will have on their clinical research agenda.
'Some hospitals are pushing harder at unchallenged assumptions about how care is delivered'
For smaller hospitals the questions are, in many ways, more urgent and more testing, as some anchor services – notably emergency surgery and obstetric led maternity – seem to be consolidating onto a smaller number of sites.
As one would expect, some small hospitals are developing genuinely exciting and distinctive models, partnering with other sites to borrow scale, and integrating with community and mental health.
They are starting to push harder at some unchallenged assumptions about how care is delivered based on what we have seen in other health systems.
Here, HSJ looks at how two trusts are approaching these challenges.
Case study: Moorfields Eye Hospital Foundation Trust
Moorfields is one of a handful of single specialty trusts in England. As such, it faces particular pressures ensuring it has a sustainable model for the future – one in which other providers do not eat into its core business or other trusts seek to "repatriate" the less specialist parts of its work.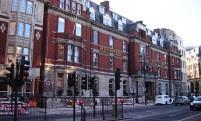 Eighty per cent of the work it does is relatively straightforward ophthalmology, which could be done by most DGHs; its success depends on its reputation for quality in this work and the specialist side of its services, which attracts patients from across the UK and beyond.
The desire of the trust to ensure it could shape its future started back in the 1990s when its then medical director realised ophthalmology provision was going to change and that the trust was in a good position to expand at other sites.
Moorfields worked with other trusts in London to provide eye services at their sites, running the services itself, with a focus on improving quality.
It also began to develop outreach clinics in east London, improving access for patients who would otherwise have to come into central London.
Ageing building
These developments helped the trust to cope with a major limitation: its cramped, 150-year-old site near Old Street.
Significantly expanding the number of people treated at this site would be difficult.
While the trust wants to move to the Kings Cross/Euston area, this is unlikely to happen before 2020, and its current strategy focuses on increasing both outpatient visits and admissions at other sites. The estates strategy has been very much driven by what the trust wants to do clinically.
'We have a central facility where we need to have quite large patient volumes to support the specialist work we do'
Moorfields is now providing services at 23 sites, ranging from DGHs to community hospitals and, in one case, through a partnership with Boots.
"We have a central facility where we need to have quite large patient volumes to support the specialist work we do, and also research and education," explains Rob Elek, director of strategy and business development.
Patient throughput
Beyond this central hub, there are district hubs at hospitals where Moorfields runs the eye service, either sub-contracted by another trust or commissioned by a CCG. These are then linked to community based services, some of which Moorfields has acquired through tenders and others it has set up on its own initiative.
'Because of the specialised nature of some of its work, it takes patients from virtually every CCG in England'
These community services will be for patients with common conditions such as glaucoma or age related macular degeneration.
But setting up an eye clinic involves investment – diagnostic equipment is likely to cost at least £250,000 – so clinics will need a reasonable throughput of patients to be worthwhile.
Longer term, Mr Elek expects technological advances to lead to cheap, miniaturised equipment that can be used to monitor patients in their homes, though this is some way off.
Ensuring standardisation
One of the challenges for the trust is the number of commissioners it has to deal with. Because of the specialised nature of some of its work, it takes patients from virtually every CCG in England.
Moorfields is keen to see pathways standardised – not for its own convenience, but to ensure patients receive high quality care. It declines to tender for some services because of concerns that pathways may not promote the best treatment.
'The further we get away from London, the more partnership working we would do'
"We would want to ensure that we have the clinical responsibility and leadership for the whole pathway, but that does not mean that we need to provide the whole service," says Mr Elek. In some cases, it operates almost as a lead provider.
Currently, the trust provides services in London and the South East, as far north as Bedford, and it also has a hospital in Dubai.
Could this be expanded further? Mr Elek sees potential tensions around geographical expansion and ensuring consistent quality of service.
"The further we get away from London, the more partnership working we would do," he says.
Period of consolidation
This year, the trust has started to provide several new services in places such as Dartford and Stratford, east London, and Mr Elek anticipates a period of consolidation and slowing down while maintaining the core strategy of growing the organisation's footprint over time.
This sort of specialty or service line level expansion might also resonate with trusts with expertise and a good reputation at providing particular services. Guy's and St Thomas' Foundation Trust, for example, provides renal dialysis at a number of sites – as far away as Tunbridge Wells.
Moorfields is keen to ensure its provision is associated with its brand, as well as having a local identity, regardless of where it is provided.
Case study: Yeovil District Hospital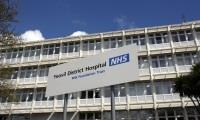 With just 345 beds and a rural catchment area, Yeovil District Hospital Foundation Trust will face financial and clinical challenges in the future.
Its response has been to look at an integrated care model that has the potential to reduce the pressure placed on it and the local health and social care economy.
Trust chief executive Paul Mears realised the trust needed to change to meet the demands of the future. Financially, it was reaching a point where cost improvement programmes would still produce savings, but not at the level that would be required over the next few years.
A horizontal merger might offer back office savings, but the trust is relatively isolated and it would be unlikely to produce core service changes (the trust is nearly an hour's journey from the nearest acute hospital).
At the same time, primary care in the area was under pressure amid difficulties recruiting GPs.
Too reactive
Working closely with local partners, the trust has identified that 4 per cent of patients account for 50 per cent of resources.
These patients often have multiple co-morbidities but the system still tends to be reactive rather than proactive in its dealings with them.
Improving care and preventing them deteriorating had the potential to relieve pressure on both the hospital and GP practices.
'The new integrated care hub will bring together nurses, doctors and others'
The upshot of this work is a new integrated care hub that will open at the hospital soon and will bring together nurses, physiotherapists, doctors and others to offer care to this group, and also to implement a more proactive model that intervenes at an earlier stage, rather than allowing patients to deteriorate to the point where they need to be admitted.
The hospital already has a frail older people's assessment service that has a good record in getting people home after a very short stay in hospital, and the hub will build on this.
Working with GPs
Over the next year, more hubs will be established outside the acute hospital, potentially in GP practices or community buildings.
These should pull in the voluntary sector, as well as health and social care agencies. The CCG has commissioned a "test and learn" 12 month pilot that should allow these different approaches to be tried out.
The trust also wants to develop the way it works with GPs, possibly establishing some sort of joint venture to provide care.
'Challenges remain, not least making sure commissioners are on board'
Mr Mears is keen that the trust should not be seen as taking over general practice, but suggests that some practices may want to work in a different way with it; for example, the trust could provide HR or IT expertise that practices cannot provide in-house and, should practices want it, it could run them.
Mr Mears does not expect this to be a solution all practices would want, and several models of working could emerge. But he does believe that the trust's and GPs' needs frequently coincide, and solutions are needed that benefit all of them.
Challenges remain, not least making sure commissioners are on board and moving at the same speed, ideally towards an outcomes based model.
The trust also needs to ensure it has the capabilities and capacity to deliver change, while continuing to provide services throughout. This has required investment in staff with the right skills and approach.